Sir Henry Wood, busiest and most versatile of Britain's musicians, is happily and busily celebrating his musical jubilee. It is a far cry back to 1888, when young Henry Joseph Wood first publicly ruled by his baton and, as he told me, earned "the enormous sum" of two guineas for conducting at a church choral society concert.
He has conducted nearly 3,000 Promenade Concerts - he is now in his forty-fourth season at the Queen's Hall - nearly 1,000 Sunday concerts and 600 symphony concerts. So punctilious in other matters, he has failed to keep an exact log, but it is no exaggeration to say that in half a century he has 5,000 concerts to his credit.
Wars and rumours of wars have never dimmed his enthusiasm or curbed his activities. "I have conducted through two wars, and am prepared to conduct through a third, if necessary," he assured me.
High up in his flat near the Queen's Hall, and not far from the part of Oxford Street where both he and his father were born - for Sir Henry delights in being a true Cockney – we talked of his jubilee, of music, of his wanderings round the world with a baton, of his oil paintings, and of his regret that the amenities of a London fiat prohibit the following of another of his hobbies - carpentry.
His pictures
"Painting is my real love," he said, as he took me on a tour of the flat to see his work over many years, ranging from his first boyhood study of three apples - jolly good apples they look - to landscapes of Speyside and Oban of recent date.
We paused before two paintings of Poole Harbour an Betws-y-Coed in a grim mood, and Sir Henry said: "I work very quickly, and usually finish a painting in four hours, in two morning sittings. But I have no talent whatever for portraiture."
Sir Henry's father was an engineer and intensely musical, and he gave his son the fullest encouragement in following music as a career. Although trained entirely in England, he was often sent abroad - once as far as Boston – to hear the great music masters, and the atmosphere of the home, in a house opposite Waring and Gillow's, was one of music morning and night.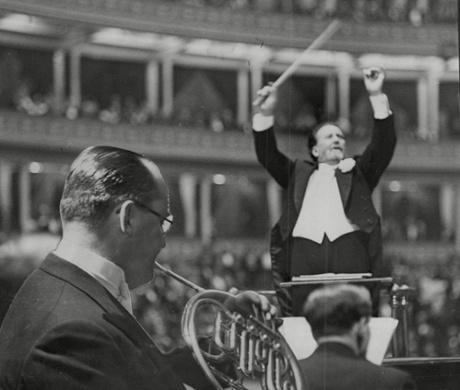 The public and the proms
We discussed music progress and music personalities through the five decades, of the unique position occupied by the Proms, and of the enormous strides made in orchestral technique in this country.
"Great Continental artists envy us our Prom public," he said. "No other country has such a public. Their knowledge, the intent manner in which they listen, and the discriminating way in which they applaud, proclaim their great love of music. Music has an even greater future in this country. Wireless is helping to bring the really great music into the homes of millions. The technique of the modern musician has gone up by leaps and bounds; it is staggering.
I wish one could be equally enthusiastic about our singers. Many think that because they have been given the gift of a good voice, it is enough, and, alas, we miss the great singing teachers of the past. Although we have a few jolly good singers, vocal technique in this country is at a very low ebb."
"The gentle art"
"I adore singing. A fresh voice, a fresh personality, with the ear as umpire; there is nothing better. It took me thirty years to write 'The Gentle Art of Singing,' and the subject, even then, was not exhausted. With many of our people there is distortion, artificiality, 'mouthing,' if you like. But they do not sing properly. The tone does not flow.
So many make the mistake of singing from the diaphragm instead of from the chest. None of the really great singers makes that mistake. Madame Patti danced every night of her life. A friend suggested to her that this would affect her singing. 'Indeed, no' said Patti, 'I do not sing with my tummy but with my chest! '
Modern singers are afraid to draw-in at the waist. They forget that it is the steam that cannot get out of the boiler that makes the engine go. Jean de Reszke told me how he went from baritone to tenor by 'cutting' his breath. Between the acts of an opera he would tighten his belt, so that when singing from the chest his breath was relaxed and free.
It was the same with Caruso and Edward Lloyd. You would be surprised at the amount of compressed air in the lungs of great singers. They do not stick out their tummies."
Perfect conductor
Of conductors he has known, Sir Henry places first Arthur Niklach. "He was a miracle," he said. "No conductor in the world ever could touch him. His magnetic influences over all forces, his gift of bringing out depth of quality and colour, was such that whatever he touched he adored. He was my ideal of the perfect conductor."
Sir Henry has been deeply touched by the honour of having his bust unveiled in his spiritual home of Queen's Hall, and he is looking forward to his jubilee concert at the Albert Hall on Wednesday . His greatest wish is to swell his Jubilee Fund to at least £10,000 so as to provide ten hospital beds for necessitous musicians.