It's nine in the morning in the gardens of Hyde Park's Serpentine Pavilion and already Julia Holter and I are discussing breakups. She's intrigued by the parallels between Greek tragedies – "people that were caught in fate, and what fate dealt them" – and the battle between egos, the unspoken acceptance of ownership in modern love. "The way we hold on to things," she says, "the way we're delusional a lot of times, the way we don't listen to other people. I think a lot of people have that." When I tell her that I'm waiting for someone to write a song that speaks to my tendency to treat others like the people I want them to be, she nods her head in agreement. "That's totally what I'm writing about because that's what you're doing whenever you try to control someone. The classic problem in a relationship is a person trying to control the other person." She picks at a twig on the ground. "People just want to conquer somebody."
Holter's new album, her fourth, is called Have You In My Wilderness. For some reason I thought a royal park would be an apt location for us to meet and talk about it. Across from us, the Pavilion's pearlescent awning glistens in the sun like a glowworm, albeit a worm you can sit inside and drink Fortnum & Mason tea. The setting is hardly a wilderness but, like Holter's music, it is radiant, with layers you can get lost in. The album title reflects Holter's ideas about relationships. Some of her songs, she explains, are about characters saying: "'Come be in my wilderness … come be in my world, don't you want me to take you and be in my world?'" In other words, they are about that moment you give yourself over to someone else and then can't see the wood for the trees.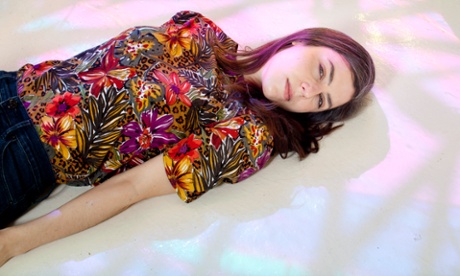 The irony surely isn't lost on Holter that her music requires you to come into her world, too. Born and bred in Los Angeles, both her parents are historians, though Holter's father Darryl is also a folk guitarist (the pair collaborated recently, and for the first time, on his album of Woody Guthrie covers). Some have detected this 70s Laurel Canyon influence in her music, but Holter's musical background is far more inclined towards the avant garde. She is a classically trained pianist and studied composition at California Institute of the Arts where, for one project, she adapted a recipe book into a piece of music. Other endeavours since then have included recording cover versions of foreign songs in phonetic English and curating a DJ mix comprised solely of field recordings.
When I first saw Holter's music described as "rewarding patience", I admit it put the fear into me, being someone who can barely focus long enough to write a Facebook status update. Holter laughs at this confession. "I'm a very contemporary woman," she insists. "I'm not, like, always focused, I'm very unfocused. I'm reading and then I'm looking at my phone and then I'm on the internet."
Still, it's fair to say that traditional songwriting is not exactly top of Julia Holter's agenda. Despite being signed to indie label Domino, she blends anything from baroque harpsichord and electronic drone to music hall theatricality into her songs. Her releases are heavy on the concept and littered with literary references. Quasi-medieval debut album Tragedy was inspired by Euripides's Hippolytus; her second, Ekstasis, lifted lines from Frank O'Hara and Virginia Woolf; and her third and breakthrough album, 2013's Loud City Song, was largely based on the 1958 musical Gigi.
This time around, there's no dominant concept but the theme of power struggles and ownership is woven through a assortment of influences – among them Christopher Isherwood's The Berlin Stories, the Colette novella Chance Acquaintances, and Duchess, the 1969 ballad by Scott Walker. Considering these broad touchstones, it's not surprising that Holter doesn't belong to any one music scene or sound, which means that she plays gigs at techno shrines such as Berlin's Berghain, performs with an orchestra, and collaborates with psych-folker Linda Perhacs.
All of which seems as if you might need a classics degree to get your head around Holter's music. Yet her albums are surprisingly playful; they're approachable, not academic. See, for example, new song How Long, in which she channels Isherwood's Sally Bowles but deepens her voice like a Breton stripe-wearing Nico, wandering around Berlin and trying to ask for a cigarette. She enjoys using these characters to express herself, she says, rather than writing anything specifically biographical. "I feel like your soul will come through anyway, so for me it's more fun to find other stories."
Have You In My Wilderness tricks you into thinking that it's a more personal record. While Loud City Song, with its buzzing strings and lithe jazz rhythms, captured the energy and anxiety of urban living, its followup feels as if it's cupping your ear, telling you dramatic tales under the glow of your bedside lamp. Holter has teamed up again with producer Cole M Greif-Neill, with whom she kicks around at home in Los Angeles, along with his wife Nite Jewel and mutual mate and collaborator Ariel Pink; the pair have concentrated on making Holter's vocals the focus.
There are both male and female narrators on the album and Holter cites Walker's Duchess and love songs of that era as a reason why. "You know those songs that people sing, especially male musicians, where they're speaking to a woman and it feels like they're painting a picture of them, it's sort of male gaze-y?" she asks. "It's a person singing to someone and telling them something…" There's a pause. "What I'm trying to say is that it's a bit patronising…" She tails off, unsure of the point she is making, before bringing it back to the idea of power. "I'm not necessarily even making it about attacking men, as much as [representing] different perspectives. Some of the songs are singing from the perspective of the conqueror, and some of them from the perspective of the victim of that conquering." Another pause. "It's hard to explain."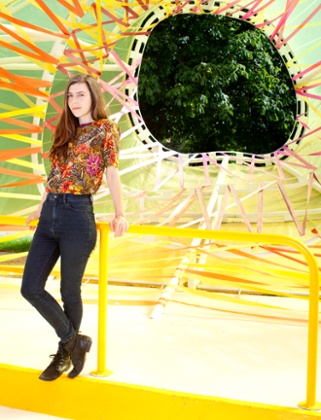 I get the impression that with Holter it's all about nuance. Have You In My Wilderness is not a black-and-white breakup album – "I've been through several breakups since I wrote those songs," she says. "There's a lot of stages in it, I think" – but several shades of grey. The overall sense is of someone exploring their own freedom. The most recognisably "pop" track, Feel You, with its pitter-patter beat and the syllables of each word delicately pronounced as if she's saying them for the first time, conjures an image of a little girl lost, the rain clouding her view. But by the end of the track, the poignant strings and swirls of background vocal climax into something triumphant. Lucette Stranded On The Island, meanwhile, makes Holter appear to be a leading lady alone on a stage, delivering a soliloquy to an empty theatre, until the curtain drops to reveal a majestic orchestra. Inspired by a minor character in Chance Acquaintances, it could be about abandonment or the subconscious. Either way, her trials are particularly dark.
"She runs away with this Russian prince and he takes on her on this cruise ship, but then he hits her to steal some jewellery and leaves her stranded on a Balearic island," Holter explains with enthusiasm, her droll Californian tones warming up for the punchline. "She dies of blood poisoning from the wound that he inflicted on her. It's really horrible." Other songs are just as dramatic: there's Vasquez about the legend of doomed East Coast bandido Tiburcio Vásquez, and Betsy On The Roof, in which she calls to the title character, "I'm standing here on the ground, Betsy/my arms stretched out, looking up/Won't you please tell me the answer?"Surprisingly for someone whose music is so particular, Holter is at her least comfortable when trying to describe it. Not only is she reluctant to pin themes to her songs, she is sweetly evasive about some of the more oblique references because she says she doesn't know enough about them. "I'm a dilettante, I choose from all different things," she explains, "I'm not like a focused academic." Holter tells me about the song Silhouette, inspired by a story about two sisters obsessively waiting for their lover – the same lover – to return, though she'd rather I didn't publish exactly where it's from. Perhaps it makes sense that she has referred to this album previously as her "weirdo record"; she can't seem to settle on what it means herself, or where she fits into it.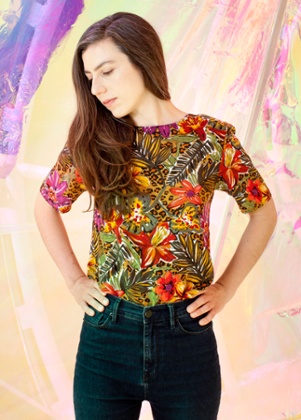 Holter does, however, identify with a quote that I read to her, originally about the Cocteau Twins. A Guardian critic once said of them that they were "about feeling, not necessarily understanding … about the experience of the whole song rather than the epiphany". Holter's own music seems to come from a similar place. "I don't want people ever listening to my music to get some kind of message," she agrees. "I do have a big problem with the idea of music as a form of communication, unless it's political – and that's where it's tricky because a lot of music is political, even if it's not overtly so. But my music isn't that, it's about a feeling. I can say, yes, my song is about this guy or that woman saying: 'Come be in my wilderness,' and that's the way you can read the lyrics, but I don't think the essence of the song is that meaning. It's [about] the experience of listening to it."
The experience of listening to Julia Holter's music, then, is evocative and impressionistic. Quite simply, she sees herself as a storyteller, and like the best stories, her music is ripe for revisiting, to discover something that she may have obscured the first time around. Even though she has been called everything from a practitioner of "literary chamber pop" and "pop-cabaret" to "hypnagogic pop star", she is as far from a conventional contemporary artist as you can get. How does she see the music she makes? "I've started to think recently of romantic songwriter as sort of a nice word for it," she says with a wry smile. "And I don't mind singer-songwriter because it's technically correct. It's so hard to know where you belong, ever. You have to be yourself and let yourself fall wherever you fall."
Have You In My Wilderness is out on Friday 25th September on Domino