When several thousand ironic hippies parade past the world's largest glitterball, you know you're at Bestival, Rob and Josie da Bank's end-of-season, fancy-dress mind-bender. The dedication of the 80,000 devotees embracing this year's Summer of Love theme is built on three pillars: wedding-party nostalgia, left-field sonics and surrealist hedonism. How surreal? Troupes of pandas dance around a 3o-foot toy robot while Tina T-urner Tea Lady – essentially Mrs Overall played by Nutbush's horniest diva – leads a hand-to-buttock conga line. Dinosaur Pile-Up's monolithic grunge preludes a rave set from the Chuckle Brothers. Bestival's Ambient Forest crawls with human cockerels and lagered luvvies performing Shit-faced Shakespeare. Enter a shipping container, discover a Marrakesh piano lounge. It is the Noel Fielding's Luxury Comedy of festivals.
Bestival even provided an actual field of fire for Duran Duran to dance into during their Friday headline set, but Simon Le Bon is more concerned with "the most important gig of our entire career", as he tries to prove the group's cultural worth with a well-paced torrent of guilty pleasures. Their intrinsic corniness stymies such ambitions – the new song Last Night in the City hobbles after the EDM bandwagon and their cover of White Lines (Don't Don't Do It) is like a lecture on the merits of sobriety from Shane MacGowan. Yet there's an undeniable muscle-memory euphoria to Rio, Wild Boys, The Reflex and the Doppler guitars of Girls on Film, even as you wish Bestival had cut the kitsch and booked Depeche Mode. The nostalgia strain is continued by Level 42 dad-dancing through Lessons in Love and the cruise-ship medleys of the Jacksons.
For the left-field crew, Flying Lotus spins future beats from inside a futuristic Rubik's Cube, Kate Tempest raps poetry truth bombs that hail Jeremy Corbyn's brave new dawn and Boy Better Know rampage through visceral grime tracks lamenting the preponderance of "many many man" in their immediate vicinity. Samuel T Herring of Future Islands, meanwhile, arrives onstage mid-exorcism, emitting demonic belches and throwing inhuman spasms over the group's compulsive synthpop – seemingly against his will.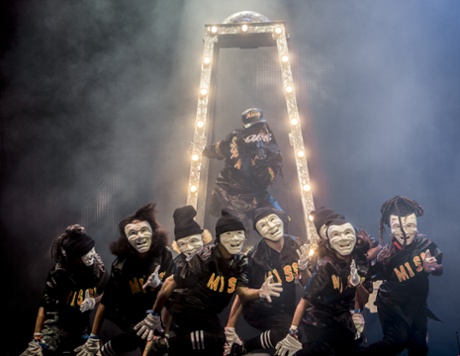 These are diverse and imaginative dispatches from the edge, but it is Missy Elliott and relatively old-school headliners the Chemical Brothers, with their behemoth beats and bad-trip visuals, who triumph. Missy attacks her first UK show in six years as if teaching Kanye West how it's done, leaping from a magician's casket to power through sensational snippets of Hot Boyz, Work It and Bollywood booty-shaker Get Ur Freak On. The maternity of MIA's globetronic inventions gleams through Pass That Dutch, complete with line-dancing cowboys. Missy is the consummate host, throwing signed sneakers to the crowd, dedicating 4 My People to rap's fallen and playing Lose Control – twice. You've never seen so many hippies shake their money makers.