In a year of well-publicised stage accidents, from Florence Welch's foot injury to the Edge's walk off the edge, Dave Grohl's leg break in Gothenburg has had the most serious consequences, among which rescheduling several European stadium dates wasn't even the worst. Unable to atone for cancelling their headline slot at Glastonbury, at least until next year, the Foo Fighters tonight turn their attentions to making it up to patient fans in Edinburgh, whose compensation is a furious and amusingly odd collector's item of a show.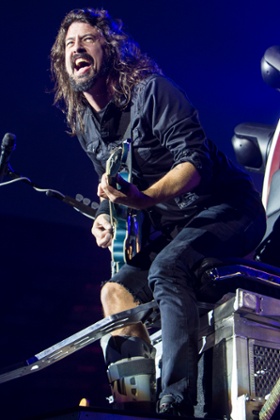 With his right leg still in plaster, Grohl plays sitting down, but being a bodacious rocker dude, no "fucking garden chair" will suffice. Instead he headbangs as hard as a man can from a seated position atop a custom mechanised throne decorated with guitar necks and blasting lasers and dry ice, which he claims to have crudely designed while high on meds in hospital. During opener All My Life, as he steadily trundles down the runway in his glorified mobility scooter, it feels like a suitably ridiculous and triumphant comeuppance for jumping off a 12-foot stage.
Evidently especially eager to please, the Foos don't dwell too heavily on new album Sonic Highways, good as Something from Nothing and Congregation sound. What starts breathlessly with the hits – Times Like These, Learn to Fly and The Pretender in the first 15 minutes – ends with a nostalgic rewind to the start of their 20-year career and early favourites Breakout, This Is a Call and Monkey Wrench. In between, there's a selection of Scottish dedications, from chants in honour of the Foos' Scottish road-crew members to guitarist Pat Smear kicking off a cover of the Vaselines' Molly's Lips (an old favourite from Grohl and Smear's Nirvana days).
Sharing that distinctly Scottish trait for using swear words like commas, Grohl needn't have worked so hard to prove that he's among kindred spirits. "We might do some stupid shit now and again," he roars before closer Everlong, during a farewell pronouncement tinged with just the right mixture of pride and regret, "but we always fucking come back."