It's entirely normal for bands at festivals to ask the crowd how good a time they're having. It's less normal for them to take the time to tell the crowd what a good time the people on stage are having, too, what a wonderful festival it is, how much they love this stage – but that's the effect of End of the Road, the glorious little event on the Wiltshire/Dorset border. This 10th anniversary party is, predictably enough, a triumph, with indie A-list headliners – Tame Impala, Sufjan Stevens and the War on Drugs – backed up by lineups that bat all the way down. On Sunday afternoon, especially, it's hard to find something to miss.
EOTR does something few festivals bother trying to match, by packing the bill with women. Ex Hex rock harder than anyone else all weekend, all Heartbreakers riffing, while bassist Betsy Wright uses up the festival's entire rock-star posing quotient in 45 minutes. The Unthanks, backed by strings, are glorious, while Jane Weaver pulls off the unlikely trick of making space rock sound pastoral. She's part of a Friday night wigout run that features the proggy, metallic sludge of Fuzz and concludes with Tame Impala, whose set seems to divide opinion, but who seem perfectly natural headliners as their danceified psychedelia drifts across the night.
One stage on Saturday is given over to Heavenly Records to celebrate its 25th birthday, and Saint Etienne emerge to perform their debut album Fox Base Alpha in its entirety. How much actual performing is going on might be open to question, but it's wonderful – a vision of pop culture in which past, present and future are of equal importance, and the propulsive thrust of house music shares space with the Countdown conundrum. Then it's the rush over to the main stage for Sufjan Stevens, who doesn't follow the template of his indoor shows by singing about death for the first hour, without speaking to the audience. Instead, he encourages the crowd to sing along, breaking up the run of songs from his album Carrie & Lowell with old favourites – Casimir Pulaski Day comes third in the set – and pulling out the charm from the start. Any doubts he could project his music – all wisps and hints – across a festival are dispelled.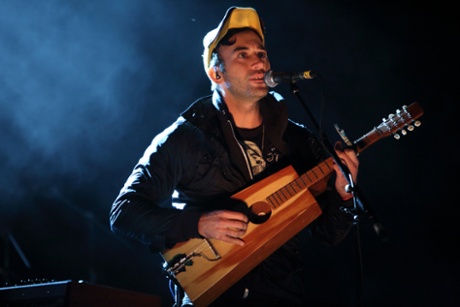 Every year, it seems, an unheralded band manages to blow the socks off, and this time it's the Delines, formed by Richmond Fontaine's Willy Vlautin. While he writes the songs – country-soul set in the everyday, about families going wrong, relationships turning sour – it's the singing of Amy Boone, half bitter wisdom and half needless hope, that lifts them. They're a triumph.
Stumbling around the festival, one keeps coming across other groups pulling off their own triumphs. The Drink's Dearbhla Minogue weaves African guitar patterns into her band's slightly off-centre indie; Ultimate Painting refract the Velvet Underground through September sunshine beautifully; the Black Tambourines are young, loud and snotty, a punky antidote to all the acoustic guitars; Meilyr Jones, bowl-cut and wearing some sort of multicoloured smock, looks as if he's trying to set up a cult in the Welsh hills, but his music – a hybrid of spindly indie, nervous psychedelia, and joyous Dexys-style soul – suggest he would find followers to join him.