Bruce Dickinson bounces into the room half an hour late for our interview, still wearing his military-green cycling helmet and bellowing cheery apologies. We are in a small west London members' club, whose handful of early-morning clients look like the sort of people who sell penthouses to oligarchs. Dickinson lives nearby, but has never been here before. "This is all a bit posh!" he declares, though it's a reasonably safe bet that he earns more than everyone else here put together, even if he currently looks more like a courier than anything resembling a rock god.
It's been four years since I last interviewed Dickinson – on tour in the Far East with his band, Iron Maiden – and although he's as full of beans now as he was back then, he's visibly skinnier. His voice sounds slightly thicker, too, as if he has just endured a tricky hour at the dentist's. He pauses every few minutes to clear a dry-sounding throat. All this is to be expected: he has spent the winter battling against tongue cancer – particularly devastating for a singer, undergoing three gruelling weekly rounds of chemotherapy alongside 33 daily blasts of radiotherapy. He has since been given the all-clear, but is still recovering. "I'm the same weight now as I was when I was 17," he says. "I don't recommend it as a weight-loss programme, but hey, I'll take every silver lining I can get…"
Last December, Dickinson was mixing the new Iron Maiden album in Paris with the band when he became aware of a lump in the side of his neck. He hadn't noticed any change in his singing voice, so at first he just ignored it and carried on. "I didn't want to know," he says. "I thought, 'I've got an album to finish.'" But the lump didn't go away, so after a few weeks he consulted a French doctor, who "had a little feel around my throat, and then immediately stuck his hands down the front of my trousers. He was feeling all the glands, every lymph node. I thought: he's either very friendly or very thorough…"
This is how Dickinson recounts what turned into a horrific ordeal – in the manner of a jaunty pub anecdote. "People ask me if I'm planning to tour this year, and I say, 'No, the reasons are too tumorous to mention…' Well, that's been my way of dealing with it," he says. "That's what I've turned it into. I mean, what else can you do? It's like, look, I may die from this – but, on the other hand, I may not. We'll worry about that when we get to it."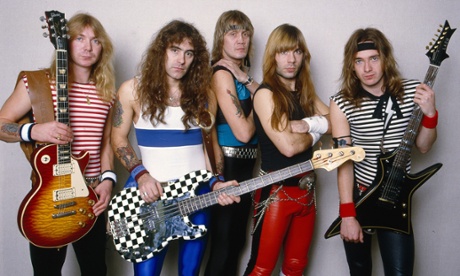 Back in England, MRI and CAT scans confirmed that the lump, which was the "size of a large strawberry", was actually on a lymph node near the base of Dickinson's tongue, as it curves into the throat – and that it was the second of two tumours. The primary tumour was inside his tongue, near the back of the throat, the size of a golf ball. Did that affect his breathing? "No, amazingly it didn't. I wasn't aware of it at all." At least, he says, the cancer hadn't spread anywhere else.
Doctors confirmed that the cancer had been caused by the human papilloma virus (HPV), an infection spread by skin-to-skin contact that is widespread and mostly harmless, but can sometimes, inexplicably, trigger cancer. Studies suggest HPV is often sexually transmitted – as the actor Michael Douglas famously postulated during a Guardian interview in 2013, in which he blamed his own tongue cancer on cunnilingus. "I mean, everybody goes, oh, Michael Douglas… ha ha ha, he's been going down on the missus," says Dickinson, "but the truth is nobody knows for certain what causes it. I had a wobble right at the beginning, I thought: why me? Should I feel sorry for myself? And then I thought, let's not go down the blame game: 'Oh God, it's the universe's revenge for having been a naughty boy,' or it's this, or it's that… No it's not. It's random. Shit just happens. So you deal with it. You just crack on."
With his treatment due to begin at the start of this year, Dickinson enjoyed a poignant family Christmas at home in west London with his wife Paddy, two sons Austin, 25, and Griffin, 23, and daughter Kia, 21. "I ate, drank, and was as merry as I could possibly be, because I knew that you lose weight from the treatment. You don't want to be morbid about it, but I didn't know how many more Christmases I was going to have – plus this was a really good excuse to pig out!"
What followed was, in some ways, harder on those close to him: the helplessness of watching someone you love suffer while you hold yourself together as best you can is a tough gig. At least the person being treated has something to focus on. During his treatment his family took him to an alternative therapist, a hands-on healer, and Dickinson went willingly, one suspects as much for them as for himself. "I felt terrific afterwards," he insists. He also took AHCC supplements and grape-seed extract, after reading online that they might help reduce the tumour.
He says things got "pretty rough" only for the last couple of weeks of his treatment, when he couldn't speak or eat, felt fatigued all the time and his tongue "hurt like buggery". He got through it by watching old episodes of The Avengers, and daytime TV, although that was, disconcertingly, "full of adverts for life insurance and cancer!" He had to laugh, though laughing really hurt. By now he was on a liquid-only diet, and had to "soak the back of my teeth in kitchen roll and Bonjela to get to sleep, so I could anaesthetise my tongue – because all the nerves were exposed from the radiation. They gave me oral morphine for the pain – very disappointing, actually. I was expecting to see pink elephants or want to try to cut my ear off or something, but no, I just felt a bit sleepy."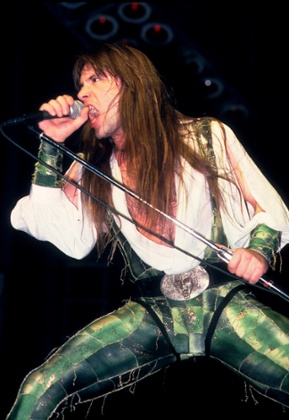 Hadn't he ever been into drugs with Iron Maiden? "No. I mean, I couldn't have done coke and performed on tour. I had the odd bit of puff at uni and frankly, you just go to sleep and eat stupid shit. There have never been any drugs that made me feel like I was missing out on something – and I've never been short of ideas. The environment in Maiden has always been about the music, which has meant an almost Calvinist outlook at times. You've always been free to do whatever you like in your off time – but the performance had to be 110% every night, and if it wasn't because you were on the lash the night before, then words would be had." In fact, Dickinson's inaugural American tour with Iron Maiden for 1982's Number of the Beast album was so enervating the band's tour manager fell asleep standing up, sleepwalked off the stage and broke his wrist.
By the time of our interview, five months after his treatment had finished, Dickinson was meant to be on tour once again – Iron Maiden are heavy metal's Duracell band: they have just kept going – and going. Partly because, having never been in fashion in the first place, they have never had to worry about falling out of it. Now in their fourth decade as a band, they remain one of the world's highest-earning acts, having sold 90m albums, four of which have been UK number 1s. Their European shows in summer 2013 (part of a mammoth two-year Maiden England tour) reportedly grossed $19m, keeping Taylor Swift off the number 1 spot on billboard.com's Hot Tours list. Many of the faces in the front row now are young enough to be their grandkids (at 57, Dickinson is the baby of the band).
Maiden's new double album, The Book of Souls – their 16th – was delayed because of Dickinson's illness. Its accompanying tour won't be happening until February, to give Dickinson's voice more time to recover. But with 60 dates spanning five months and 35 countries including China, South Africa, South, Central and North America, Australia, Japan and touring extensively around Europe – it promises to be "epic".
As well as leading from the front onstage, Dickinson, who is an experienced pilot, has the added responsibility of flying the band, crew, instruments, stage sets, mixing desks – everything they need to stage a massive-scale production – around the world on a Boeing 747 jumbo jet. (They have done this twice before, but both times on a smaller Boeing 757.)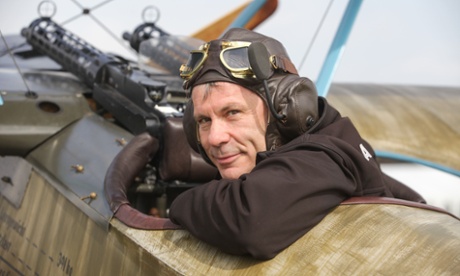 "It means we can go absolutely anywhere," grins Dickinson, "and carry four times as much stuff as the 757, meaning a much bigger show… and if you're going to come back from the brink with cancer, I mean, 'Take that!'"
So, no pressure, then.
"Hell would have to freeze over before you couldn't get me on that stage. Even if somebody else had to sing and all I could do is run around and wave my fucking arms. But I don't think that's going to be the case. I was having a good sing song yesterday and thinking, 'Ooh, that's sounding pretty good, actually…'"
Dickinson says he often encounters incredulity from people who can't believe Iron Maiden are still going. "They say: 'You're grown men – you're not really serious about it now, are you?' And they do it to excuse themselves for talking to you. 'How can you do this stuff in your mid-50s? Shouldn't you be raising polo ponies like that bloke in Roxy Music, or running a trout farm?' And we go: 'No, we still play this stuff.' I don't know whether we've become the heavy metal end of Coldplay. Fuck me, I don't know! But this Maiden stuff, it's our heritage and our journey."
He may not have a trout farm – but he does have Cardiff Aviation, the company he cofounded three years ago. A week after we meet in west London, I catch the train with Dickinson to Cardiff and he talks animatedly the whole way there, peppering his high-altitude tales with stats, historical facts and figures. He has an encyclopedic memory – Intelligent Life magazine once named him as a living example of a polymath. He says flying is his "antidote" to the rock-star bubble: "I had to have something else, just to keep my brain alive." And it seems to have worked.
Cardiff Aviation occupies two hangars, one at Cardiff airport, the other a few miles away inside a Ministry of Defence compound in St Athan. Both were standing empty when Dickinson and his business partner, Mario Fulgoni, took them on. With an initial investment of £500,000, they have built a thriving business with around 150 employees that will turn over somewhere between £10-£20m this year. It is a "one-stop shop, something that hasn't been done before" that operates with the flexibility of a startup. It is part training-centre for pilots, with three giant flight simulators which look like War of the Worlds tripods; part airplane-maintenance company, with a team of mostly ex-RAF mechanics and a growing arsenal of specialist kit; part airline operator, soon to be running European flights; and part fledgling airline, so far with just the one plane — a Boeing 737 — but aiming for another three by next summer.
He is in his element at Cardiff Aviation, leaping up into the cockpit of a 747 simulator in which he'll practise before flying the band next year. He clambers into the engine of the 737 to pose for photographs, disappearing for 30 minutes to take me and the photographer for a pint in the tiny pilots' pub near the runway (he seems to know everyone in there and nobody seems remotely star-struck). He says it was "weeks" before he could enjoy a beer again after his treatment. "All I could taste was the burnt bitter bit, and then one day I took a sip, and ah! Toffee and caramel! It came back in stages." He walks us around his offices – there are framed pictures of Eddie, Iron Maiden's ghoulish mascot, Spitfires and one of Churchill, with the slogan: "We shall never surrender."
Dickinson only learned to fly in his 30s, because Iron Maiden's drummer, Nicko McBrain, did it first, and "if a drummer can do it anyone can", he jokes. He had wanted to be a pilot since he was a kid and his godfather, who had been a Second World War fighter pilot, fired up his young imagination with tales about Spitfires and Hurricanes. Yet he felt he "wasn't from the right background", which might seem surprising, given that Dickinson attended Oundle, a fee-paying boarding school. His father was an army mechanic, his mother, who had him at 17, worked part-time in a shoe shop.
Dickinson has said that he didn't feel close to his parents growing up; he spent his formative years being raised by his grandparents in Worksop, while his family moved to Sheffield and became successful property developers, enabling them to send their son to Oundle (chosen, Dickinson says, because his Auntie Dee was a cook there).
Oundle was "very odd. There were things I liked about it – I did a lot of amateur dramatics there, and a lot of writing. I learned about improv. I brought all of that into the rock 'n' roll thing years later. But I was always opinionated, and that's not a good thing to be as a junior sprog at boarding school. I got the shit kicked out of me for about two years."
Was that because you weren't from a middle-class background?
Dickinson thinks for a while. "No, that would be too convenient. It wasn't the class system, it was the tribal system. Little tribes that form within groups of kids. And that happens in playgrounds the world over."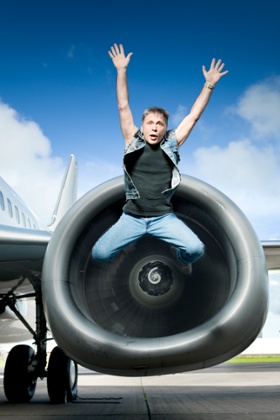 Violence, he says, was institutionalised at Oundle – "pupils were beaten bloody for minor transgressions" – which eventually led Dickinson and a friend to urinate in the headmaster's green beans before a formal dinner, in retaliation. (The veg was being prepared by prefects, who had run out of cooking rings in the kitchen and commandeered extra rings in the dorms; the opportunity to add an extra ingredient was too good to miss.) He got expelled for that, though the other kid was spared: "He was an Oxbridge candidate. It was better for the stats." And so Dickinson ended up at a comp, King Edward VII in Sheffield – "a bloody good school, actually" – and joined his first band.
As the train from Cardiff pulls back into Paddington, I ask what he has learned from his cancer experience. "Don't let other people waste your time," he says in a flash. "I'd run around and let people yank my chain: 'Oh, I've got to do this, I've got to do that.' No, actually, I don't have to. If I choose to waste my time, it's my choice – I don't want other people doing it on my behalf."
It's pretty hard to imagine Dickinson ever having wasted time (or spending much time wasted). Our time, however, is nearly up. He has talked for nearly four hours and his voice could do with a rest. "I did wonder if I'd come out of this and not be able to sing again," he reflects. "And I thought, how do you feel about that? And then I thought, well, that would be a real shame – but at least I'll be alive."
The Book of Souls is out now on Parlophone Records. Iron Maiden tour the world in 2016 (ironmaiden.com)