"Uh, hey, thanks, how's it goin'?" begins Evan Dando. Several days unshaven, his mop of hair streaked with what could be engine oil and white shirt mysteriously stained by purple dye, the Lemonhead looks fantastically dishevelled, like someone emerging from a party that lasted a very long time.
The chisel-featured "alternahunk" became the golden boy of US grunge-era slacker rock after 1992's It's a Shame About Ray turned him into a global superstar. However, a subsequent public meltdown saw him follow Oasis like a fanboy, lose his voice to crack and heroin and – after a marathon LSD binge – ask his arresting officers if they could release him so he could go and find his mind. The script didn't exactly suggest that, two decades later, he'd be fully recovered and the 90s would be back in vogue.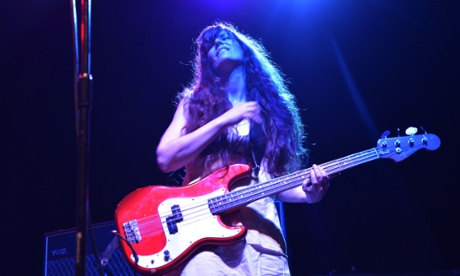 If Lemonheads have long been arriving and departing with the regularity of rural buses, then Dando has at least stumbled across a lineup to aid their rehabilitation. Bassist Jen Turner brings a new, youthful, feminine enthusiasm as she plays while singing backing vocals, flailing her hair like a heavy rocker and, in a particularly triumphant moment, standing on one leg. The songs featuring just Dando and guitarist Chris Brokaw are heartbreakingly beautiful.
Dando's idea of performance may still be to shuffle on and shuffle off, but this is a cracking show and a world away from the many gigs he's delivered on autopilot. At last he treats his glittering back catalogue with the loving care it deserves, tenderly drawling each lyric and inhabiting every word. The singer's bittersweet addresses to abuse – Style, My Drug Buddy and Why Do You Do This to Yourself? are exquisitely rueful, with the clarity of hindsight. Lumps hit throats when he begins Frank Mills a capella, only to be joined by the whole crowd.
With melodies dripping from Dando's guitar, the 80-minute setlist becomes a tune fountain: there's a haunting Ride With Me, a fizzing Confetti and a gloriously surging Into Your Arms. There's only one encore – Alison's Starting to Happen – and a 30-second car crash "brand new song" sees Dando mumble "Uh, I'll finish that one later."
Whether he can, uh, relocate the songwriting gifts that brought him here is the very big question. Still, for anyone who wants him, he's still here, and – against every odd imaginable – sounding really great.