"It's sort of like a digital version of a record shop, where everyone's standing in the same room talking about the track. And it also feels like the days, 10-15 years ago, when you'd put out a 12-inch, make no money but get somewhat famous on the underground, and then get gigs. That hasn't changed."
The "it" is music-streaming service SoundCloud, and the speaker Mark Rae, one half of production duo Rae & Christian. Rae uses SoundCloud to post his "re-edits" of tracks – snatches of samples and beats woven together into new works rather than remixes of individual songs – and get feedback from listeners. "When I finish an edit and I know that it's good, I'm chomping at the bit to press 'upload', and you see the listens building and people commenting on it," he says.
SoundCloud was launched in 2007 by a pair of Swedish musicians, Alexander Ljung and Eric Wahlforss, as a way for their peers to post tracks online and get themselves heard. (As with YouTube, users can upload tracks and samples to which they do not own the rights, as long as SoundCloud removes copyrighted tracks if notified by the rights holder.) It has since quietly grown to one of the biggest streaming services in the world, with a catalogue of 100m tracks heard by 175 million listeners a month. A haven for remixers, electronic artists and unsigned musicians, its devotees claim it is one of the last corners of the online world to retain the utopian sense of limitless creative freedom of the earliest days of the web. But in 2015 it has hit a crossroads: it is facing both a court battle and tussles with the world's biggest music corporations and disgruntled users. Like so many streaming services before, the time has come for SoundCloud to go fully licensed.
This is something of a double-bind. SoundCloud evolved as a way for emerging artists and particularly DJs to find an audience (though it is now used by many major names too: Drake, Major Lazer, Prince and Kanye West are all on the site). Rae cites the example of British duo Psychemagik, whose remix of Fleetwood Mac's Dreams was big on SoundCloud and helped launch their career. "They went from guys who were trying to find their way to touring America and getting remix work," he says. In 2012 an unknown New Zealand singer-songwriter called Lorde uploaded her five-song The Love Club EP to her SoundCloud profile, which led to a record deal with Warners and worldwide fame.
In a nutshell, the appeal of SoundCloud is about fresh songs – including off-the-cuff remixes, mashups and rarities that aren't available anywhere else. But it's also about the community around that music: listeners can leave comments tied to specific moments in tracks, with positivity to the fore: you're more likely to see "MAASSSSSIIIIVEE!" and "LOVE IT!" rather than snarky insults.
SoundCloud is currently being sued by PRS for Music, the British body that collects money from music services and pays it to songwriters, for copyright infringement. The lawsuit is a focal point for a wider battle between the music and technology industries that will rumble into 2016, concerning how services like SoundCloud and YouTube are licensed. Record companies argue that the "safe harbour" legislation that exempts these sites from responsibility for copyright tracks - originally designed to protect internet companies likesuch as ISPs and email providers from lawsuits over their users' online activities - is outmoded. Both companies have developed tools to help those rights holders identify infringing uploads, but the music industrywants them to license all their music upfront, like Spotify and other rivals. "User upload platforms, such as SoundCloud and YouTube, are taking advantage of exemptions from copyright laws that simply should not apply to them," wrote Frances Moore, boss of industry body the IFPI, in a July blog post.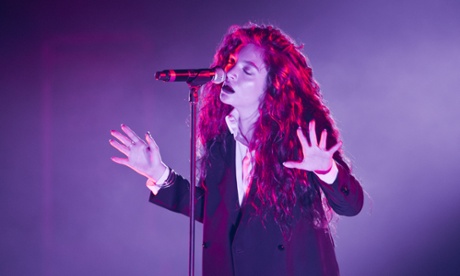 SoundCloud must also find ways of making money. Since its early days, creators have been able to pay a monthly subscription – currently $6 or $15 – to be able to upload more songs and get more features to track their performance, and this year In August 2014, the company introduced advertising in the US, sharing the revenues with creators and labels. In its first nine months, this "On SoundCloud" scheme paid out more than $2m to these partners. SoundCloud has started work on a subscription tier for listeners: licensing deals have been closed with Warners; it remains locked in negotiations with Universal and Sony. Wahlforss is clear that the new subscription will sit alongside the existing free service, rather than replace it.
"We take the view that music as a medium is inherently social, and we feel a subscription model with an optional ad-supported tier is often the most effective way of enabling the kind of community we're building to exist and thrive, because anyone can be a part of it," he says. "The freemium model has been proven to be the most successful method of building a significant subscriber base, and subscriptions are a crucial part of our efforts to offer a viable route to monetisation for our creators' content."
In the meantime, these labels have become more assertive with their right to remove songs from SoundCloud's free service, causing ill-feeling among its community of remixers and mash-up artists. "They are kissing the asses of Sony and Universal and so on in an attempt to keep themselves on the chart, but they are taking from the people who got them there in the first place," said American DJ duo Jakk'd in August, after their profile was blocked due to repeated copyright takedowns.
Earlier this year, Sony removed a swath of its songs from SoundCloud, including those uploaded by its artists to their own accounts, prompting rising dance music artist Madeon to tweet: "Thank you SoundCloud for being such a great discovery platform over the past five years. Well done Sony for holding your own artists hostage." Ironically, one of only two copyright warnings Rae has received from SoundCloud was for a Rae & Christian track: "The powers-that-be own this copyright, so I got a strike for putting up my own music!"
Rae still thinks it's possible for clever remixers to operate within the system. "If you're putting up a track as 'Michael Jackson' and it starts the same way a Michael Jackson track starts, you're an idiot. But if you're working creatively, you won't get any warnings," he says. SoundCloud's biggest achievement would be to become the first service to solve this particular licensing tangle, by figuring out a way to fairly pay artists when their work is remixed or mashed up online.
"To date, unlicensed remixes have resulted in takedowns, and frustration from creators and users alike," says SoundCloud CEO Eric Wahlforss. "But we're exploring [ways to] fairly recompense all relevant rights holders for plays of this kind of material; a whole new avenue for the industry at large. The creator community and music industry alike recognise that what we are trying to do with SoundCloud is genuinely unique and undeniably complex."
SoundCloud's challenge remains huge: to negotiate a path from digital disrupter to industry-approved streaming service, without losing the community spirit that made it unique.