I moved to New York from Holland via Washington DC in August 1976, after I completed my art therapy master's degree. One day I was trying to park my Super Beetle on the Bowery, where I lived with my then-boyfriend Marc Miller, and I saw a bunch of people standing in front of this building. So I ran back home and told Marc: "I think there's something happening in this place."
Every night there was a different group at CBGB, and it became like a second home; we were going four or five times a week. It was a very small space, like someone's living room. There was a bookcase, a bar, and in the back there was a teeny-weeny little stage. It was very rarely not packed, but it wasn't hard to get in: there was an open-door policy. They charged three dollars for admission; later five.
For me, everything was new, everything was fascinating. So it was natural for me to walk over after the gig and ask, "Would you mind if my boyfriend takes a picture of you and me together?" I very rarely had people refuse; it was very sociable. A lot of these pictures, like with the Ramones and Talking Heads, were taken before the bands even had their first record out. We have over 100 in total.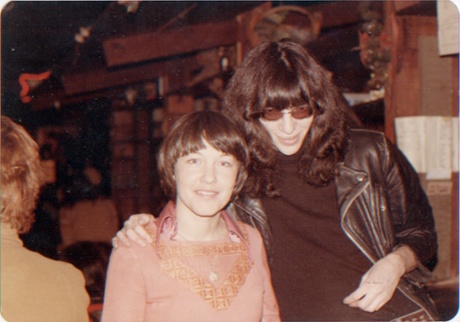 You had two different art scenes at that time: the slick galleries in Soho just a few blocks west, and then the more alternative art scene, who hung around in rock shows at CBGB. Fashion-wise, the musicians were very punk: leather jackets, black and safety pins and studs. Otherwise it was just anything you could get, torn T-shirts, whatever. I had my own little style. I wasn't really trying to be a punk: I liked colours and being pretty.Marc and I were both very limited financially then, but CBGB was at our level, so we could relate to the people there. But the area was not safe: there were about 3,000 homeless people living in the Bowery, sleeping in flophouses. I had friends uptown who had a hard time visiting me.
At the time, I didn't get the impression that something musically and culturally important was happening – we were just living. CBGB closed in 2006 over a lease dispute; now there's a store where it used to be, some type of men's fashion business. Like most of downtown Manhattan, the Bowery has been cleaned up and gentrified over the last two or three decades. But just round the corner there's a new little place called Pinks where they play the same kind of punk music. So it's not dead yet.