Sometimes it feels like British rap music has had as many false dawns as So Solid Crew had members. There was the 1990s UK hip-hop generation, the likes of Rodney P, Roots Manuva and Blak Twang, alongside the rave-driven MC cultures of ragga, jungle and UK garage. Then the grime wave of 2003-5, when Dizzee Rascal, Roll Deep, Kano, Wiley, Lethal Bizzle and others exploded from the London underground into the popular consciousness, with an avant-garde sound as playful as it was frenetic.
Record deals followed for many of the MCs and crews, but few matched the success of Dizzee's definitive 2003 debut, Boy In Da Corner, and the goldrush quickly turned to dust. Record labels returned to the safer policy of importing commercially proven American rap, and the UK scene reverted underground. But the underground was crumbling – FM pirate radio stations were becoming outmoded because of the internet; vinyl and record shop culture was supplanted by free downloads and homemade CD "mixtapes"; while the rave scene was snuffed out by targeted racist policing in the form of the Metropolitan Police's notorious "risk-assessment" form 696. In 2008, almost by accident, one song created a formula that would see the grime generation move en masse into the charts and clubs: it was Wiley's dancefloor-targeted Wearing My Rolex, and in its wake labels rushed to sign up Tinchy Stryder, Tinie Tempah, Roll Deep, Chipmunk et al for hit singles using this blueprint – slower, less aggressive vocals about girls and clubs and pool parties were paired with towering, Calvin Harris-esque synths. The sonics were more Ibiza than Bow, and it did little to help underground UK music, but the format at least provided some long-overdue commercial success.
In 2014 the tide turned again. Inspired in part by the astonishing perseverance of brothers and original grime legends Skepta and JME – whose DIY hustle and staunchly independent label and crew, Boy Better Know (founded in the mid-00s), defiantly charted an alternative course, outside of the traditional music industry – a new generation of MCs emerged.
An early clue came when Boy Better Know won the four-way stage-show battle the Red Bull Culture Clash in 2012, beating more established overseas names like Diplo in the process – who were these guys that had a whole room full of young fans raucously cheering their every punchline? Without the approval of the industry, grime's flag-bearers had been captivating a generation by selling their music direct – or, often, giving it away for free online. Meanwhile, YouTube provided a kind of de facto replacement for pirate radio as the primary means for wannabe rappers to get their mic skills out into the public domain – in particular for the slower, gritty street sounds of "road rap". It is from this scene that Giggs emerged in 2008, now followed by south London duo Krept & Konan who have just signed a major album deal.
Skepta is riding higher than ever since returning to making the grimiest of grime – 2014's That's Not Me is the song that arguably marked a collective head-shift, spiritually and musically, establishing a new resolve, and self-confidence (and charting at No 21 in the process). It's a transformation that has seen Skepta feted across the pond, courted by the likes of Drake and Kanye West, while JME's latest album on his own BBK label, Integrity, hit the charts at No 12 earlier this month.
The likes of Skepta, JME and Wiley have naturally assumed the role of mentors – so when Kanye texted Skepta on the day of his Brits performance in February and asked him to bring 30 guys to join him onstage, he brought Boy Better Know – but he also brought the next generation (including Stormzy, Novelist and Krept & Konan, all profiled here). It was a performance layered with poignancy – finally, at the UK music industry's most staid awards ceremony, here was the platform for black British music that had been absent for so long: and it had come not via the industry but an American megastar.
The Brits stage invasion coincided with what feels increasingly like a mass epiphany, imparted from elders like Skepta and resonating ever louder among the youthful energy of the MCs and rappers assembled here. This time it's the generation that grew up listening to Dizzee Rascal and Wiley in the playground, or seeing So Solid Crew perform at the Brit awards in 2002, who are coming through. Stormzy says: "It's like everyone's just clocked at once: hang on, fuck that, we're sick – we are sick. My tracksuit is sick. My grime freestyle is sick. The way I do things is sick."
When you've realised that, why would you pander to what anyone else wants?
Meet the new breed…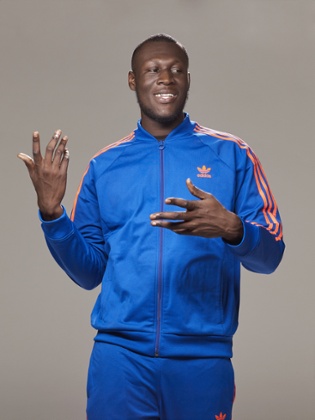 STORMZY
21, Croydon
Winner of best grime act at the 2014 Mobos, south London MC Stormzy has garnered a huge reputation for his charisma, witty flow and regular grime freestyle videos. His self-released, debut single Know Me From is out now and available on iTunes.
When and how did you start out?
In secondary school, Year 7 [age 11]. I know a lot of grime artists started off on pirate radio, but I missed that era, I was way too young. I was MCing in the playground, spitting lyrics over mobile phones – Sony Ericsson, Walkmans, W810s, the Teardrop Nokia phones, all of that. Vital equipment! I never even had a DJ set where a DJ's playing vinyl and I'm spitting.
How would you describe your style?
My approach is just fearless. I'm not afraid to try anything. I'm not afraid to spit 128 bars of pure aggression and violence. But then I'm not afraid to sing for three minutes about girls and love stories.
If you could name one essential UK track?
I'm going to say what somebody else said, I'm guessing: Lethal Bizzle's Pow! (Forward). But I don't even want to say Pow!, because that was back then. So now I want to say [Krept & Konan's] Don't Waste My Time. Pow! was 2004, 11 years ago. And in 11 years we'll look back at Don't Waste My Time. I just think it's sick that it's all happening now.
What are your plans for 2015?
To just kill it. To level up, and just kill it all over again. I don't want to take my foot off the gas. Everyone says you have a breakthrough year, and that's sick, but I want to have another breakthrough year!
What are the differences between US and UK rap?
The Americans have their way of talking, their way of dressing, their way of doing things, and we have ours. That's why this whole UK underground thing has become sick, because everyone has finally said "Yeah yeah, Drake is sick – but hang on, we are too." With me now, I try to rep the culture, and rep the UK to the fullest. Not in a blatant way, like "Hey, Team UK!", walking around with Union Jacks on my back and stuff. But people say "Who's your favourite rapper of all time?" and I know they're expecting a Biggie, or a Nas, or a Tupac, or a Jay Z, but you know what, my favourite rapper of all time is Skepta. Or Wiley. Because these are the guys over here. Who's the best up-and-coming talent? It's not flippin' Chance the Rapper or Kendrick Lamar, or whoever's coming out of America... it's flippin'... it's me! It's Nov. It's Little Simz.
It's about confidence?
Yes. I think Skepta's a key part of it because, you can tell he's got this new confidence about him. It was probably always there I'm guessing, but it's almost like everyone's just clocked at once, hang on, fuck that, we're sick – we are sick. My tracksuit is sick. My grime freestyle is sick. The way I do things is sick. And everyone's noticing it at once. And when you have that self-confidence and that belief, it just oozes on to people. The energy's good right now.
Key track: Shut Up.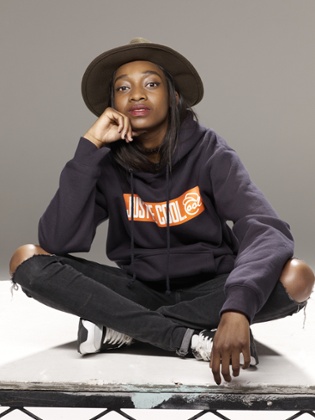 LITTLE SIMZ
21, Islington
The multi-talented young north Londoner, who has several TV acting credits and mixtapes to her name, is seeing her skill as a rapper gaining global recognition with a nomination for best UK act at the Bet awards in June, alongside Stormzy.
How did you start out?
When I was about nine, going to youth club. I was always a performing arts kid, whether it was dance, music, acting. When I got to 14, I saw it as more of a career path as opposed to just a hobby, stuck at it, and here I am!
How do you approach your music?
I always start with being really expressive, saying what I feel, updating my listener on where my life is at. I talk about things that affect me – how life is being 21 and a female in this industry, the troubles I face. That's always been my thing and it's worked.
Who are your musical influences?
Lauryn Hill has definitely been a major influence for me. Aside from that I like Bob Marley, Fela Kuti, Biggie Smalls; my friends – Chuck20, Josh Arcé, Tilla – influence me a lot, they're my favourite rappers. Life inspires me, if that's not too cliched.
What next?
I'm in the process of recording my album, finishing it up. In terms of long-term stuff, I just go with the flow; I'm freestyling my way. Sometimes I don't like to make plans cos I feel like the best things happen unplanned, so I just do what I'm good at, which is making music; everything else falls into place.
Who else in the UK would you tip for future success?
Chuck 20, Josh Arcé, Tilla, Stormzy – I'm excited for what he's gonna do. A singer called Rosie Lowe, a producer called OTG. And there's a band called the Hics from London, they're really good. They need more exposure because they're so talented.
Key track: Guess Who.
Interview by Isa Jaward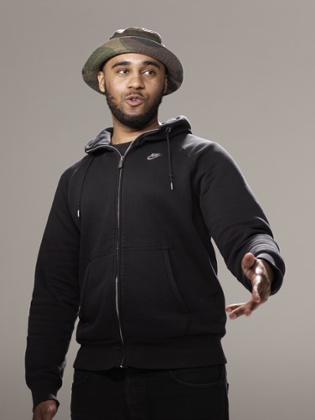 JAMMZ
23, Hackney
After a quiet few years, the old-school grime format of MCs performing their "bars" live on the radio over the DJ's instrumental tracks is undergoing a renaissance. At the forefront of that revival is Hackney MC Jammz, whose motto is "I am radio". New single Final Warning is out now (Local Action Records).
When and how did you start out?
I wrote my first lyrics in 2002, when I was 11, but I started taking it seriously and dropped my first mixtape in 2010. I started hitting up radio every week two years ago – one day it would be Flex, another day it would be Mode, or DejaVu. Then Radar popped up, and Rinse, and NTS. At the peak of it, I was doing radio four or five times a week.
What's your style?
Very old school. I take my inspiration from things that happened 10 years ago: pirate radio and vinyl culture.
Who were your musical influences?
Skepta, Wiley, Boy Better Know, Slew Dem, Esco. I started listening to Kano and Nasty Crew on Deja: I lived five minutes from where Deja used to be, so that was one of the main stations I could catch. It was where the Olympic site is now – back then it was a big patch of nothingness.
If you could name one essential UK track?
Wiley – Wot Do U Call It? (2004). It's mad, it was made all those years ago but it still sums up the journey: like, how do you class something as grime? That's still such a relevant question now. Wiley had a vision from early on.
What are the differences between US and UK rap?
We take a lot more inspiration from Jamaican dancehall culture than from the US. I feel like American hip-hop just is American hip-hop, but it's such a unique blend of genres over here, from jungle and all the other dance genres – it's much more of a melting pot.
What are your ambitions?
To get to the stage where I can build a platform for more young MCs to come through. I know so many sick MCs that don't have anywhere to perform, or the platforms are just not made available to them. Also, more radio – I will never stop doing radio.
Key track: Final Warning.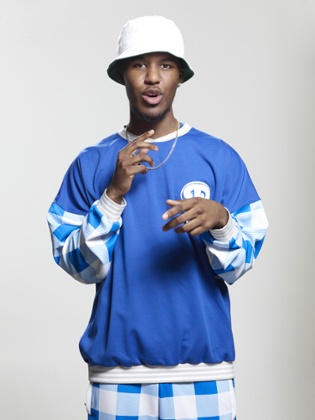 NOVELIST
18, Lewisham
The youngest of grime's new wave, teenage MC Novelist (along with his crew the Square) has been providing much of grime's new energy, but he isn't letting the acclaim dazzle him: he still issues open challenges to mic battles outside Lewisham McDonald's – as documented in the track Lewisham McDeez.
When and how did you start out?
I was about seven years old when I first tried making beats – my uncle had this software called Reason, I used to play around with that. When I was 13 I started taking music seriously, bunking off school to make tunes, saving my pocket money to go and record in these local bedroom studios where they'd charge £10 an hour.
Who were your musical influences?
I was listening to music as a whole – 80s funk, gangsta rap, dub, reggae, classical, so many different genres. But that wasn't really what inspired me to make music, it was more my area than the artists I was listening to. The music I make is like punk in that it's rebellious: fuck the feds, fuck the government, big up the mandem. That's where the energy comes from.
Are you surprised there aren't more crews like the Square? Does it give you more energy to be in a crew situation?
I'm not surprised – when I was year 7, year 8, you had Giggs pioneering the UK rap thing, and it was uncool to be doing grime. But I wanted to do it anyway, and I linked up with everybody else who wanted to do that in my area, and that became the Square. Now it's more accepted again you might see more crews coming through. You get energy from the people in your crew. I know this might sound funny but you've got more to live for as well when you've got guys to support – it's quite communal.
Plans for the rest of 2015?
To get political on them – to talk about real shit that's happening in the world. I want to say something that every teenager can understand and feel the same emotions as me. I want the kids after me to be able to relate to my lyrics. I want to make people understand that, whatever you want to do in your life, you just have to go and do it – teachers thought I was a prick when I left school to do this music thing, but now they want me to come in to school to speak in assembly.
Key track: Take Time.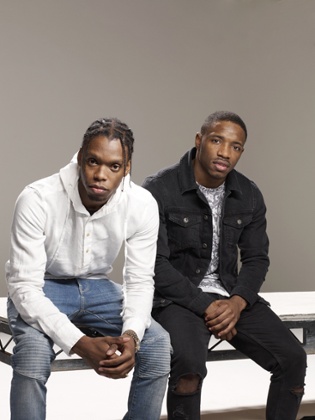 KREPT AND KONAN
Both 25, Gipsy Hill (Krept) / Thornton Heath (Konan)
South London duo Krept and Konan emerged from the Gipsy Hill crew Gipset, making "road rap": low-budget hood videos with gritty rapping at US hip-hop tempos, the same scene that produced Giggs and Fekky. After three mixtapes and a succession of awards, they release their major-label debut, featuring an array of US and UK stars, on Virgin EMI in July.
What's special about UK rap?
Konan: Our accents, our lifestyle, our culture. When we were in America we'd say "Where are you from?", and they'd say "America". But over here you might say "British" and add something else: "Jamaica", or "Africa". We bring different cultures to our music, and different slang, a different way of doing things, and different sounding beats. In [US] clubs there's just a lot of hip-hop; in our clubs you'll have house, dance, Afrobeat, bashment – a blend of styles.
How did you start out?
Krept: We all used to do music as a collective, as friends, as a hobby, we weren't taking it seriously. Some of our friends stopped, some of our friends went to jail, and it ended up just being me and Konan. Our first mixtape together, Red Rum, was in 2009.
Konan: We came up via the internet, all those YouTube channels, like SBTV, Media Massacre. We're a very visual crew.
Who were your influences?
Krept: I wanted to be one of the So Solid [Crew] kids, so that's when I tried to write my first lyric. But also watching Eminem videos and a lot of Missy Elliott, with her mad sounds and visuals.
If you could name one essential UK track?
Konan: When I first heard Oh No by So Solid, and saw the video.
Krept: It was definitely 21 Seconds for me. That video, when they were climbing the cage, and everyone's all dressed in black – you couldn't get any cooler than that.
What are your plans for 2015?
Krept: Just world domination really!
Key track: Don't Waste My Time.
Key influences on the new generation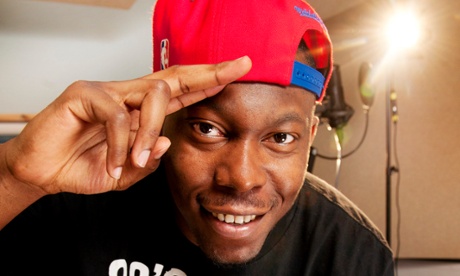 Dizzee Rascal
The boy in the corner, the teenage genius who made most of his debut album on the computers at his secondary school, and won the Mercury prize for his troubles. Dizzee the trailblazer has four No 1 singles to his name.
Wiley
Another legend from Bow E3, Wiley started out in the 1990s on pirate radio, MCing over jungle, then UK garage, before selling thousands of his vinyl records out of the boot of his car and becoming the widely acknowledged "godfather of grime".
Giggs
Having honed his skills via a series of hugely successful independently released mixtapes, and videos shot on the streets of Peckham, Giggs was the first from the UK "road rap" scene to cross over, signing to XL in 2010.
Skepta
Initially a DJ and producer, the north Londoner picked up the mic at Wiley's suggestion in 2005 and has never looked back, garnering underground acclaim and a series of mainstream dance hits.
JME
MC, producer, graphic designer, entrepreneur and Skepta's younger brother. JME's creation of the Boy Better Know label (and clothing line, crew and, briefly, mobile phone sim card company) has been grime's greatest DIY success. His latest self-released album, Integrity, charted at No 12.