For a man about to burn heretics on stage, Elijah Moshinsky isn't shy of uttering a few heresies of his own. Back in Australia, where he grew up, to restage his 1999 production of Don Carlos for Opera Australia, the UK-based director takes aim at the orthodoxy that opera is dying, salutes the absence of statesmen on the global political stage and calls Melbourne a city of beauty.
And all while discussing Verdi's epic clash of the titans, with its terrifying Grand Inquisitor staring down the tyrannical King Philip of Spain. "It is one of the great operas because it does discuss religious and political ideas,'' says Moshinsky of Don Carlos. "It isn't only a love story or sentimental story about a death.''
Ideas fire Moshinsky, they always have, especially the central conflict of Verdi's opera: personal liberty versus the power of the church and state. The director was initially poised for a life in academia. He taught history at Melbourne University before winning a scholarship to study Russian liberalism at Oxford, where he veered into "showbiz", as he calls it.
He remains a liberal and humanist, although he no longer calls himself a leftwing director. "Leftwing doesn't sort of mean anything any more. I certainly come from what I call the dissident tendency, even though I'm directing in the most conservative art form there is,'' he says. "A conservative art form can give rise to discussions of political ethics which allow you to present a dissident point of view.''
The dissident director, 69, has an international career in opera, theatre and television and has had a long association with Opera Australia – his Rigoletto and La Traviata have been cornerstones of the company's repertoire for years. But he has not worked with the company since Don Carlos premiered 16 years ago.
Much has changed since then. "I think I'm a better producer,'' he says of his own work. "When I did it previously, the problems of just staging it overwhelmed the content. It was a bit overdecorated it, so I'm simplifying it."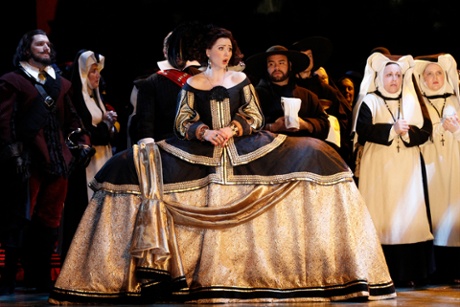 Overwhelming too was the furore that erupted ahead of opening night when, as he exited a particularly taxing Sydney rehearsal, Moshinsky told an interviewer that musical standards in the orchestra were appalling. "I had a tizzy fit,'' he says now. "The frustrations of the moment took over ... I had to apologise and my apology had to be put on the desk of every orchestra member."
He is more cautious when asked about musical standards today – "it's a different orchestra" – and denies any rift with the company in the aftermath of the row. Rather, ill-health meant he could not travel. He was diagnosed with lymphoma some years ago and that made working in Australia impossible, he says.
Moshinsky approaches Verdi, a liberal whose political views informed his work, with a historian's eye. But he views the composer's 19th-century world, with its grand historical narratives and towering political figures, as vastly different from ours.
"We no longer believe in history and we don't have statesmen,'' he says. "We are very lucky to live in an age without statesmen, because we live in an age when political decisions are made by consensus. I would much prefer to live now. I'm not nostalgic for the past. I don't want to live in the age of Bismarck, or indeed Margaret Thatcher."
Born in Shanghai to Russian parents, one of his earliest memories is seeing Mao Zedong enter the city in 1951. His family fled to Melbourne soon after where he lived until the 1970s, studying flute at the conservatorium – "I had no ability" – before setting his sights on an academic career.
With Don Carlos opening in Melbourne before transferring to Sydney, he has reacquainted himself with his former home –"the most wonderful city to live in", he says. "Here things open up to you, the living is easier and the attitude to life is more relaxed."
He will return to England after the Melbourne opening where he has another heretic to burn. He will direct Verdi's little known opera Giovanna d'Arc for Buxton Festival.
Although staging expensive grand opera is increasingly rare, Moshinsky rejects suggestions that the art form is on life support. "It's like saying the writing of novels is over,'' he says. "The writing of novels isn't over. New people come along with new ideas ... [opera] will change, it won't be the same art form we had 30 years ago, but I don't fear for its future."
And while Don Carlos – the grandest of grand operas – is a work of its time, its central dilemma remains pertinent. "It really goes into the paradox of human existence, that actually our destiny is not to live life fulfilled on Earth," he says. "Our destiny is to learn how to live when your life is not fulfilled on Earth.''
Don Carlos is at the Arts Centre, Melbourne from 20-29 May and the Sydney Opera House from 14 July to 15 August