"When the coster's finished jumping on his mother" is one of those subversive lines from The Pirates of Penzance that passes you by if you first encountered Gilbert and Sullivan in the cradle. At that tender age you were doing much the same thing yourself. Nor will you have noticed that, as plot devices go, mocking a woman for her spinsterish plainness might be both cruel and misogynistic. Ruth, aged 47, the piratical maid-of-all-work in the same opera, seemed merely an old hag-bag figure of fun. G&S operas were never a model of etiquette and there's no point being po-faced now, whether as returning, if lapsed, adult or as evangelical convert.
English National Opera will attract all kinds to Mike Leigh's new staging of The Pirates of Penzance (or Die Piraten von Penzance as you might find it in Germany, which has an unimaginable enthusiasm for Gilbert and Sullivan). Those outside the fold, who scowl from start to finish, wishing it were Wagner or an MGM musical, will never comprehend why others respond. Knowing every word, every note, since childhood – it's surprising how many of us have done – makes you both more and less tolerant of the oeuvre.
ENO has kept the G&S flame, and its own box office, alive for nearly three decades with Jonathan Miller's production of The Mikado, set in a grand English hotel in the 1930s. The Mikado is also the opera that features in Leigh's film homage to Gilbert and Sullivan, Topsy-Turvy (1999). A lifelong fan, Leigh was a natural choice to direct a new production from the Savoyard oeuvre. (The name derives from the Savoy theatre, built by Richard D'Oyly Carte to present G&S and now, tellingly, showing Sondheim's Gypsy.)
The Pirates of Penzance (1879) is more uneven than Mikado, but bristles with enough good songs and choruses, as well as sharp musical parodies, to make a cheerful show. Leigh has chosen that hardest of all options and played it straight. In doing so, he has laid bare the work's anarchy, savagery and wit. The silliness of the plot is enhanced by the intense pigments of Alison Chitty's simple but sophisticated designs, near abstract but with just enough suggestive detail. Costumes, in contrast, are traditional: Victorian pleats, bustles and boaters for the women; brass-buttoned bobby uniforms and picture-book pirate-wear for the men.
In a programme note, Leigh notes that Gilbert saw the world as a place where "we all aspire to be other than what we are, and where no one is really who or what they seem to be". This is why these operettas still resonate. Even if you cannot abide them, and I often feel I cannot, they remain a touchstone for a certain kind of humour (not just English – or German, come to that. There are many rip-offs and rewrites, including a Yiddish version). The Major-General's patter song, adroitly and crisply delivered by Andrew Shore, remains maddeningly clever. The Tarantara chorus of police in duple time, offset by the General's daughters singing "Go, ye heroes" in triplets, is absurd, skilful and hummable.
The sorrow of the G&S partnership, full of bitterness despite the catalogue of hits, was that Gilbert was so much more brilliant. He understood the potency of this popular medium at which he excelled. Sullivan, despite his prodigious talent for melody and skittish invention, had more lofty ambitions. He took himself more seriously as a composer than did anyone else. The Sir Arthur Sullivan Society is still fighting his corner. Yet as Gilbert's words grow richer on each encounter, Sullivan's music feels all the thinner. Hearing the overture to Pirates, deftly played by the ENO orchestra under the baton of David Parry and with a lovely trumpet solo, its flimsiness was almost startling. The G&S entity is decidedly greater than its parts.
In a lively cast, the Irish soprano Claudia Boyle as Mabel, bringing a sherbert tang to her crazy coloratura, proved a star. Joshua Bloom (the Pirate King), Rebecca de Pont Davies (Ruth), Robert Murray (Frederic) and Alexander Robin Baker (Samuel) all pulled their weight admirably. Parry kept the music moving with some clever touches: the Pirates' "With cat-like tread", instead of being whispered, was thundered out at full volume, while The Policeman's Lot Is Not a Happy One, led by Jonathan Lemalu, was sung at a sweet pianissimo. ENO deserves a success. The show is not side-splitting but touching, the work itself, like Sherlock Holmes, surprisingly durable. Pirates too scared to fight and policemen all a-dither with their truncheons are, after all, only a blueprint for the lunacy of Monty Python.
The Vale of Glamorgan festival, now in its 46th year, is essentially the brainchild of one man, the Welsh-Canadian composer John Metcalf. The 11-day festival only programmes works by living composers. This year the focus is on the Estonian Arvo Pärt (b1935) and Dobrinka Tabakova (b1980), Bulgarian but raised in Britain. After an eclectic opening concert in Penarth, the Dutch Nieuw Ensemble gave an invigorating lunchtime event in the beautiful, state-of-the-art Dora Stoutzker Hall, Royal Welsh College of Music and Drama.
Six miniatures by composers of four different nationalities provided a clever travel kit to the stylistic variety of contemporary music. Richard Ayres's No 34b, a ghostly waltz, as if danced by figures in a photographic negative, was especially intriguing. (His opera Peter Pan, with text by Lavinia Greenlaw, is premiered by Welsh National Opera this weekend.) Each piece lasted only a few minutes but spoke with that intense energy unique to artistic short-form.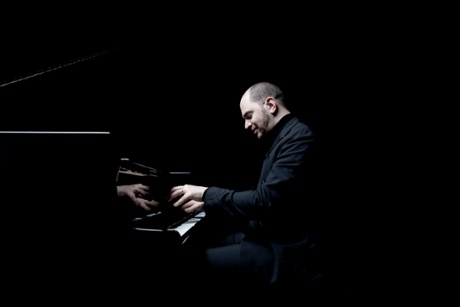 At Wigmore Hall, Kirill Gerstein chose to wrestle with one of western music's megaliths: Liszt's 12 Transcendental Études. Gerstein loosened his fingers on Bartók then played, a little idiosyncratically, Bach's 15 three-part inventions. Then came Liszt. The young Russian-American pianist tackled this staggeringly virtuosic work from memory. His technique and intellectual grasp are phenomenal. András Schiff, who studied at the Liszt Academy in Budapest, once said of his fellow Hungarian what many of us have thought: "I could remove half of a gloss by Liszt and the piece wouldn't suffer. You can't remove one note from a Bach fugue!" Schiff was in the Wigmore audience. Here, surely, was a pianist who might convince us otherwise. When Gerstein finished, Schiff was the first on his feet in ovation.
Star ratings (out of 5)
The Pirates of Penzance ***
Nieuw Ensemble ****
Kirill Gerstein ****