Taylor Swift may have gotten her start in country music, but she made it pretty darn clear in the lead-up to the release of her blockbuster album 1989 that she considers herself a pop artist these days. "I don't really think people were surprised I made a pop album," she admitted to HITS. "I think they were surprised I was honest about it." Swift's full embrace of pop was on full display with the launch of her stadium-sized 1989 World Tour on Tuesday night in Tokyo. With a dozen glittery, midriff-baring costumes; strobing laser effects; and neon bracelets that were synced to light up with the pulsating beats of the show, her debut 1989 concert was, like all of Swift's tours, an outright spectacle. It looked as shimmery and effervescent as any great pop show should be.

And yet, even as Swift is rubbing elbows with Justin Timberlake and allegedly feuding with Katy Perry, country music is working its hardest to reel her back in. Like that sad boyfriend that just can't get over his ex (a situation Swift has chronicled in song more than once), Nashville is bending over backwards to win back music's golden girl and looking more than a little desperate in the process.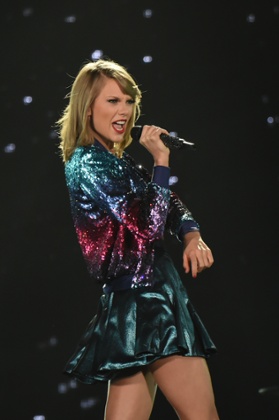 Two weeks ago, the Academy of Country Music Awards essentially strong-armed Swift into appearing at the annual ceremony by awarding her with a Milestone award. Swift accepted her award gracefully, though she was notably the only one of the seven recipients to not perform at the event. And last week, John Dickey, the VP of Cumulus Media, boasted that his company was going to start playing Swift's new pop singles on country stations. "Why let the Top 40 stations have a monopoly on the biggest artist on the planet because she wanted to creatively expand her horizons? It's crazy," he said. "We are back in the Taylor business."
How much does Taylor Swift want country music's affection in 2015? That's tough to say, and Swift's far too savvy ever to admit whether she's frustrated that the genre won't respect her move to pop. But we'll see how it all plays out in the next few months, especially when the 1989 world tour reaches America.
In the meantime, country music is working hard to find its next Swift, and labels are pushing a new crop of young women that they're hoping can fill the massive void left by the star and attract a young female audience to the format. Of course, country music is not a very welcoming place for women at the moment, but here are a few of the industry's favoured candidates:
Kelsea Ballerini
The 21-year-old Tennessee native has been climbing the ranks of the country chart with her poppy debut Love Me Like You Mean It, which finds Ballerini on the prowl for man, a narrative not often heard from women on country radio. She opens the song: "Hey, boy with your hat back/Mmm, I kind of like that." Ballerini's ascent kicked into overdrive when she was got adopted into Swift's Squad of Powerful Ladies™. Swift mentioned Ballerini on Twitter and Instagram, giving the starlet a major profile boost that has helped drive sales and attention.
Maddie & Tae
Scott Borchetta, the man who helped create Swift's empire, recently signed Maddie & Tae, a cheeky duo of teenagers that reached No 1 last year with their viral protest tune Girl in a Country Song, which criticized country music's treatment of women. Maddie & Tae's lovely follow-up single Fly hasn't soared on country radio, but buzzy tracks like Sierra (which features the most hilariously mean lyric of the year: "Ooh, I hope that I'm around/When you get knocked up or get knocked down") prove that there's more of the saucy humour that won them acclaim in the first place.
RaeLynn
The Voice alumnus scored a breakout hit with God Made Girls, which proved as popular as it was divisive, and her debut EP is filled with similar songs like For a Boy that take a wide-eyed approach to young love. RaeLynn's detractors find her bashful lyrics obnoxious and her voice grating, but to her credit, she has a clear songwriting perspective and a very distinctive sound. Those are real assets.
Jana Kramer
Jana Kramer gained notoriety as an actor on One Tree Hill, but she's been making inroads in country music for a few years now. Kramer scored a big hit with Why Ya Wanna in 2012, and her excellent new single I Got the Boy appears poised to replicate that success. Co-written by Jamie-Lynn Spears (sister of Britney), the wistful ballad looks back on a high-school relationship that burned hot and then went awry. "I got the boy," Kramer sings with just a kiss of regret. "And she got the man."