Jazz festivals are often reminders of the venerable players who continue to shine, and of what a young art jazz is, because the pioneers of some of its defining moments are still around to rub shoulders with rising stars. The Cheltenham jazz festival's weekend lineup presented the whisper-quiet 87-year-old sax legend Lee Konitz, the rootsy and soulful 77-year-old Archie Shepp and the 62-year-old stripling Joe Lovano, whose roaring invention and shoulder-shaking swagger brought to mind Sonny Rollins in full cry.
Then there was the jazz-loving 35-year-old pop star (and the festival's guest director) Jamie Cullum who sang with those rip-roaring veterans of organ-powered jazz-funk, Medeski, Martin and Wood. Cullum looked thrilled, and when the band played his own rocking Frontin', it sounded as if the feeling was mutual.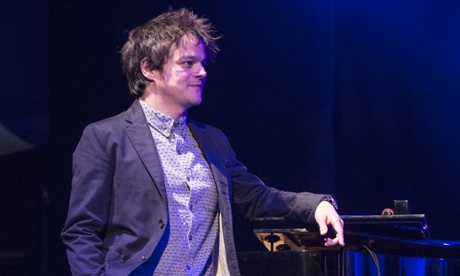 Free-jazz grandee Shepp's repertoire of blues, rough-hewn tenor-playing and brusque ballads was familiar, but his gig packed an emotional punch and reached deep into the history of African American music. The mix of yearning and hope on the blues-ballad Revolution, performed on soprano sax and in Shepp's variously wistful and fiercely abrasive vocal, was moving.
More low-key was Lee Konitz and the New York trumpeter Dave Douglas in a celebration of the conversational "cool school" polyphonic improv approach. Konitz was initially tentative, and the music sometimes sounded too small for Cheltenham's cavernous Town Hall, but Douglas and bassist Linda Oh later raised the temperature and Konitz audibly warmed.
However, it was Joe Lovano, appearing with his Afrobeat-inspired Village Rhythms Band (driven by percussion dynamism from Otis Brown III and Senegalese talking-drummer Abdou Mboup), who took the honours. He shared improv space with the brilliant electric guitarist Liberty Ellman. Neither ran out of ideas, and Lovano has never sounded better.