The last time Django Django talked to the Guardian, towards the end of 2011, they were preparing to release their debut album – a tuneful but experimental mix of psychedelia, folk and the sound of coconut shells being bashed together to make a noise like galloping horses.
"I thought it would be an underground album that would sell a few hundred copies," says producer and drummer David Maclean, a self-effacing Edinbronian. Their record label was slightly more optimistic and pressed an initial few thousand copies, but bassist Jim Dixon, a straight-talking Yorkshireman, fully expected that they would end up " having to hire a garage somewhere to put them all while they gathered cobwebs".
Then, in January 2012, the reviews started coming in. The Guardian hailed their eponymous debut's "updated psychedelia that beguiles and delights". Q described it as "consistently mind-melting and often brilliant" and Mojo "gloriously, unpredictably new". Quickly, an album that had been largely made in Maclean's bedroom catapulted its creators to a level of success and attention that they'd never imagined in their wildest dreams – including a Mercury prize shortlist and appearance in various end-of-year polls.
"Everything went nuts," recalls Maclean. And then the public followed the critics, and the album sold almost 100,000 copies in the UK. "It was a uniquely personal album that for some reason everybody took to," Maclean says. "The next thing you know you're on a plane to Australia and before you know it, you're living on the road for the next two years."

In that time, the Djangos' surprise upward trajectory took them from tiny back rooms in the UK, to slots near the top of festival bills. Maclean remembers how bewilderment hit home when they played at the Fuji Rock festival in Japan, in front of 60,000 people.
"Just being in front of that many people feels strange, but especially when you're trying to recreate these crappy bedroom recordings," he says. "I'm up there thinking: 'I wonder if anyone knows that I made this music pottering around in my pyjamas. Not having a clue what we were doing, just giving it a go.'"
At that particular gig, lanky, floppy-fringed Irishman Neff spent so long tuning his guitar that the audience started applauding. "I think they thought it was an avant garde performance," Maclean observes.
It wasn't just the shows that were part of what Maclean calls a "momentum that is actually difficult to stop". Despite the music's experimental origins, it soon became inescapable, cropping up on adverts and TV shows. Leeds United fan Dixon remembers a "peculiar pride" when the group soundtracked Match of the Day's Goal of the Month competition – and fielding calls from his excited mum, telling him: "You're on Countryfile again." At one point, after they had started turning down requests to use their songs in ads, they found their distinctive sound copied by a soundalike in a TV spot for a family car. "Our mates were texting us, asking: 'Is that you?'" sighs Dixon, ever so slightly miffed. Otherwise, they had a ball, but as one year on the road stretched into the next, Maclean found himself fretting, "When are we going to get back to making music?"
The initial plan had been to make another – equally underground – record very quickly, but every time they started to think about new songs, "another call would come in," Maclean says, "and you're off to America again."
By the end of 2013, when Django Django played at Edinburgh's Hogmanay celebrations, the band realised the only way they could hope to stop the rollercoaster would be to get off it. "People think it's a jolly being in a band," Maclean says, "but it's really hard work. I had a back-breaking job before this, doing furniture removal, but this is the hardest thing I've done. "
The acclaimed first album – had come about via various "daft experiments" over the space of three years. "It was easy in that regard," Maclean says. "We didn't exist, so there was nothing to compare it to."
When they returned to the studio, though, Maclean was determined that the pressure wouldn't get to them. After a slow start, songs suddenly started coming thick and fast, the process helped by all four members contributing ideas, where the debut had been mostly Maclean and Neff.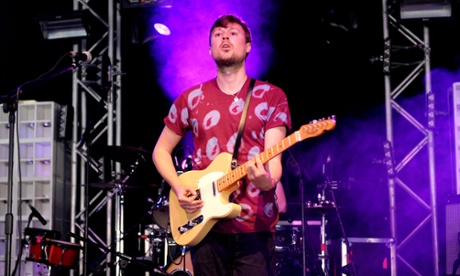 "Vinnie and Jim have got a knack for writing great melodies," Maclean says, "but in the past, Vinnie would have this great tune and it would stop and you'd ask, 'What happens next?' He'd go: 'I don't know.' Then a week later he'd forgotten the melody. This time, we kept on hammering away at things like that. It was a case of: 'Let's make these songs as good as they can be.'"
Born Under Saturn, the resulting second album, seems likely to be a more confident, finely honed effort than its brilliant but ramshackle predecessor. All the familiar elements – electronic grooves, surf guitar, spare percussion – are there, and house and reggae grooves joyously co-exist with echoes of the Beach Boys and early Pink Floyd, but everything sounds turned up another notch. "We don't make moody music," Maclean says. "I never got into this to be in big studios or be a rock'n'roll star," he argues. "It's about scraping together what we can to make an album and having fun playing shows."
So how fun have their comeback shows this spring been? To make a visual impact onstage they had ordered plinths, upon which large white letters spelling out the word "Django" would be placed. Then the plinths were delivered, and it all went a bit Spinal Tap. "It was exactly like the Stonehenge scene – they were supposed to be in centimetres and came back in millimetres," Dixon says. "They were tiny."
"Then we actually lost the letters D and O at the first show in Leeds," adds Maclean. "So somewhere there's a guy walking round with a giant DO."
• The single Reflections is out now on Because Music. Born Under Saturn follows on 1 May in Australia, 4 May in Britain and the band tour throughout May djangodjango.co.uk