Schumann dedicated his Kreisleriana to Chopin. Chopin wrote his 24 Preludes in honour of Bach. In a career stretching back more than half a century, the Italian pianist Maurizio Pollini, 73, has paid homage to all three composers and many more, especially those of our own time. Inventive programming has been a hallmark of his fertile, aristocratic music-making.
As he noted regretfully in 2011, the great masters of the second half of the 20th century – Boulez, Stockhausen, Berio, Nono, Ligeti – "still appear to be a little further away from the general public as everyday music for a normal concert". He will never give up the challenge of turning them into household names. For his sold-out Royal Festival Hall recital in the International Piano series, however, he restricted himself to Schumann and Chopin.
Quite an easy listen compared to the Pollini norm, observed a concertgoer in the buzzing foyer beforehand. "Not so easy for the pianist," a distinguished international player interjected crisply. She was one of several pianist colleagues who were there to hear and support the guru, famous for his cool, crystalline precision and incomparable technique.
Her words gave pause for thought. Pianists have famously long careers. With luck, Pollini has years ahead of him. Vlado Perlemuter gave concerts until he was 89, Vladimir Horowitz until he was 83. Whereas actors often struggle to learn new roles in declining years, for pianists, returning to music they may have learned in their teens, muscle memory acts as a secret weapon. The problem is more likely to be one of dexterity. Pollini started a little stiffly and simply got better and better as the evening progressed.
The diamond gleam of old, which many found too icy, has yielded to a warmer, more mellow style. He seems to derive more pleasure from performing, and smiles more, even if the technical certainties are less absolute – at least initially. He opened with Schumann's little Arabesque, Op 18, and his decidedly not little Kreisleriana, Op 16, a work in eight contrasting movements. If the agitated, hurricane-force movements sounded unsteady and rushed, the poetic, slow B flat major sections had an almost mystical or disembodied sense of reverie.
The second half was devoted to Chopin's 24 Preludes, Op 28. Pollini has played them incalculable times, and recorded them. On this occasion, the madness and radical invention of these works, which can instead seem polished and gem-like, cried out with telling clarity. From the murky dissonances of No 2 in A minor, to the buoyancy of No 3 in G major, the gripping turbulence of No 8 in F sharp minor to the serene generosity of No 17 in A flat major (Clara Schumann's favourite), Pollini delivered all with nuance, minutely calibrated detail and fire.
Pollini, we might recall, complained about London's concert halls – the Barbican in particular – in the 1980s, long before Simon Rattle uttered a word. He has, however, remained faithful to the Festival Hall, travelling with his own piano, an adapted Hamburg Steinway. An expert would need to explain exactly why this instrument – worked on by an Italian super-technician named Angelo Fabbrini, who has his surname emblazoned in gold on the piano's side – sounds different, rich-toned, transparent yet never coarse. Roughly, it concerns the fine balancing of strings, bridge and soundboard and results in an extended dynamic range.
Perhaps overkeen to be heard in a large hall, Pollini sometimes sounds too loud, but when he plays pianissimo, the notes are light as gold dust – as the delicate, cascading arpeggios in the Scherzo No 3, demonstrated. Chopin wrote the work in 1839 in Valldemossa, Mallorca, the same year the 24 Preludes were finished. With a cheering crowd calling for more, Pollini offered this as his third encore. Even apparent spontaneity requires careful planning.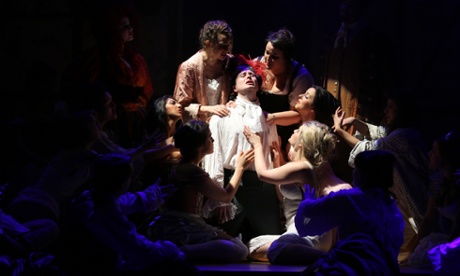 In budget week we were forced to think about careful saving and prudence. In The Rake's Progress (1951), Tom Rakewell takes the easy route and sells his soul to the devil, ending up in the madhouse. Let that be a lesson. Stravinsky wrote the work, to a libretto by WH Auden and Chester Kallman, in the postwar austerity years. Royal Academy of Music's opera department performed it in a handsome and touching new production, conducted by Jane Glover, directed by John Ramster and designed by Adrian Linford.
In the intimate if dry acoustic of the Jack Lyons theatre, with a fine chorus and vivid playing from the Royal Academy Sinfonia, the piece glowed with energy and intensity. In the first of two casts, Bradley Smith in the title role grew into his part wonderfully as his character declined. Rhiannon Llewellyn had all you could want – clear, accurate high notes especially – as a tender but spirited Anne Trulove. Božidar Smiljanic was hugely promising, if rather too nice, as Nick Shadow. In their programme biographies they all credit the support of various trusts, though doubtless these only ease the burden slightly. In budget terminology, aspiration has become a dirty word. In a tremendous student endeavour such as this, love trumps money every time.
Star ratings (out of 5)
Maurizio Pollini ****
The Rake's Progress ****