On Wednesday morning, Compton rapper Kendrick Lamar posted the cover art for his forthcoming LP, To Pimp a Butterfly, on Instagram, prompting much excitement. To call its vivd imagery confrontational would be an understatement. Shot in striking monochrome with the quality of a vintage Polaroid, it features a large group of mostly shirtless black men and children – plus one baby, cradled by Lamar himself and, possibly, one woman – arranged in a victory tableau on the lawn in front of the White House.
One man is speaking on his cellphone (perhaps to tell a friend: "We've won! Come join the party!"), while many of the others – wearing facial expressions ranging from unbridled joy to pure defiance – brandish booze and fat wads of cash: a Scarface-style symbol of material success historically familiar in rap circles. In the right front, a small boy victoriously flips the bird. His digital profanity is pixellated and, amusingly, he is positioned directly above the Parental Advisory label – the warning sign concocted by Tipper Gore in 1985 at the height of the Reagan-era culture wars.
The cover's incendiary coup de grace is the white judge – whose presumably recent death is signified by the crude black crosses scrawled over his eyes – splayed across the front of the lawn, gavel dangling limply from his right hand. If the LP's title is a riff on Harper Lee's classic novel To Kill a Mockingbird, then perhaps the dead judge (who also bears a striking resemblance to Ronald Reagan) represents Judge John Taylor, a decent man who worked inside a broken system and couldn't save Tom Robinson, the black man falsely accused of raping a white woman.
Today, the same broken system has resulted in an absence of justice for the families of Trayvon Martin, Eric Garner, Michael Brown, Renisha McBride, John Crawford, and Tamir Rice, to cite the names of just a few slain black Americans. Lamar's LP art suggests that the system has been overthrown by a revolution, black president or not. That said, this particular "revolution" is also notable for its uber-masculinity – a feature that's already prompted Twitter blowback. Writer Jamilah Lemieux opined "like Black men are taking shit over anywhere at anytime or leading anything without Black women LOL it has never happened, ever."
Lamar's cover art – and new, Ferguson-referencing song The Blacker the Berry ("Six in the morn', fire in the street / Burn, baby, burn, that's all I wanna see") – situates the rapper within a long history of African American musicians using their medium to engage explicitly, and often controversially, with issues intersecting along the lines of civil rights and race relations. Blues artists like Bessie Smith (1928's Poor Man's Blues), Josh White (1936's When Am I Going to be Called a Man), for example, addressed racism head-on, pointing a way forward for protest music.
Only later, however, did black political music assume an iconographic visual quality, as can be witnessed in these legendary LP sleeves – all of which, in one way or another, can be considered forerunners to To Pimp A Butterfly.
We Insist! – Max Roach's Freedom Suite (1960)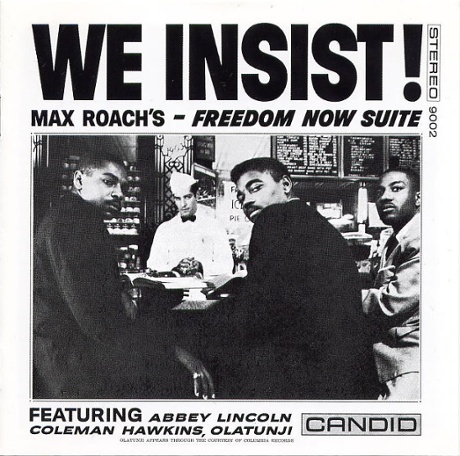 The cover of this impatiently-titled, classic jazz record references the sit-in movements of the civil rights movement which started in Greensboro, North Carolina in 1960. As with To Pimp a Butterfly, the confrontational nature of the image is accentuated by the fact that everyone in the frame is staring straight down the camera.
Marvin Gaye – What's Going On (1971)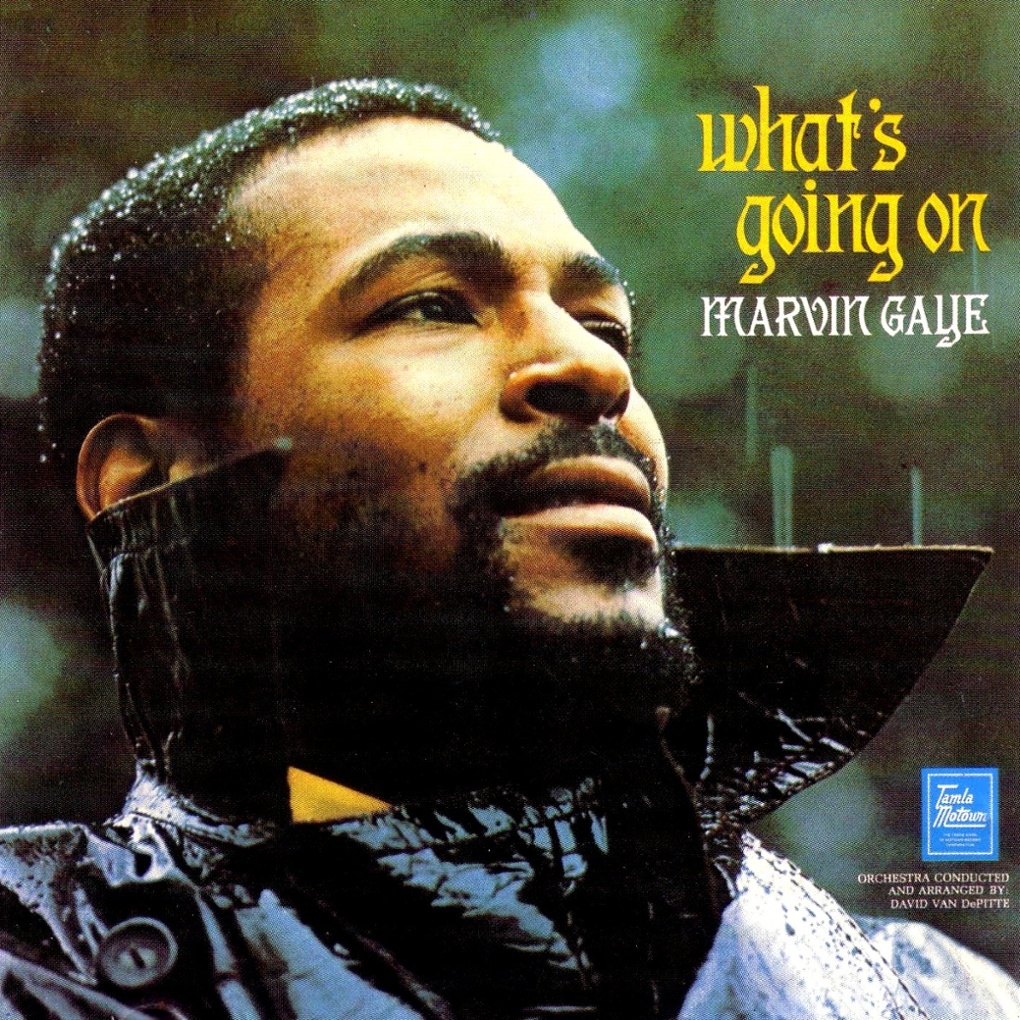 "Brother, brother, There's far too many of you dying", sang Gaye on the title track of his classic protest album, fuelled by anger and sorrow at the escalation of the war in Vietnam, increased urban poverty and ongoing police brutality. The cover art – a muted image of a grimacing, raincoat-clad Gaye being soaked by a downpour – matched the bleak tone of the music. Gaye was one of many famed African American singers of the era to embrace anti-establishment politics in his music. Some, like James Brown and Stevie Wonder, found their choices no barrier to commercial success. Others, like Nina Simone and Billy Paul – despite becoming inspirational figures to legions of black Americans – found their careers stymied.
The Last Poets – This Is Madness (1971)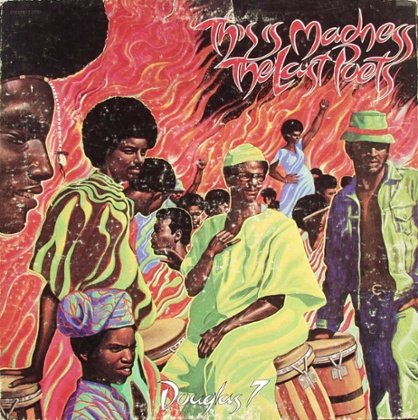 The Last Poets was an amorphous, ever-shifting collective of poets and musicians who arose from the late 1960s black nationalist movement. The staunchly Africanist imagery, flame-coated backdrop and Black Power salutes tell the whole revolutionary story on the cover of their album This is Madness.
Billie Holiday – The Original Recordings (1973)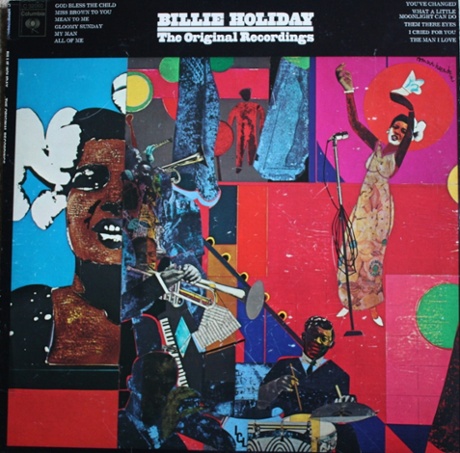 Billie Holiday recorded and popularised Strange Fruit, the haunting ballad about lynching, in 1939. It has been covered countless times, and provided the basis sample for Kanye West's Blood on the Leaves. Yet this colourful artwork, designed by the great African American collagist Romare Bearden, is radical in a different way, celebrating Holiday's spiritual freedom, individuality and blackness.
Sun Ra – Space is the Place (1973)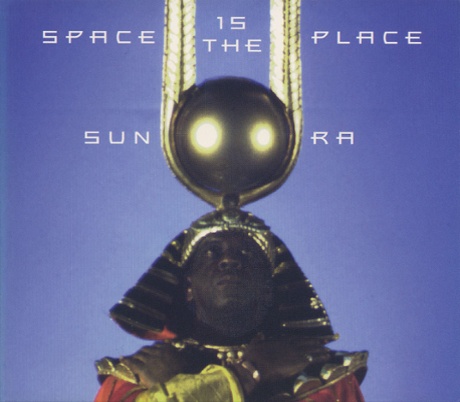 Born Herman Poole Blount in the Jim Crow hotspot Birmingham, Alabama in 1914, Ra maintained he was not of this planet and painstakingly crafted a mythical persona that fused sci-fi ideas and aesthetics with Egyptian mysticism. In his sole fictional film appearance – an adaptation of the album of the same name – Ra plays a seer whose mission is to get the disenfranchised black youth of the day to relocate to the utopian haven of space. Its allegorical take on a blasted, post-civil rights urban America as no place for black people was hardly subtle.
Bad Brains – Bad Brains (1982)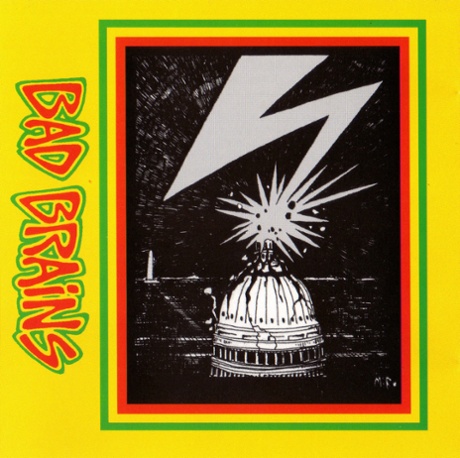 The self-titled debut by DC Rasta-punks Bad Brains – once regarded as one of the fastest albums of all time – flies by in a flurry of aggravation and spittle-flecked spirit. Its cover courted controversy by depicting the chrome dome of the Washington Capitol building being struck by lightning and cracking apart. Perhaps the electricity was conducted by their furious hardcore.
Public Enemy – It Takes a Nation of Millions to Hold us Back (1988)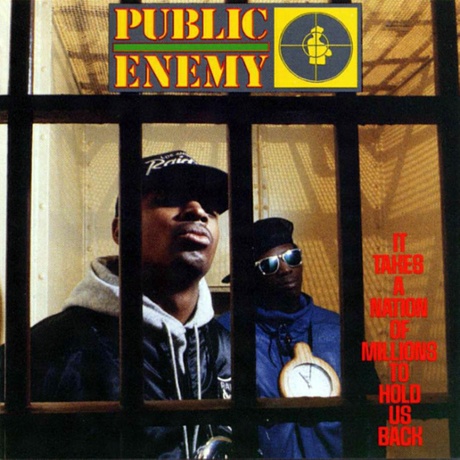 The east coast rappers' second album was the hip-hop answer to What's Going On – a kaleidoscopic, doomy slab of politically-engaged social commentary. The ominous LP art finds leader Chuck D and clock-toting jester Flava Flav incarcerated but defiant – as the title suggests, it'll take much more than jailing a couple of African Americans to stem the impending revolution. The album's message of black self-sufficiency also echoed through the proudly Afrocentric artwork of fellow rap groups Brand Nubian and A Tribe Called Quest.
NWA – Straight Outta Compton (1988)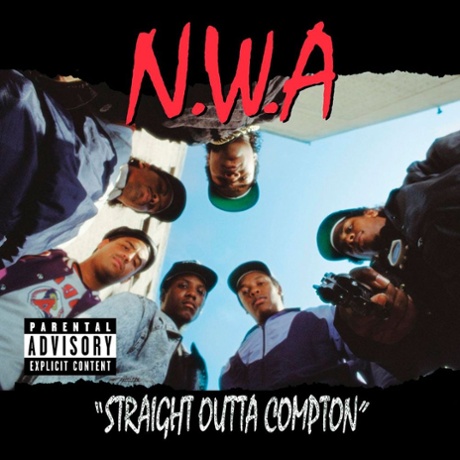 The forthcoming biopic of LA gangsta rappers NWA, named after their debut LP, illustrates that their influence is far from waning. Straight Outta Compton has one of the all-time great covers – a shot taken from the point of view of a man (very possibly a cop, if the song Fuck Tha Police is anything to go by) about to be dispatched by a gun-toting Eazy-E. The rest of the group glower with a memorable ferocity intended to strike fear into the hearts of white America.
Lauryn Hill – The Miseducation of Lauryn Hill (1998)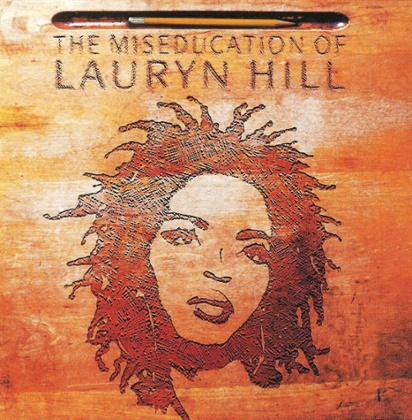 The striking cover art of the debut LP by the former Fugees vocalist is a model of economic simplicity which also communicates stark truths. The title (a reference to Carter G Woodson's The Mis-Education of the Negro) sits above an etching of her face on school desk: it's both a lament for, and an indictment of, an American school system which has failed to adequately represent black history for generations of children. Recently, Hill released the song Black Rage which she dedicated to the protestors in Ferguson. She also voiced the words of anti-colonial thinker Frantz Fanon in the excellent recent documentary Concerning Violence.
The Roots – Things Fall Apart (1999)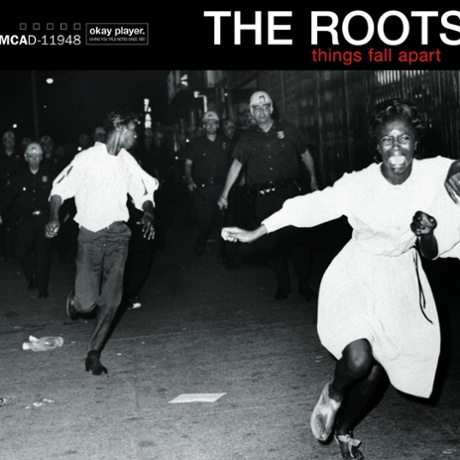 Taking its title from the classic 1958 novel by Nigerian author Chinua Achebe, the artwork for Things Fall Apart draws a terrifying line between the past and the present in its use of a stark, monochrome photograph from the civil rights movement era. It depicts the terrifying sight of riot police chasing two black teenagers – one boy, one girl – down the streets of Brooklyn's Bedford-Stuyvesant.
Dead Prez – Let's Get Free (2000)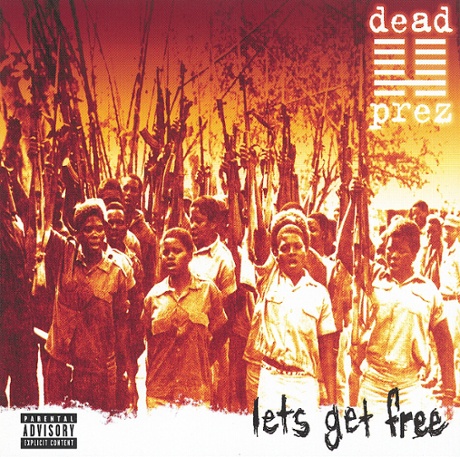 Among the most politically-conscious rap outfits of the era (alongside the likes of Black Star and X-Clan), Dead Prez matched their thrillingly didactic wordplay with uncompromising imagery. The cover of Let's Get Free represents an open call for armed revolution and aligns contemporary, capitalist, repressive America with colonial-era Africa in the form of an armed village preparing to strike. Unsurprisingly, the cover was censored in many outlets around the US.