When Unsuk Chin's operatic Alice was first performed, in Munich in 2007, it seemed reasonable to give the work the benefit of the doubt. There was no denying the brilliance of Chin's instrumental writing, and at least some of its dramatic shortcomings could be blamed on the archness of the premiere production. But now that Alice in Wonderland has finally reached the UK, brought to the Barbican in the concert staging by Netia Jones that was first seen in Los Angeles in February, the production raises the same dramatic problems it did at its premiere.
Many of those problems start with Chin and David Henry Hwang's libretto, which is extracted from Lewis Carroll's book and adds extra layers to a text that is already laden with verbal conceits, puns and parodies.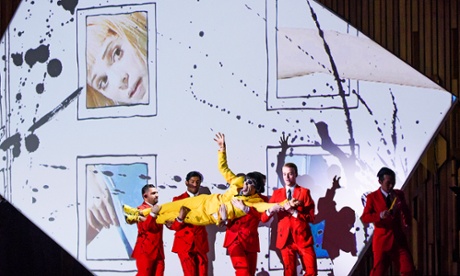 They add a sententious prologue and epilogue that suggest Alice's adventures are some kind of rite of passage, and rewrite and flatten out much of what comes in between, so that the gentle humour and its scary dark side are neutralised.
Much of the flavour of the original – its affection, its very British nostalgia – has been lost in this process. The opera becomes a series of self-contained tableaux, two-dimensional and often too long. Despite its ingenuity, Jones's staging, which takes Ralph Steadman's late 60s set of Alice illustrations as its visual starting point, can't supply what is missing. For all the virtuosity with which she manipulates these images and combines them with the live performers, who move in and around the orchestra (the BBC Symphony) on stage, there's something flat and distancing about it; the audience is kept very much at arms' length, and never encouraged in to share the jokes and games. The opera never comes to life in the way one hoped it would.
Musically, it couldn't be faulted. Conductor Baldur Brönnimann ensured all of the score's sideways glances, from baroque pastiche to references to Gershwin and Ravel, made their point, and all the singers fearlessly took on Chin's vocal-writing demands. They were led by Rachele Gilmore's butter-can't-melt Alice, easing her way around the coloratura. There were also fine cameos from countertenor Andrew Watts as the bustling White Rabbit, Marie Arnet as a faultlessly smug Cheshire Cat, Jane Henschel as an imposing Queen of Hearts (complete with eight-foot ruff), and Dietrich Henschel as the semi-tragic Mad Hatter. But these roles really are cameos; the picaresque texture is too thin for them to be anything more substantial.
• To be broadcast on BBC Radio 3 on 11 July.