"What do you fancy doing tonight?" Underworld frontman Karl Hyde can address this leading question to the Bristol Colston Hall crowd with complete confidence that there's nowhere else they'd rather be. Once you've heard a round of applause for the font choice in a back projection at the start of a live show, you can be pretty sure the paying public are on side.
To be fair, it is a remarkably fine typeface – chunky, all lower case, and the hors d'oeuvre before a veritable typographical banquet. Every one of the nine songs from the album which we're about to hear in its entirety will have its own subtly varied intertitle, as if each of the dialogue captions for a silent film had been penned by a slightly different hand.
The album in question – 1994's cerebral rave landmark Dubnobasswithmyheadman – is one of few in pop history whose mysteries reveal themselves through the lore of its lettering. Not only did the artfully squished text on its cover perfectly encapsulate the landscape of information overload from which Underworld's music seemed to be emerging, it also prefigured their lyricist's uncanny knack for picking out a resonant phrase from the human static of a drunken night out or an early-morning tube journey.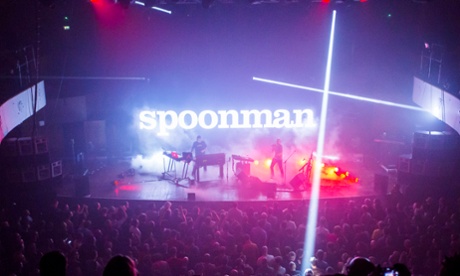 As Hyde growls the suitably portentous opening line – "Thunder, thunder lightning ahead" – the excitement of hearing this marvellous record for the first time floods the venue anew. Technically Underworld's third album, Dubnobasswithmyheadman was the first to be put out by a new incarnation of the band in which Hyde and co-writer/producer Rick Smith were joined by stock-exchange-runner-turned-acid-house-DJ Darren Emerson (who'd stay with them for the next six years, an Essex Eno to their Roxy Music). It ushered in an imperial phase for these two erstwhile nearly-men – who had been working together in one form or another for nigh-on 15 years – that would be as much of a surprise to them as it was to anyone else.
By the time the crepuscular throb of Dark & Long has opened out into the architect's erotic daydream Mmm… Skyscraper I Love You, Hyde's extensive repertoire of slightly camp hip-thrusting dance moves is fully operational. These seem no more age-inappropriately louche now than they did 20 years ago (though he did set the bar quite high first time around), and it makes sense that a song about "porn dogs sniffing the wind for something new" should be performed by a man with the demeanour of a sexed-up Jack Russell.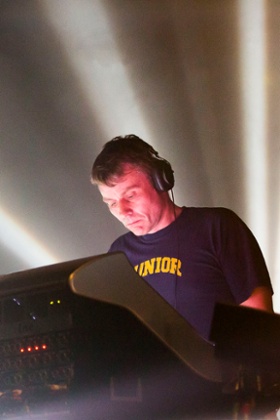 Two songs and 20 minutes in, Hyde drops the bombshell for which only a surprisingly small proportion of the audience (my unscientific guesstimate on the basis of sharp intakes of breath around me would be 30%) seem to have braced themselves. The man behind the bank of keyboards to his right is not in fact Rick Smith, who turns out to have been cruelly laid low by a serious eye infection, but Darren Price – a stalwart of the band's touring set up since 2005, who only discovered he'd be flying solo behind the keyboards a few hours before the show.
How well Price – Underworld's second significant Darren – rises to this Black Swan-style understudy challenge might seem to play into the hands of cynics who decry whole-albums-played-in-order events as glorified listening parties. But what makes so many of these shows improbably fascinating is seeing the extent to which performers manage to square the circle of contrasting dynamics between albums and live gigs, and the slight guilty feelings of those who hadn't noticed Smith's absence are just another obstacle for Hyde to overcome.
Happily, Dirty Epic's invitation to "ride the sainted rhythms on the midnight train to Romford" is a hard one to refuse. And the slight longueur of Dubnobasswithmyheadman's downbeat closing stages is redeemed by a transcendent triptych of bonus tracks. As Rez's spiralling susurrations of joy lapse into Bigmouth's exuberant live harmonica jam, there's only one way this show can end. Never mind the industrial revolution, it was the folk memory of Trainspotting anthem Born Slippy .NUXX that really powered Underworld's contribution as musical directors of Danny Boyle's London 2012 Olympics opening ceremony. And as Hyde flips the switch into one of British pop's most succinct choruses (one word less than "She loves you, yeah yeah yeah!"), the effect of "Shouting lager lager lager lager!" is still properly electrifying.