When an opera waits more than 60 years for its world stage premiere you have to ask why it has been buried all that time. Surely not because of the BBC's qualms that Malcolm Arnold's The Dancing Master was too bawdy for 1952 family viewing. That seems hardly credible today. One suspects that musical snobbery is more to blame, the mischievous Arnold never having enjoyed top ranking in British programming, his music dismissed as too light and quixotic for truly discerning ears.
That's something of a tragedy. His romp through Wycherley's restoration comedy may have nothing profound to say about the human condition, but it fizzes with wit and invention, so much so that the orchestral writing often upstages the action. At the Guildhall School of Music and Drama last week, the orchestra was the undoubted star of the premiere, making the most (sometimes too enthusiastically) of Arnold's trademark brass syncopation, throbbing away under jaunty melodies, and revelling in the cheeky interjections that comment on the narrative.
Miranda (Alison Rose) is desperate to escape the clutches of a ludicrous fake French fop (Robin Bailey). Before she and her scheming maid Prue (Emma Kerr) can get out of the window, a suitor, Gerard (Lawrence Thackeray) appears up a ladder and announces his intention to take her away. Mayhem ensues when he is discovered by the ghastly Mrs Caution (Ailsa Mainwaring) and the absurd Don Diego (David Shipley). You get the picture.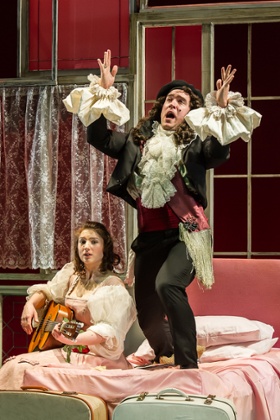 With singers mostly still on the Guildhall's opera course it would be unfair to judge still-developing voices and techniques, but soprano Alison Rose deserves praise for her ever-resourceful Miranda, even though her big extended aria was ruined on first night by a painfully flat oboe in the pit.
Was it worth the 60-year wait for The Dancing Master? On the whole, yes. The infectious mischief in Arnold's music is hard to resist, particularly when conducted with such enthusiasm by Dominic Wheeler. Designer Yannis Thavoris updated the action from Restoration times to 1950s Britain, all full skirts and teddy boy outfits and director Martin Lloyd-Evans ensured the action was fast, fluent and often funny.
It was certainly more of a success than Donizetti's I pazzi per progetto, another scatty farce but this time set in a psychiatric unit. Making the cast negotiate a stage full of empty rocking chairs did nothing for the pace, despite Wheeler's best attempts to keep it moving in the pit. I won't detain you with the crazy story, but Alison Langer, as Norina, clearly has a bright future.
Handel's Hercules is neither opera nor oratorio. Conceived in less than a month in the summer of 1744, Georg Frideric described it instead as a "musical drama", staged without costumes, scenery, dances and overpaid castrati. Premiered a few months later in front of a thin audience and with a sick contralto, it flopped, and Handel never again attempted such a venture.
Fast-forward to the 21st century and audiences are more tolerant than their 18th-century counterparts. Far from feeling robbed of spectacle, we relish the opportunity to hear the music speak for itself. But that's not to say that drama is entirely absent; far from it, when it is performed with the commitment of director Harry Bicket, a stellar cast of energetic soloists and the pungent playing and singing of the English Concert orchestra and choir.
Hercules has returned victorious from battle with the young princess Iole among his prizes. His wife Dejanira, bereft at the oracle's prediction that he had been killed, is overjoyed at their reunion, only to be consumed with venomous jealousy at the sight of Iole. She wrongly accuses Hercules of installing a mistress in their home and her anger is titanic.
Alice Coote gave a blistering performance as Dejanira, bewailing her predicament one moment ("There, in myrtle shades reclin'd") and spitting poison the next, moving around the stage like a woman possessed, firing arrow-showers of semi-quavers at Hercules (a bemused Matthew Rose) and the captive Iole. When finally she learns of the dreadful consequence of her jealousy she loses her mind, and her fear of the Furies is real and terrifying ("See the dreadful sisters rise").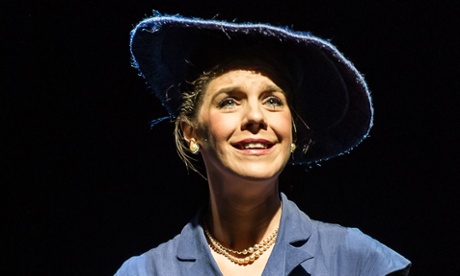 Elizabeth Watts confirmed her place as one of Britain's leading sopranos as the traduced Iole, desolate in her lament for her lost home, but a match for Dejanira when accused of being Hercules's lover. Like a cornered lioness, eyes flashing, claws out, we felt her bitter scorn in "Ah, think what ills the jealous prove". And yet, when Dejanira's downfall was complete, her honeyed sweetness in "My breast with tender pity swells" was deeply moving (while pointing up its close relation to "I know that my redeemer liveth").
Tenor James Gilchrist, the consummate Handelian, was rock solid as hapless Hercules's son Hyllus who finally wins the heart of Iole, and Rupert Enticknap's rich and glowing counter-tenor warmed his portrayal of the faithful herald, Lichas. Audiences in Vienna, Paris and Birmingham enjoyed this red-hot interpretation before it arrived in London, but sadly there are no plans for a recording. That's a scandal.
Barely 36 hours before Simon Rattle was finally confirmed as the London Symphony Orchestra's new director, the orchestra proved its ability to turn on a sixpence and reprogramme an evening, creating, by happy accident, a concert of sweetly calibrated emotion. Illness caused conductor Donald Runnicles to withdraw, so the LSO threw Debussy's tempestuous La Mer overboard to make way for Fauré's gentle Pelléas et Mélisande suite, an inspired choice when coupled with Debussy's sensuous La damoiselle élue, producing a calmly contemplative opening, which threw all the drama and exaltation of the evening's main item – Duruflé's Requiem – into even sharper relief.
David Hill was a wise choice as a substitute for Runnicles in this largely choral programme, and while his Pelleas suite was a little workmanlike, the Duruflé was revelatory. We are so used to hearing it sung by small forces that I feared it would become muddy and indistinct with 100 voices and full orchestra. Not a bit of it: each line was clear and incisive, the LSO chorus tenors in particularly impressive form in the great burst of colour that closes the Kyrie – and Hill's handling of the miraculous unfurling of the In Paradisum was a moment of pure ecstasy.
Star ratings (out of 5)
The Dancing Master***/I pazzi per progetto ***
Hercules *****
London Symphony Orchestra and Chorus/Hill ****
• The Dancing Master/ I pazzi per progetto is at the Guildhall School of Music and Drama until 9 March