There are many diverting sights to take in at Glastonbury: everything from Pussy Riot forcing a gun-toting man to wear a rainbow balaclava in the name of politically charged performance art, to the Dalai Lama addressing the stone circle on Sunday morning, traditionally a time when it is largely populated not by seekers of spiritual insight but by people who haven't been to bed since Thursday, struggling to uncross their eyeballs. But one thing you almost never see is a performer using a torrential downpour of rain to their advantage, which is one of the things that makes Mary J Blige's Friday afternoon appearance on the Pyramid stage a genuinely remarkable event. She announces that she's never been to Glastonbury before – handy clarification for anyone who thought they saw the self-styled Queen of Hip-Hop Soul down the front for Ozric Tentacles in 93 – but her performance is dazzlingly slick. Then she plays a startlingly intense version of the title track of her 2001 album No More Drama, crouching on the rain-lashed lip of the stage, as if she's treating the elements as a special effect, amping up the song's harrowing, cathartic power. Her voice is incredible, all the more so if you've spent the earlier part of the afternoon listening to some pretty wan-sounding alt-rock bands. When it ends, the audience goes so nuts for so long that her band can't start the next song. Looking out over the field, Blige bursts into tears.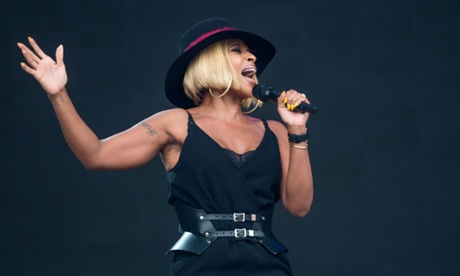 You can't accuse Friday's Pyramid stage bill of lacking eclecticism. Blige is followed by Motörhead, a band whose immutability is part of their appeal. Their sound is like a multistorey car park: grey, hard, wilfully ugly, cast in concrete in 1976. But this evening, Lemmy cuts a surprisingly frail figure onstage, and the band seem somehow sapped of their raw power: it feels tinny and sluggish. A similar problem affects the Libertines, who fill the gap left by Florence + the Machine's elevation to headline status: their ricketiness is part of their appeal, and their set might well sound great in a smaller venue, but in a vast space like this it seems undernourished and insubstantial.
"We spent our entire stage production budget on making the sun come out," yells El-P of Run the Jewels, triumphantly, as the duo arrive on the West Holts stage. "Yeah, $82," deadpans his partner, Killer Mike. It's true that there isn't a great deal to Run the Jewels' live show: just the pair of them and a DJ. But it works, even in front of a huge crowd: the duo are incredibly charismatic onstage. There's something infectious about their obvious delight at finding the biggest success of their respective careers as middle age approaches and they have an ability to seamlessly switch the mood from wit to fury and back again. At the other extreme, Mark Ronson pulls out all the production stops, and that works too: there's something faintly overwhelming about his show on the Other stage, which features BMX bikers, double-dutch skippers, his band performing to a recording of the late Amy Winehouse singing Valerie and a plethora of special guests. Boy George sings Do You Really Want to Hurt Me? in a top hat with fake dreadlocks attached to it. For the concluding Uptown Funk, Ronson is joined not just by Mary J Blige, but Grandmaster Flash and George Clinton of Parliament-Funkadelic: it's a totally joyous performance.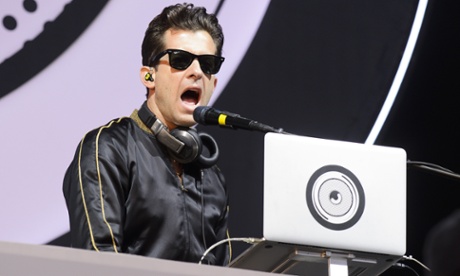 Also clearly making an effort are substitute headliners Florence + the Machine. Florence Welch doesn't so much seize the opportunity as grab it by the throat and wrestle it to the ground. She does everything to win over the audience short of offering to pack up their tents for them on Monday morning. She repeatedly ventures into the crowd, much to the consternation of the bouncers. She puts a flower garland on her head, proffered by a fan. She encourages audience members to clamber on their partners' shoulders. She asks the audience if they want to get high: this being Glastonbury, the answer is a resounding yes. She talks about ley lines. She reminisces about the days when she played in an outlying tea tent at the festival, "but I had a feeling everything was beautiful". She throws shapes with such abandon that we occasionally seem to be venturing perilously close to the world of interpretive dance. It veers between ridiculous, entertainingly ridiculous, faintly irritating and authentically endearing. The crowd love it, aided by the fact that the main stage at Glastonbury potentiates grandiose gestures and anthemic music: for better or for worse, a headlining set at the festival is no place to start exploring your music's more arcane subtleties, as Kanye West will subsequently discover. A woman whose music doesn't really have that many subtleties to explore in the first place, Welch is ideally placed: You Got the Love provokes a mass singalong, and it's hard to begrudge her her unexpected moment.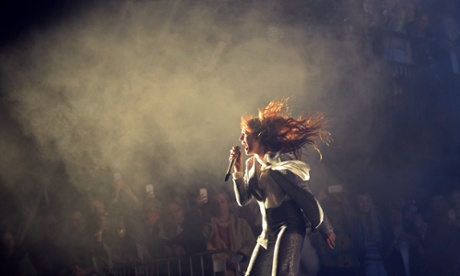 Saturday dawns with the beautiful sound of the Unthanks singing folk songs accompanied by an orchestra, but the John Peel stage offers shouting. Slaves are raw-throated and estuary-accented, but their take on punk is more lighthearted than it first appears: indeed, on their more jokey tracks, such as Where's Your Car Debbie?, the ghost of Splodgenessabounds' Two Pints of Lager and a Packet of Crisps Please lurks improbably around. And then it's Sleaford Mods, whose approach to the festival offers an intriguing contrast to the standard "we're-so-grateful-to-be-here-this-is-a-dream-come-true" approach. "The toilets are fucking shit here," opines Jason Williamson. "Everything's fucking shit here." Their set is relentlessly powerful: Williamson is magnetic, Jobseeker and Fizzy's howls of despair and anger genuinely hit a nerve with the audience. "Got a bit tense that, didn't it?" he nods after the latter comes to an end. "Got a bit carried away."
Elsewhere Clean Bandit draw a huge crowd to the Other stage. You can see why Rather Be was a huge hit – it's got a massive, inescapable hook – and they cover Robin S's 1993 hit Show Me Love, a record that was audibly hugely influential on the the current wave of vastly successful pop-house, but their brand of dance music still feels devoid of grit, as antiseptic as the hand gel you're advised to use after visiting one of the lavatories that so upset the guy from Sleaford Mods. Over on the Park stage, meanwhile, Father John Misty is in full flow. It's not just that singer-songwriter Josh Tillman's music sounds substantially more aggressive and less obviously indebted to mid-70s LA rock live than on record, although it does. It's that Tillman himself is a brilliant performer. Besuited and luxuriantly bearded, he manages to exude an aura of sleazy malevolence while hamming it up relentlessly: dropping to the floor, plunging into the crowd, clambering on top of his drummer's kit to perform the title track of I Love You Honeybear, thrusting his pelvis as he sings the title of When You Are Smiling and Astride Me, examining the selection of festival wristbands on his arm between songs: "This one means I'm underage, ladies." It's simultaneously hugely entertaining and slightly discomfiting, an impressive trick to pull off.
Pharrell Williams's Saturday evening performance on the Pyramid stage offers a rather more straightforward approach. In fact, it's got a hint of the light-entertainment spectacular about it: he brings on a chorus of children to sing Happy, invites a load of festival-goers to dance behind him – rather shamelessly, the handful of men among them are hastily ushered offstage – and offers a lot of slightly oily patter about the beautiful ladies of England. He cedes the stage to a female dance troupe called the Baes and brings on a woman who stands on her head and walks on her hands. Williams sings She Wants to Move to her inverted form, which looks a bit peculiar, as if he's addressing the song to her crotch. Elsewhere, he smartly takes the same approach to his live show as Nile Rodgers of Chic, performing not just his solo material, but tracks he has produced or written or guested on, which means the set is almost comically overstuffed with hits: Blurred Lines, Get Lucky, Drop It Like It's Hot, Hot In Herre.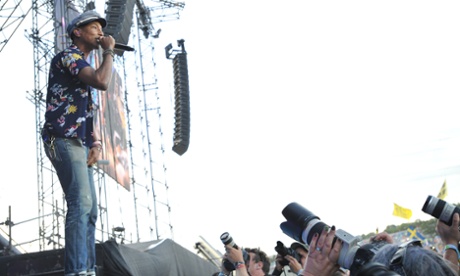 It all makes for an intriguing contrast with what follows: while Williams goes out of his way to win over the crowd, Kanye West doesn't bother. There are no dancers, no grand special effects, no sense of an artist turning on the charm: just West, rapping underneath a vast ceiling of glaring white lights. There's something admirable about his bloody-minded determination to do everything on his terms, rather than cravenly court the audience's affections, and the opening burst of songs is genuinely thrilling. The staging is starkly impressive, his performance is forceful, not even a stage invader can blunt Black Skinhead's edge. But for something that, according to one of West's few onstage announcements, involved an entire creative team to stage, it's a weirdly disjointed and uneven show. He cuts big hits short, not least Gold Digger, but extends a performance of Lost in the World, a beatless Auto-Tuned ballad featuring a guest appearance from Justin Vernon of indie folk band Bon Iver: it comes decorated with a monologue about the song's creation and a lot of camera closeups of West looking pensive and melancholy on the stageside screens. As the intro to Touch the Sky begins, he suddenly stops the song, mutters "that's not what we rehearsed in the dressing room" and vanishes. He reappears performing the song on the platform of a cherry picker. It would be spectacular stagecraft were it not for the fact that there's a vast gap before he resurfaces: the stage is black and silent, the show's momentum is lost. It fitfully sparks again: during All the Lights and Jesus Walks, when he performs a cover of Queen's Bohemian Rhapsody, despite the fact that the latter demonstrates that without Auto-Tune, West's singing voice is no great shakes.
As the set ends, he repeatedly informs the audience that they are watching "the greatest living rock star on the planet". He has a point. If you think that it's the job of rock stars to be grandiloquent, complex, controversial and occasionally ridiculous figures, so remote from everyday life that they seem almost otherworldly, then it's hard to think of anyone currently doing a better job. The problem is that tonight's performance doesn't back the claim up: it offers flickers of greatness rather than a blaze of glory.
The next day, the lead singer of Fat White Family exposes his genitals on the Park stage, Lionel Richie draws what looks suspiciously like the biggest crowd of the festival and spends virtually his entire show wearing a cartoonish OMG expression at their vociferous reaction: they even love it when he plays a version of USA For Africa's We Are The World. Patti Smith brings the Dalai Lama onto the Pyramid stage in the middle of an astonishing, incendiary set: she ends with a cover of the Who's My Generation, tearing the strings off her guitar as it shrieks and howls. She even manages to make falling over seem cool. "I fell on my ass at Glastonbury because I'm an ANIMAL!" she growls by way of explanation.
"What a night you've got," says Paul Weller gruffly, not, one suspects, a man who's ever been much given to spending his weekends trudging through mud with glitter on his face carrying a flag that says PAUL AND SPUD'S BARMY ARMY. "Not just us but the Who as well." The audience roar: there are people here in FUCK KANYE T-shirts, a lot of blokes with Liam Gallagher hair. But these days, at least, Weller is nowhere near as musically conservative as some of his fans. The hits understandably get the biggest response – Changing Man, You Do Something To Me, That's Entertainment, a slightly trudgy version of Start!, a sparkier take on A Town Called Malice that concludes the set – but the most intriguing stuff he plays is off his most recent album, Saturn's Pattern: if it's less fragmented and strange than its predecessor, Sonik Kicks, there's still something exploratory and off-kilter about the piano-powered title track, and the dense, ominous psychedelia of opener White Sky.
The Who, claims Pete Townshend – even more gruffly than Paul Weller – have "an easy job": "we 'ave to send you 'ome 'appy." They do this by rolling out the hits in quick succession: Who Are You, The Seeker, Pictures of Lily, Behind Blue Eyes. My Generation now comes with an odd, slow little coda in place of the old explosive, Keith Moon-fuelled ending that's presumably there to circumvent the inevitable question of what a 71-year-old man is doing singing the line about hoping he dies before he gets old: "My generation, we're still here today." From a projection at the back of the stage, the young Moon stares down, doe-eyed.
Daltrey can still swing a microphone around with considerable panache, but his voice is rougher than it was. Even so, it still has a powerful belligerence about it that matches the sound of Townshend's guitar and brings out the distrust and paranoia at the heart of I Can See For Miles. The guitarist seems a bit underwhelmed by the set. "It could have been better," he says, before a version of Won't Get Fooled Again that sounds great. The band didn't get to soundcheck, he complains, although frankly no one would have known if he hadn't mentioned it. And then he raises an amused eyebrow at Kanye West's line about being the greatest rock star on the planet.
Still, the next morning, it's still the only thing that people at Glastonbury are talking about. West appears to have succeeded in making the biggest music festival in Europe all about him, which is an achievement in itself.
This piece was amended on 2 July. The original version incorrectly stated that Lionel Richie neglected to play his track Easy.