There's a fundamental difference between experiencing Glastonbury in the flesh and watching it on TV. In person, it's a simultaneous assault on your senses, the sort of thing that sears your nervous system. Then again, when you're watching from home, you get to eat vegetables and occasionally wash your hands. Who's to say which is better?
However, even though sitting down indoors is undoubtedly better than standing up outside, this year's television coverage seemed hell-bent on replicating the festival experience as closely as possible. Luckily, thanks to my five-month-old son, I was already one step ahead in this regard. Between the constant noise, the lack of sleep and the relentless exposure to gallons of red-hot liquid faeces, it was just like being there.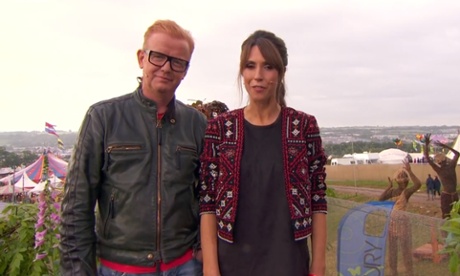 Others had to work harder to suspend their disbelief. Especially since the BBC's Glastonbury coverage traditionally plays out like an alternate universe where Jools Holland is a power-crazed emperor who demanded the creation of a never-ending edition of Later. On TV, without the need to walk between stages, you end up forced into a carefully curated smorgasbord: a current artist! A nostalgia act! A Japanese avant-garde jazz ensemble that might be a satirical take-down of world music! – at least some of which you're bound to enjoy.
In fact, so stringent was the BBC's approach to recreating the Glastonbury experience in full this year that it even managed to replicate the intimidating sense of panic that tends to engulf first-time revellers as they set foot inside the perimeter. It achieved this by letting Chris Evans (of all people) present Friday's One Show (of all things) from the backstage area (of all places). Seeing Chris, dressed in leather and visibly bristling whenever anyone's attention strayed from him for even a millisecond, was enough to bring back a flood of familiar sensations. What's going on? Is it all going to be like this? Have I made a terrible mistake?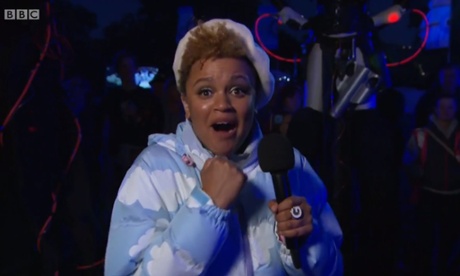 Thankfully, things soon settled down. The hosts – particularly Lauren Laverne and Mark Radcliffe – were your more experienced friends, guiding you towards performances they thought you might like. And then there was Gemma Cairney, acting as the annoying friend of a friend who came along at the last minute when someone else dropped out; the one who ends up dragging you around all the rubbish hat stalls when all you really want is a nice sit-down. Her entire output during the entire weekend could have been adequately performed by a Teddy Ruxpin bumbling around yelling "RANDOM!" and "LOOK! CLOWNS! LOL!" to nobody in particular every couple of seconds. However, Cairney was a necessary inclusion. Glastonbury is full of dreadful people, and she was there to remind the viewer of that. Public service broadcasting at its finest.
But the best Glastonbury experience wasn't on TV at all. It was over on iPlayer, where a handful of stages were being streamed without interruption. This was the perfect way to deliver a spectacle like Glastonbury – you were free to figuratively wander around, taking in whatever you wanted. Kanye West clutching the railings of a cherry picker for dear life, Ellie Rose making the entire crowd hold their breath and lean in to hear her, Super Furry Animals chucking themselves into yeti suits. By experiencing Glastonbury on iPlayer, you were only ever an overpriced tartiflette away from really being there. Hands down, it was the best use of the platform since the Olympics.
That said, with all the streaming options available, the coverage still smacked a little of unfulfilled potential. Given the success of BBC4's slow TV season earlier this year, a stream dedicated to unbroken footage of the Greencrafts Village would have gone down a storm. Failing that, perhaps there should have been a fixed rig in the hospitality bar, allowing everyone the chance to watch dozens of utterly insignificant television personalities furtively casting around to make sure they're still the most famous person within a 10-foot radius. In my experience, that's the spirit of Glastonbury incarnate.