It's a dry, hot night in Sacramento, and a crowd is waiting inside a small downtown venue to see the rapper Earl Sweatshirt – but their attention is grabbed by a sprawling twig of a man who launches himself across stage, eyeing the speakers to see if they are scalable, and rapping: "Can a motherfucker breathe?"
The man is rapper Vince Staples, and onstage he spits out words like they are coursing through his blood, throwing his body around as though that act of rapping demands every muscle from his toes upward.
He's a young man in a hurry, and his career thus far has been typical of an artist trying to break through in his own right: a few mixtapes, an EP, and opening for major headliners such as Sweatshirt, Joey Bada$$ and Pusha T. With crowds full of potential new fans, he's been front flipping and diving into the drunken hoards below – so he must have a lot of faith in the crowds, right?
"No, I've almost died before," Staples said, more than a month after the Sacramento show, and nearly six months since he fell on his head at a show in Tampa, Florida. For the interview, his frenetic onstage movements have been contained to a corporate meeting room at the New York office of Def Jam – which is putting out Staples' major label debut Summertime '06 on 30 June – days before he turns 22.
Staples arrived at the office with his small entourage and more than a dozen donuts from New York City's Doughnut Plant – crème brûlée, peanut butter and banana, and a mystery box to be opened later. The night before, he had been discussing politics on Comedy Central's The Nightly Show. The week prior, he was listed on hip-hop magazine XXL's 2015 "freshmen class" – an accolade meant to show off the next big names in the game – and with verses on tracks by Common and Ghostface Killa he is arguably the best known name on the list.
But as he has made clear in most interviews, he is least interested in being a famous rapper. "I definitely do appreciate what rap can do for me, I just don't like how we carry ourselves through this genre at times," he said.
Staples has been rapping since he was a teenager, performing at big gigs from an early age with associated acts such as Odd Future and Mac Miller. But his heart has always been in his hometown of Long Beach, where he hopes his success can take care of his family, and maybe he'll get a house by the water. So is the potential for rap to bring him fame and fortune a selling point? Not at all.
"I care about what the music can do for people and what it can do for my family; past that, I think it's more that we should focus more on benefiting the listener than ourselves," he said.
And his disillusionment with the industry comes from what he has seen from many of his peers and the hostility surrounding artists who fail to hit certain targets the first week of the album release.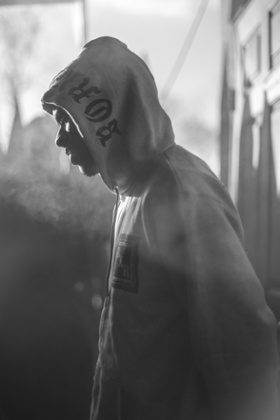 "Even if a rapper does sell 4,000 copies, that's still $40,000 and it's 4,000 people who sat down out of their day and sat to hear what you are going through," he said. "And I just don't like shit like that – it's petty, it's not cool – it's not cool to do stuff like that people."
Early reviews suggest this is not something he has to be concerned about for his major label debut. Summertime '06 takes a look at the time "youth was stolen" from his community with a spooky and sultry rhythm.
The title song switches between painfully apologetic love lines like "Because if I never knew you / I could never do this to you" and the clearly political "My teacher just told me we were slaves / My mama told me we were kings".
He thinks the love aspect of the album will surprise his fans, which feeds into his belief that the most important part of the album is striking down misconceptions. "Misconceptions are probably the biggest problem we have as fucking people –stereotypes, misconceptions, just not giving each other an opportunity to showcase who they really are," he said.
This, from a high school dropout and former gang member whose association with the Crips is a constant talking point. "People just don't know about that lifestyle; they are kind of intrigued by it, but it's nothing to be intrigued by," he said.
Imitating a reporter's voice, he asks: "How does it feel to be in the hood?" "I don't fucking know – how does it feel to be where you grew up? It feels like home ... It feels like home … I have no problem talking about it, I just wish people talked about other things than hurting people."
His frustration with that attitude is portrayed brilliantly in the music video for the first single off the album – Señorita, which takes the audience on a concentrated march of drug dealers and sex workers in Long Beach, only to hit a jarring fourth-wall break.
Whether it's in front of a crowd of predominantly white kids in Sacramento or mostly black and Latino kids in Brooklyn, on this tour, a performance staple has been asking the crowd to raise both hands up and to let him know how they feel about police. "If you're in Brooklyn and you don't fuck with the police, put your hands up!"
"A lot of things happen over the course of time that makes people uneasy with people in that position so we made a couple songs to kind of depict that in a way," he said.
It works. Through three shows in New York and California, where Staples is the opening act, he's managed to get the entire crowds hands up and suddenly the crowds energy is mirroring his own.
This is new, says Corey Smyth of Blacksmith Music, Staples' manager, who can usually be found bouncing in the wings of each show, a glimpse away from Staples. He said that Staples' kinetic performance recently resulted in a leg injury. "He's leaving whatever he has on stage," Smyth said.
Backstage at the Brooklyn show, Smyth runs through images with the videographer as Tyler listens to headphones. Staples paces in and out of the room to an outdoor concrete space. A bevvy of vodka, beer and other spirits stand by, but he keeps his hands close to the Ricola cough drops.
Smyth started working with Staples four or five years ago and said their relationship is much more than the music.
"I'll always be there for him. It's not a question, that's my promise," Smyth said. "And he's there for me – I already made a promise, I just have my daughter, I'm like, if I'm not here, you better be on her. You know what I mean? That's just what it is."
He still thinks they have a long way to go to achieve their goals – he emphasised the "we" – and with about as many years in the industry as Staples has been alive, is ready to see him grow.
Summertime '06 is out 30 June on Blacksmith/Artium/Def Jam