The annual summer shows in London's Hyde Park are often beset by problems such as rainfall so heavy that, as in 2012, wood chips are brought in to stop people slipping. But when the stars align, as they did this night, it makes for the grandest city festival experience. Billed as a Pride pre-party, the triple bill of Kylie, Chic and Grace Jones was an outpouring of joy meant to be savoured by people of every orientation.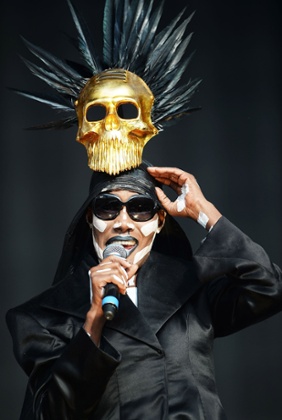 Chic featuring Nile Rodgers is the official name these days, reflecting not just the guitarist's supremacy in the 39-year-old band but also his renewed cultural kudos. White-suited and regal, Rodgers drives the music, his choppy riffs skittering through songs that have become pop touchstones. They play almost every Chic smash, including the 1970s-referencing new one, I'll Be There, which "happens to be No 1 on the Billboard dance chart", Rodgers notes. He also wrote so many hits for others – from Daft Punk's Get Lucky to Diana Ross's I'm Coming Out – that a medley of them takes up a third of the set. As Chic finish with Good Times, they're joined on stage by a crowd of dancers that includes Sam Smith and U2's Edge, who look justifiably awestruck.

"Diva" is a word that should be banished except when Grace Jones is around. She is 67, but tonight – topless and covered in swirls of white body paint – she could be anything from 18 to 80. Jones has always been big on artifice, concealing the relative modesty of her talent with fierce headdresses and imperiousness. That is not a slur; Jones is a remarkable performer, re-creating the cold hedonism of the pre-Aids club scene in New York with shrieks and growls. During Pull Up to the Bumper, she climbs on to a bouncer's shoulders and rides through a crowd too intimidated to touch her.

Minogue, on the other hand, is the essence of touchability. She is the sort who glides on stage in a crown and ermine stole and looks cute rather than queenly, and her set reinforces her status as dancepop's greatest poppet. Not one but three glitter balls descend during On a Night Like This and a conga line forms in the audience during The Loco-Motion. The one thing missing from this sparkling set, however, is spontaneity. But wait. Unprompted, the crowd start to sing the Neighbours theme and, after a pause, she joins in. Minogue has never been one for going off-piste, but she should try it more often.