Russian conductor Kirill Petrenko has been unveiled as the next artistic director of the Berlin Philharmonic orchestra. He is expected to take over from Sir Simon Rattle when the British conductor's contract expires in 2018.
The Berlin Philharmonic made the announcement in a hastily called press conference in the foyer of its famous concert hall, after the appointment was apparently leaked to Berlin state radio station RBB on 22 June.
"Words cannot express my feelings – everything from euphoria and great joy to awe and disbelief," Petrenko, who was not present at the press conference, said in a statement published on the Philharmonic's website.
"I am aware of the responsibility and high expectations of me, and I will do everything in my power to be a worthy conductor of this outstanding orchestra. Above all, however, I hope for many moments of artistic happiness in our music-making together which will reward our hard work and fill our lives as artists with meaning."

At the press conference, orchestra board member and double bassist Peter Riegelbauer said that the decision had taken only three hours to make, before a phone call was made to Petrenko in Munich.
Petrenko is tied to his contract in Bavaria until 2018, and at the press conference, general manager Martin Hoffmann said: "We are assuming that it will happen soon after 2018."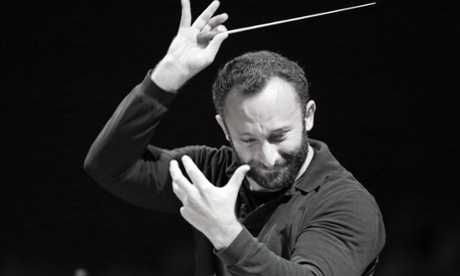 Sir Simon Rattle, also not present at the press conference, said in the Philharmonic's statement: "I have admired Kirill Petrenko for years, and I am delighted that he will be my successor with this wonderful orchestra. I congratulate the Philharmoniker on making such a forward-looking decision."
Petrenko's appointment comes six weeks after a fraught 11-hour session in which the 124 members of the orchestra failed to elect a new head conductor. The election became necessary after Rattle announced earlier this year that he would not be extending his contract after 16 years as the orchestra's Principal Conductor. Rattle takes up a new role as the London Symphony Orchestra's Music Director in September 2017.
The exclusive right of the Berlin Philharmonic's musicians to elect their own head conductor is considered unique - neither the orchestra's incumbent artistic director, the general director, nor the Berlin culture ministry can veto the decision.
Petrenko, who has been director of the Bavarian state opera since 2013, was born in 1972 in Omsk and emigrated to Austria in 1990. He is no stranger to the German capital, having been general music director at the Komische Oper in Berlin from 2002 to 2007.
He has worked with the Berlin Philharmonic as a guest conductor in 2006, 2009 and 2012.