These are good times for the 90s dance music behemoths. Underworld and the Chemical Brothers are touring again, while the Prodigy recently scored another No 1 album. Only Neil Barnes remains from the Leftfield duo that made the mainstream-invading Leftism in 1995. However, with a lineup including long-term studio engineer Adam Wren and a live drummer, they still make such an enormous noise that protection would require not just earplugs but full body armour. Performing behind translucent screens gives the musicians an air of mystery and perhaps offers their own sanctuary from sub-bass which threatens to rearrange internal organs.
It was ever thus, but otherwise there isn't too much nostalgia at this gig, with only one track from Leftism (the reggae-tinged Check One) and six from Alternative Light Source, the first Leftfield album in 16 years. Universal Everything and Little Fish, the album's big thumpers, trigger dance music nirvana as hands go in the air, cheering and whistling breaks out and perhaps at least one person sees the face of God.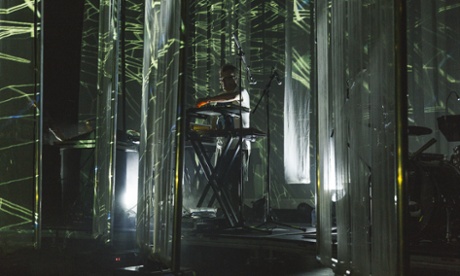 With the now bespectacled Barnes barking through a vocoder that seems to give his voice a German accent, the band retain their austere, machine-like grooves, even without their records' illustrious guest vocalists – John Lydon et al – and most of their big hits. Selections from Rhythm and Stealth (1999) find dreadlocked singer Ofei purring through Swords, and if the baseball-capped Birmingham MC Cheshire Cat's chants of "Babylon" party like it's 1996, the Afrika Bambaataa homage Afrika Shox recalls the time Leftfield's collisions of techno, bass, afro-pop and dub sounded like nothing else.
In 2015, they haven't so much moved forward so much as waited for everyone to catch up, but the new Shaker Obsession and old Phat Planet drop like atomic bombs, sending out a message: say it loud, they're back and absolutely deafening.
At Barrowland, Glasgow, 19 June. Box office: 0141-552 4601