The thematic threads that run through the 2015 Aldeburgh festival are artfully interconnected. This year's artist-in-residence is George Benjamin, who is featured as both composer and conductor, and the ensemble-in-residence is the Mahler Chamber Orchestra, with whom Benjamin works regularly. Their concert together also introduced another festival theme: a series of events paying tribute to Pierre Boulez on his 90th birthday. Benjamin conducted the exquisite little Mémoriale, with its fluttering, evanescent flute solo and filigree ensemble writing, one of the family of pieces that evolved in typical Boulez fashion out of the brief tribute he composed after Stravinsky's death in 1971.
Benjamin had begun with a rather slow and sombre account of Wagner's Siegfried Idyll, which at least gave the orchestra a chance to display the velvety smoothness of its strings, and the concert closed with Ravel's G major piano concerto, in which the festival's artistic director Pierre-Laurent Aimard was the soloist. He was not as extrovert or quirky as some pianists in this work, but dazzlingly precise in the outer movements, and sounding out all the depths of the adagio.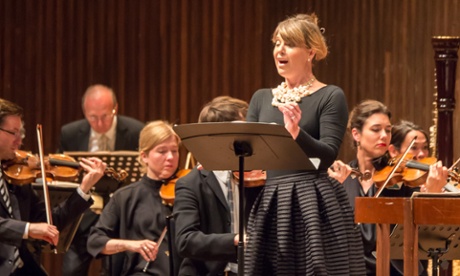 At the concert's core was a pair of pieces for soprano and orchestra. Benjamin's A Mind of Winter, a setting of part of Wallace Stevens's The Snow Man, seems as luminously fresh now as it did when it was first performed more than 30 years ago. The colours it conjures from the chamber orchestra are still a thing of wonder, and the vocal writing, as Claire Booth showed, is marvellously poised and naturally eloquent. Tom Coult's Beautiful Caged Thing, a festival commission getting its first performance, was full of striking effects, too. The texts of the three songs are Coult's own, assembled out of fragments from Oscar Wilde's The Picture of Dorian Gray to provide a surreal platform for music that can change mood and direction rapidly, though at the expense of any remaining flavour of Wilde's original.