Bergen is a funny place. One the one hand the Norwegian city feels like a ode to a nordic Wes Anderson; all cobbled streets, custard-yellow wooden houses and cinnamon buns. More than once I was tempted to make the frankly stupid purchase of a pastel-coloured typewriter from one of the many antique shops – held back only by the impracticalities of carrying it back in my hand luggage.
Yet this twee capital of fishing and fjords, which is the biggest in Norway after Oslo, also happens to be at the centre of numerous underground DIY music movements. For a while it was the home of black metal, then gave birth to the Bergen Wave of the 1990s, progressing to a plethora of new rave bands a decade later and now spawning the Scandi "pop wave". It hasn't always lasted of course – one half of the Bergen music duo Datarock, who back in the day were part of NME's eponymous 2009 tour with Klaxons, now runs Bergen's best restaurant. Proof that where new rave failed, neu-nordic cuisine can prevail.
It is against this backdrop that Bergen's annual music festival, Bergenfest, takes place. Now in its 22nd year, it has expanded from a festival orientated around local talent to one that attracts some of the biggest names on the festival circuit. This year featured Patti Smith, Tori Amos and Bastille alongside Röyksopp and Norway's EDM wonderkid Kygo.
It's also pretty tiny. With only three stages, housed in the dramatically austere grounds of an 11th-century Viking fortress, the largest stage caters to a crowd of just 7,000. That most modern of anxieties, festival FOMO (fear of missing out) is also helpfully eliminated by the fact barely any of the acts overlap.
It is under a bleak and ominously grey sky that St Paul and the Broken Bones take the stage on Friday afternoon, a setting that seems somewhat incongruous with this seven-piece soul band from Birmingham, Alabama. "Well hellooo Norway," drawls singer Paul Janeway with all the cadence of a gospel preacher, before launching into an electric rendition of Dixie Rothko, accompanied by all the hip thrusting and ass shaking that makes him one of the most captivating frontmen around. It's no easy feat warming up this shivering Nordic crowd, but as the saxophones kick in for a Sam Cooke cover and Janeway instructs everyone to "shake it like a bowl of soup", an energy suddenly grips the audience. Beautiful cagoules are stripped off (this is city who knows how look impeccable in waterproofs) and beer cups thrown to the floor as the awkward foot shuffling gives way to some all-out shimmying.
It's an energy that's kept up with an infectiously spirited set from Omara "Bombino" Moctar, the Tuareg singer and guitarist from Niger. His desert blues, characterised with rocky guitars, drums and whole lot of bass, seems made for the festival's Magic Mirrors tent, which complete with red velvet curtains, stained glass windows and leather booths, feels like a cross between a brothel and a spiritual yurt for taking ayahuasca.
This atmospheric tent also plays host to Natalie Prass, whose beautiful vocals sound even better live than they do on record, less saccharine and more sweetly soulful. It's a brilliant set, one of the best of the festival in fact, so it seems a shame it is played to a tiny crowd. Still, that does not put off Prass who slinks elegantly across the stage – at one point commenting that all the red velvet "makes me feel like Janet Jackson".
Showing them all how its done, however, is Tori Amos, whose Saturday afternoon slot proves to be a fierce pinnacle for the festival. Straddling her stool and playing a piano with one hand and her keyboard with the other, Amos looks like she is having some sort of sexual experience on stage as she performs a set that covers the spectrum of her two-decade long career. "I'm so old I forgot my lyrics," Amos tells the crowd, brandishing her notes in the air. "Look, it happens – but menopause can be hot too," she says before breaking into 1994's Take to the Sky, thrusting her crotch and ferociously smacking the piano as if to prove her point.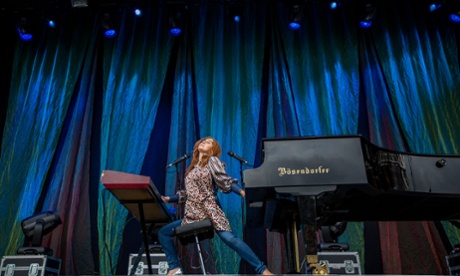 It is on Sunday afternoon that the dark skies of Bergen finally open up in apocalyptic style, just as Death Cab For Cutie take to the stage. Hypothermia is on the horizon by this point but as the opening chords of I Will Possess Your Heart carry out over the medieval castle grounds, I am instantly transported back to my angst-ridden teen years, filled with heartbreak and wishing I was Marissa Cooper. Soul Meets Body and Title and Registration have definitely lost their edge since the days they were soundtracking The OC and being repeated on my iPod mini, but it is a tight set and one infused with nostalgia.
Being in Norway, it also felt important to do as the Norwegians do, which is how I ended up following the crowds to Kygo's headline slot, the Bergen DJ whose main claims to fame are supporting Avicii and remixing Ed Sheeran and Coldplay. It is about as rubbish as it sounds, boring, repetitive and unimaginative EDM. Even the copious pyrotechnics, smoke machines and fireworks involved can't make this a vaguely emotive performance, which is not helped by the fact that in June the sun doesn't set in Bergen till after 11pm so the whole spectacle is performed in broad daylight.
The Bergen music scene, however, redeems itself with a Sunday-night finale from their most successful local export, Röyksopp. The Norwegian dance duo, whose latest album was apparently their last, show Kygo how electronica should be done live. Their tendency towards soporific waiting-room music is abandoned in favour of euphoric dance tracks, all pounding beats, billowing synths and strobe lighting, and they finally succeed where many others over the weekend have failed – getting this cool Nordic crowd to drop their inhibitions and lose their shit a little bit.