Download often finds itself cursed with the pitfalls of an English summer, and this year's event is no different. Friday's headliners Slipknot unleash their nine-man attack in front of an ocean of mud and amid frenzied downpours. Such is the strength of the band's bond with the crowds at Donington, however, that no one seems to care about being drenched, and the expected giant circle pits and general air of cheerful violence erupt regardless. It's the culmination of a perfectly pitched main-stage bill that first clicks into gear with Maryland's turbo-blues legends Clutch, one of the few metal-friendly bands with the power to get scowling headbangers dancing. The wiry groove and cowbell overkill of DC Sound Attack is perhaps the most joyful moment of the entire festival, although both Five Finger Death Punch and the still mighty Judas Priest come close; the latter, in particular, sounding way more belligerent and vital than a bunch of weatherbeaten sexagenarians should.
The rest of the weekend becomes an exercise in damage limitation and the sustenance of weary spirits, but both a rejuvenated Marilyn Manson and a deliciously extravagant Muse go to great lengths to keep the huddled masses cheering. Muse, in particular, imperiously bat away the notion that they are not suitable headliners for a predominantly heavy rock festival by being both thunderous and visually dazzling. Matt Bellamy loves metal, he knows what metal fans like, and his band's more-is-more ethos wins over what is by far the biggest crowd of the weekend on Saturday night.
The last time Manson performed at Download, he was a sweaty, slurring, drug-addled mess: this time, he seems almost back to his malevolent, haughty best, the ageless likes of The Beautiful People and Angel With the Scabbed Wings delivered with a snarl and only the faintest suggestion that the lanky goth-father continues to toy with wilful self-destruction.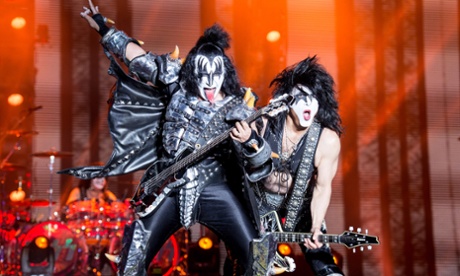 Rain-defying joy is in plentiful supply elsewhere at Download: from Ginger Wildheart's exuberant powerpop crew Hey Hello! and the daisy-fresh adult-oriented rock abandon of Sweden's HEAT to the twinkly-eyed obnoxiousness of Ice-T's Body Count and a wonderfully vivacious and daft set from the Darkness that sees people crammed in 30-deep outside the third stage tent, Download punters have plenty to smile about.
It all ends with the lobotomised, simple pleasures of Mötley Crüe bidding UK festivals a trashy farewell, and a final eruption of explosions, fireworks, zip-wire acrobatics and Olympic-standard hard rock gurning from the bizarrely effervescent Kiss. If you made it through the entire weekend with your will to live intact, the final, earth-shaking sing-along during Rock and Roll All Nite made for a sublime and genuinely touching payoff.