Isle of Wight is a festival nourishing its niche; the gentle ease-in to an overcrowded season. Its various bars and zones, named after Donovan, Beatles and Hendrix hits, shroud this capitalist utopia of competing cider brands in the idyllic hippy fantasy of the original 1969 festival, and its billing is astutely designed to scare not a single horse.
Each afternoon, unchallenging radio fare pitched evenly down the line between Evans and Grimshaw does its best not to flummox the parked-up £200 men. Counting Crows rattle out roots rock enlivened by snippets of Elbow songs and the shaking of singer Adam Duritz's Sideshow Bob hair. The bill boasts Sharon Corr, Paulo Nutini, Suzanne Vega, Jethro Tull's frolicking flautist Ian Anderson. At IOW, you picnic in peace.
When the mildness gets too much – say during Saturday's pillowfight one-two of James Bay and Jessie Ware, essentially UK pop culture's on-hold music while it rummages around for a better idea – roaming increasingly pays. There are fresh boutique touches, such as a Cabaret Noir tent that must have been stranded on the island since Bestival, full of drag acts and troupes of goth Stevie Nickses.
In the Big Top things get even weirder, as France's La Femme pound out Gallic synth drones in kimonos and Chicks On Speed feature a fluffy space yeti trying to get a tune out of a miked-up stiletto. Slowly, IOW is growing an edge.
At the top end, IOW 2015 packs a formidable punch. On Friday, the Black Keys offset a torrential downpour with a headline-worthy set of voodoo blues pop, northern soul, T-Rex glam and the sly bit of Rod Stewart bar-room boogie. The Prodigy spare no mercy for what the prowling MC Maxim calls "my soaked people", unleashing barrages of depth-charge beats on Breathe, Firestarter and Ibiza, barked out by guest ranter Jason Williamson from Sleaford Mods.
Sadly, their backfiring pride in Smack My Bitch Up gives an otherwise powerful set a distinct air of Neanderthal moron, making it impossible to fully buy into the Prodigy in 2015.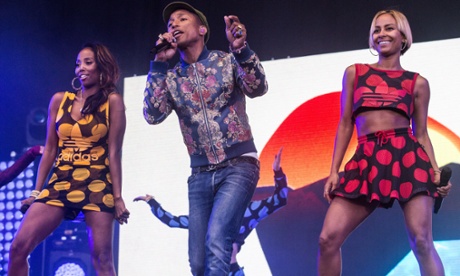 Come Saturday, things go awry for Pharrell Williams as he delivers a medley of his co-written hits for Snoop Dogg, Daft Punk, Gwen Stefani and the Prodigy-esque Robin Thicke and sings Happy to 12-year-old cerebral palsy sufferer Dylan Bleach, as if attempting to become a cross between Nile Rodgers and Esther Rantzen.
Perhaps inspired by the horde of stage invaders mimicking Tim Booth's jelly-boned dancing during James's finale of Laid, Pharrell drags his own bunch of fans on stage for a N*E*R*D segment, only for them to roundly steal his show. They interrupt Lapdance to take selfies with him and one enthusiastic middle-aged twerker refuses to leave until Pharrell sings She Wants To Move to her while she booty-shakes on all fours. Thus a slickly choreographed, cynically sportswear-branded set – about which we couldn't say more without breaching a dozen advertising standards – is dragged brilliantly down to IOW's Bacardi-basted level.
With Fleetwood Mac set to battle unspecified illness to headline Sunday, the spirit of Dave ("I think I've broken my leg") Grohl pervades the weekend.
Despite having lost his voice the previous day, Damon Albarn bounds on stage like a hyperactive bovver boy up for a rumble and powers through one of IOW's best ever headline shows. Mingling the subtle noise-mongering and languorous Euro beer anthems of new album The Magic Whip with rare album tracks and solid gold festival killers such as Parklife, Song 2, Girls & Boys and The Universal, theirs is an imaginative, unpredictable display that is still as rousing as Springsteen in 2012. IOW leaves us magically whipped.