When the New York folk group the Weavers burst into the American and British pop charts in 1950 with the Lead Belly song, Goodnight Irene, it was Ronnie Gilbert's contralto voice that soared above her fellow group members – Pete Seeger, Lee Hays and Fred Hellerman. Like the other members of the group, Ronnie, who has died aged 88, had leftwing political sympathies, and suffered when the group was blacklisted in the FBI's anti-communist campaigns of the 1950s. But the music endured and Gilbert continued with the group through several personnel changes and reunions.
The Weavers started off singing informally and at trade union meetings, and were about to disband when, in 1949, they were offered a season singing at the Village Vanguard in New York. Learning their craft in this new, nightclub setting, they soon became a huge success, staying six months, and were offered a recording contract with Decca.
When Goodnight Irene and its flip side, the Israeli song Tzena, Tzena, went to the top of the charts, the Weavers featured on radio and television, and performed at the Beacon theatre on Broadway. Further record releases featured Gilbert's joyful, vibrant singing on Kisses Sweeter Than Wine, I Know Where I'm Going, So Long (it's been good to know you) and This Land Is Your Land. The Weavers established a blueprint for folk groups, encouraging audiences to sing along, with Gilbert providing inspiration for female singers.
Within a year, however, the group were listed in the anti-communist magazine Counterattack, and when the head of the FBI, J Edgar Hoover, leaked the Weavers' file to the Ohio state governor in 1951, their singing contract at the state fair was withdrawn, soon followed by cancelled television and concert appearances. They struggled on, but temporarily disbanded in 1953.
On Christmas Eve 1955, the Weavers returned with a sell-out concert at Carnegie Hall in New York that was recorded and released on a best-selling album – indications that not everyone was in sympathy with the scaremongering of the anti-communists. Their manager, Harold Leventhal, dated the start of a new American folk revival to that concert. Mary Travers, later of Peter Paul and Mary, was in the audience and took inspiration from Gilbert's powerful singing.
The Weavers resumed their touring schedule, performing in the Royal Festival Hall, London, in 1959, but they finally disbanded in 1964. A reunion concert at Carnegie Hall in 1980 was sold out within hours, and led to a film documentary The Weavers: Wasn't That a Time! (1982). In 2003 the group (but without Hays, who died in 1981) reunited for one last time at a tribute concert for Leventhal.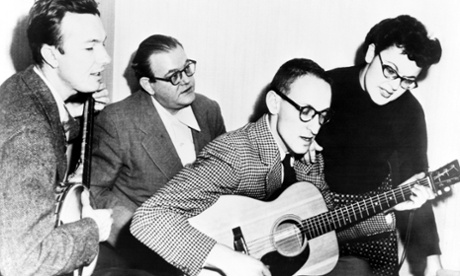 Gilbert was born into a Jewish immigrant family in Brooklyn, New York. Her parents, Charles, born in Ukraine, and Sarah, from Warsaw, both worked in the garment industry. In spite of their poverty, her parents paid for Gilbert to have music lessons. It was her mother – a Communist party member and trade unionist – who gave Gilbert her leftwing politics, and at a union meeting Gilbert first heard the singer and civil rights activist Paul Robeson perform – "a transformative moment" Gilbert later recalled. At 16, and working in Washington, she joined a folk group, the Priority Ramblers, who introduced her to the music of Woody Guthrie and Seeger.
While volunteering at the leftwing Workers' Children's Camp, she met and sang with Hellerman. Back in New York at the end of the second world war, they joined the collection of singers from which grew the Weavers.
After the Weavers, Gilbert combined solo singing with acting. Her albums included Alone with Ronnie Gilbert (1964) and The Spirit Is Free (1985). In 1963 she joined Joseph Chaikin's experimental Open Theatre and appeared in the musical Viet Rock and the off-Broadway hit, America Hurrah. In 1968 she worked with the theatre and film director Peter Brook in Paris, and her film credits include Sidney Lumet's Running on Empty (1988). In the 70s she trained as a therapist and gained a degree in psychology.
Encouraged by the enthusiasm for the Weavers' 1980 reunion, Gilbert returned to the concert stage, teaming up with the American feminist and peace singer Holly Near, who clearly regarded her as a strong female role model. "She threw her head back and sang at the top of her lungs," Near said. Their albums together included Lifeline (1983) and This Train Still Runs (1996). In 1985 the two women, plus Seeger and Arlo Guthrie, toured and recorded under the name HARP.
In the 90s Gilbert performed a one-woman musical play, Mother Jones: The Most Dangerous Woman in America, about the radical trade union organiser Mary Harris Jones. A stage show, Ronnie Gilbert: A Radical Life With Songs, led to a similarly titled autobiography, due to be published in November. In 2006, the Weavers received a Grammy Lifetime Achievement award.
Her marriage in 1950 to Martin Weg ended in divorce. In 2004 she married Donna Korones, her long-time manager and business partner. She is survived by Donna, and her daughter, Lisa, from her first marriage.
• Ronnie (Ruth Alice) Gilbert, folk singer and actor, born 7 September 1926; died 6 June 2015.