Though opinions about Nico Muhly's music differ, it is a measure of his standing and popularity that two major premieres of his work can take place over a single weekend. The day after the Philadelphia Orchestra brought Mixed Messages to London's Royal Festival Hall, the Britten Sinfonia gave the first performance of Sentences, a meditation on the life of Alan Turing, which was written for countertenor Iestyn Davies. It is the more substantial and more ambitious of the two works.
Setting an elliptical text by Adam Gopnik, Sentences ranges over Turing's work as code-breaker, computer scientist and philosopher, the loss of his first love, Christopher Morcom, to bovine tuberculosis, and Turing's sudden death – possibly at his own hand – some years after his conviction for gross indecency, at a time when sex between men was a criminal offence. It is an immense subject that can feel unduly cramped, its surfaces sometimes skimmed, in the work's 35-minute span.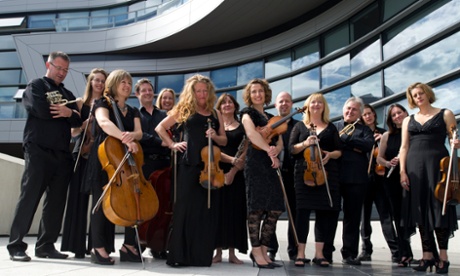 "No one wants a gay martyr oratorio," Muhly has said. Indeed, the tone is alternately celebratory and sorrowful. His post-minimalist, asymmetric rhythms suggest the excitement of intellectual discovery. A quiet elegy for Morcom forms the work's touching kernel. The vocal writing is beautifully crafted to the sensuous rigour of Davies's artistry: during the work's course, he sings against a playback loop of his own voice, and the effect – all close Monteverdian harmony – is ravishing. Muhly conducted the premiere himself with balletic gestures.
Britten and baroque music formed a kind of prelude. Davies, peerless in Dowland, gave us the latter's If My Complaints Could Passions Move, and viola player Lawrence Power was the outstanding soloist in Britten's Lachrymae, which rings ceaseless changes on Dowland's song. Davies returned for Vivaldi's Stabat Mater, for which Muhly joined the Britten Sinfonia as organist. Beaming from ear to ear, his enthusiasm was tangible and infectious.