It's debatable whether Monteverdi's Vespers of 1610 stands on a direct evolutionary line with the Floral Dance, but since the Durham brass festival has diversified into the classical field, anything with a sagbutt (or sackbut) is permissible. Even Monteverdi's cornetts, which are made out of wood but require a brass-style playing technique, just about slip under the wire. As one of the world's pre-eminent early brass ensembles, His Majestys Sagbutts and Cornetts have been adding pomp and circumstance to performances of the Vespers for more than 30 years, including John Eliot Gardiner's landmark live recording from St Mark's Basilica, Venice, in 1989. Here, they brought dark resonance and dazzling virtuosity to a brisk, modern reading by John Butt's Dunedin Consort.
It's intriguing to trace how ownership of the piece has transferred in recent years from large-sounding British choirs to lither, lighter European counterparts (Christina Pluhar's version with L'Arpeggiata was the first to zip through the entire sequence on a single disc). The Dunedin's approach neatly cleaves down the middle: Butt's tempos are ceremonial and spacious where required, but he ascribes a single voice per part and allows a fresh young team of soloists to express their individuality.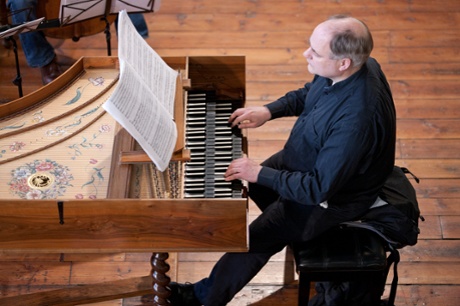 The massive Romanesque columns of Durham Cathedral are a world away from the glittering mosaics of St Mark's. But it's a sympathetic acoustic – quite articulate for such a monumental building – and Butt makes intrepid use of spatial effects. The outstanding sopranos Esther Brazil and Joanne Lunn ascend to the pulpit to float an evanescent top line over the mostly instrumental Santa Maria. And it's thrilling to hear the responses of Audi Coelum emanate from the shadows at the furthest end of the nave. Butt directs from the chamber organ with such animation that, at one point, he sends his spectacle case flying. But this is the Vespers at their most visceral, compelling and bold as, well, brass.