"We came to make love to you with our music," yells Martha Reeves as her shiny-dressed Vandellas (sister Lois since 1967, and sister Delphine since the 1980s) play in the picturesque ruins of an English castle.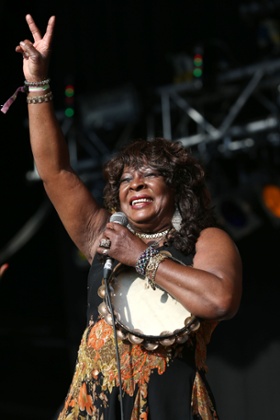 There are cheers as Miss Reeves, now 73 and still regularly touring, hits the first high note, and she is visibly moved when the crowd chant: "Martha! Martha!" The singer may sound breathless at times, and the Motown girl group's classics run a touch slower than in the 1960s, but they retain their timeless and universal appeal, and unite a Mouth of the Tyne festival crowd ranging from tots on shoulders to men in comedy wigs.
A fine band put together by drummer and musical director Larry Crockett, and featuring Corinne Bailey Rae's Haggis Horns, deliver lesser-known gems (the Vandellas' poignant early Motown hit Come and Get These Memories) tearjerking melancholy (the Johnny Bristol-penned No One There) and signature hits Nowhere to Run, Jimmy Mack et al. Heat Wave once captured the simmering intensity of civil rights-era America, but now generates so much energy on stage that the Vandellas' costumes start to dangerously descend from their shoulders.
The old Motown revues may have been more militarily drilled, but surely lacked such unscripted entertainment. A music stand blows over during Marvin Gaye's What's Going On, and at the end of the bluesy Watch Your Back, an over-enthusiastic guitarist tumbles to the floor.
"I thought I told you to Watch Your Back," quips Reeves, instantly. She refers to "John, Paul, Ringo and wotsit", and her "smart phone that makes me feel dumb". When a festival staffer tells her she has two songs left, she roars into Dancing in the Street with what could be a manifesto: "Don't be telling me my time is up. I'm a grown woman."