In between rapid-fire riffs, Stu Mackenzie has a chew of his guitar strings. His long, spindly legs, clad in brown cutoffs and ending with scuffed boots, are splayed in a wild lunge that seems to poke fun at guitarist histrionics, even as he risks collapse.
Although the wild-haired Mackenzie is pretty much the King Gizzard in the lineup of rising Australian psychedelic garage band the Lizard Wizard, he isn't in the middle of a self-indulgent solo. Three guitarists often play the same rampant, sour motif in unison, the kind of saturation you can only achieve in a seven-piece band. In front of them, the moshpit is acting like it's at Oxford Circus at rush hour during a tube strike, and a half-empty bus has just pulled up. One propulsive wig-out, I'm in Your Mind, segues into another, I'm Not in Your Mind, in a 13-minute set-opening dazzler that sounds like the mind-bending finales of most other bands.
The Lizard Wizard are a barrel of contradictions. They are tight but loose; dressed down, but prone to wearing dodgy robes in videos; clearly led by Mackenzie, but not dictated to. They have been recently propelled out of cultdom and into wider acclaim by a confluence of zeitgeists. The Australian scene is enjoying an extended period in the sun, with acts as diverse as pioneers Tame Impala and latterday sensations like Courtney Barnett, heading a crop of exports that also includes fellow space cadets Pond, and Barnett's frequent collaborator and tourmate Fraser A Gorman, who occasionally drafts Stu Mackenzie into his band. Just before embarking on their European tour, the band recently organised their own festival series, Gizzfest, a multi-band tour celebrating the release of their latest album, Quarters!, proving that there's more where they came from.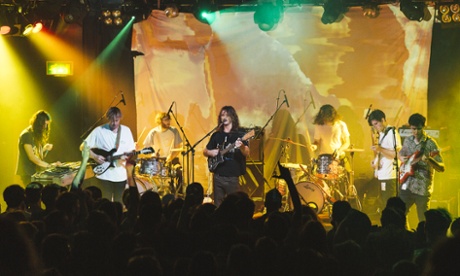 At the root of their appeal, however, is the Lizard Wizard's undeniable charm. Garage rock is frequently a no-frills genre, all brevity and fuzz. Hailing from the Australian motor city of Geelong, the Lizard Wizard can do tuneful fuzz – as on an older song, Muckraker, attests tonight. But they'll do it double-speed, then half speed. They also have space for flute solos, and a harmonica, particularly on songs such as Hot Wax, which faintly echoes the Cramps while quoting the Beach Boys ("come on and safari with me").
Originality is held in high esteem in music, but the Lizard Wizard openly confess to being inspired by veteran Californian garage act Thee Oh Sees. (Thee Oh Sees' John Dwyer doesn't mind: he released the Lizard Wizard's two most recent albums, I'm in Your Mind Fuzz and Quarters!, on his own label, Castle Face). As their name suggests, the Lizard Wizard also do exploratory, lysergic rock, a little like the early Flaming Lips. But they play it fast and loud, with a rhythm section in which two drummers keep a rock-solid motorik groove going, indefinitely if required. Then out of nowhere comes The River, a cut off Quarters! whose non-standard time signature unexpectedly recalls The Riverboat Song by Ocean Colour Scene, only with more meanders and rapids.
All of tonight's controlled chaos feels like a much-needed corrective to a rock soundscape that seems increasingly sensible, if not downright careerist. Periodically, in the UK, there will be some outcry about rock music becoming less rebellious, or more middle-class. The issue is not whether or not your parents paid for your schooling, but whether music is a haven for misfits and space cadets, or just an arm of the creative industries that happens to operate nocturnally. There is something a little bit heroic about King Gizzard & the Lizard Wizard, from their daft name to their uneconomic number, and how, after keeping people dancing for an hour and a half, Mackenzie throws himself into the audience for a celebratory crowdsurf, not to mention how their medieval prog flute solos should not work with garage ramalama. But they do.
• At Latitude festival, Henham Park, Suffolk, 17 July.