Felix White is explaining why there will never be another band like the Maccabees. "It's impossible," splutters the group's guitarist. "It's actually unfeasible. I mean, you can't even afford to live in London any more. How can you expect to have creative people here? We've reached the first generation of people who are going to have to be dependent on their parents to live here, and that is terrifying."
It wasn't always like this, he says. The Maccabees met as teenagers in south London, making pilgrimages across town to see the Libertines play shows in squats and divey pubs in the early years of the last decade. By 2004, they had formed the band, becoming part of a flurry of music in the capital, made by people from similar middle-class backgrounds in south London, which has proved enduringly successful: their friend Florence Welch has just headlined Glastonbury; another cohort, Jamie T, who joined the Maccabees onstage at Worthy Farm, saw his most recent album reach No 4. Later this month, the Maccabees will re-enter the fray when they release their fourth album, Marks to Prove It, the follow-up to 2012's Given to the Wild, which won them a Mercury nomination and an Ivor Novello award. Ask them whether they can see a new generation of artists coming up behind them and their lauded peers and White slumps in his seat, pulls his hoodie up, and shakes his head: "London is a scary place to be right now."
Even in the short walk from the tube station to the band's studio in Elephant and Castle, you can see what he means. Since the group established their base here in 2012, they have seen a £3bn redevelopment project transform the area. Cranes jostle for space in the sky, while the chicken shops that served the old residents muscle up against coffee outlets targeting the newcomers on the pavement below. They watched the wrecking ball come down over the 1,200 homes on the neighbouring Heygate estate, and a similar fate awaits the 2,700 homes on the Aylesbury estate down the road, the brutalist blocks where Tony Blair made his first speech as prime minister. "This place is only still here because whoever owns it is holding off," says singer Orlando Weeks. "It's like we're on borrowed time, as is everything in this area."
Three of the Maccabees are here today: as well as White and Weeks, White's younger brother Hugo, who also plays guitar, is present. Weeks went to art school in Brighton, where the band were based for several years, and has the immaculate, precise air of a graphic designer about him. His influences extend far outside of music: it was his idea to approach the painter Boo Ritson and sculptor Andy Goldsworthy to do album sleeves for them. For Marks to Prove It, having their own studio for the first time gave the band a kind of incessant "limitlessness", Weeks says, reeling off the list of scatterbrained ideas they had, from recording an alternative version of the album with a viola player and a bassoonist, to a very complicated-sounding one-off light installation. "We came back from touring Given to the Wild with all these big ideas," says White. "And then six months in, we realised we didn't have any clue what we wanted the album to sound like." They recorded endless demos and debated going away to record at another studio, but nothing clicked. "All possibilities would just scare me," Weeks says wearily.
Then he happened across an amateur photograph that forms the cover artwork for the new album. It is a picture of the Michael Faraday Memorial, the stainless-steel box erected in 1961 on the main roundabout at Elephant and Castle in tribute to the great Victorian scientist, which also acts an electricity substation for the London Underground. "It was beautiful," he says. "All lit up at night. And it completely changed my perspective on this ordinary landmark that I see every day." It also caused a realisation to strike him. "We didn't need to go searching for some big thing. We could find everything we needed right here."
Weeks begins reeling off information about the area – about the river Neckinger, which is mentioned in The Canterbury Tales, but is now fully enclosed and subterranean, running underneath the area ("Dickens called it the Venice of Drains," he says). The Elephant makes its presence felt on the album, sonically, as well as intellectually and visually. I mention the song Slow Sun, which seems to have some outside chatter on it. Hugo White sniggers: "Yeah, that was when 'Lan and Sam [Doyle, drummer] recorded some 'street noise'." His brother butts in: "Wasn't that bit when you tried to sing the vocal down a microphone in the market?"
Weeks looks to his shoes. "Yeah … yep …"
"And there's the problem with having your own studio. You start having stupid ideas like that," says White, laughing.
Their eclecticism has always saved the Maccabees from being pigeonholed into any of guitar music's prevailing trends. In 2009, when "landfill indie" was dominant, the Maccabees were busying themselves in rural Yorkshire enlisting trombonists from the Dodworth Colliery Band to record a B-side with them. In 2010, NME declared them "the band who buried landfill indie", and you can see why.
Three years later, Given to the Wild proved to be a major turning point, its soaring melodies, massed vocals and lyrical themes of love and ageing providing a culmination to their obsessive experimentation. The problem, Weeks says bluntly, was that it was "impossible to play live". This time, they made a pact to record an album that the five of them (bassist Rupert Jarvis completes the lineup) could recreate onstage. The result is lighter in reverb and layers, but no less rich. Songs twist and turn with ambitious ferocity, from the thundering guitar of the title track, which unwinds into a chaos of hand-claps and merry-go-round keyboards, to the stark piano ballad Silence. Kamakura pulses with the morose foreboding of Bruce Springsteen's Streets of Philadelphia ("Funny you say that," White says. "We spent the whole of the last album trying to recreate that song, and it always sounded shit"). "It's not about making the ordinary extraordinary," Weeks insists of the finished collection. "It's about saying that there is an awful lot of romance in the everyday and in the real."
The complexities of getting older have been a regular theme for the Maccabees, which is hardly surprising given they have been working together since their teens. Pelican, from Given to the Wild, documented the thudding realisation that they had come home from touring as men in their late 20s and everyone they knew back home was getting engaged and having babies. Time hangs heavy over the new album, too: characters uncover forgotten photographs, seas erode the coast. One track is even about portraits of soldiers who died.
"It felt different for us making this album," Hugo White says contemplatively. "For the first time, we weren't going away anywhere. No different studios, no touring. We'd start the day here and end it here almost as though there was nothing in between. For two and a half years. I think when you're doing that you do feel time … ticking …" his voice fades.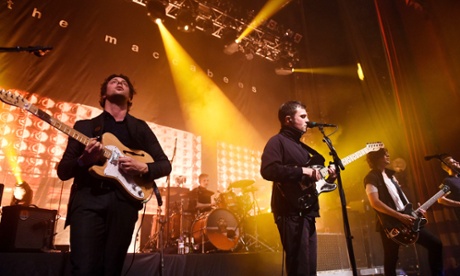 It is, in places, a very morbid record. Do they often think about dying? They all nod. "I have a recurring vision of being hit by a car and my face being smashed against the pavement and blood everywhere," Felix White says suddenly.
"I have the exact same vision," Weeks says, reeling around to face him, "Blue car?"
White: "Yes, small blue car."
Weeks: "A really crappy one, like a Corsa or something?"
White: "Yeah. And the rain is coming down and I can feel my teeth on the pavement."
At this point Hugo White, who has been watching the scene, shakes his head and sighs wearily. "Jesus, you two," he says, and they all laugh.
Ask where they might go next, and they fall silent. "I got on a tube at eight in the morning recently," Felix White says. "Which, being in a band, you very rarely do. Suddenly I realised how fucking weird it is that people, as an everyday occurrence, cram themselves into tiny spaces, like it's a normal situation. It's a horrifically intense way to try and read a paper."
That's the thing, says his brother: "For 12 years we've been a band. So, as a full-time occupation, we really just don't know anything else." It seems safe to say they won't be giving up the day job just yet. And as for Elephant and Castle? "Well, we're going on tour again soon," says Weeks, looking around at a neat stack of guitar amps on the shelves he built himself. "And it's imminent that we'll have to leave this studio, I think. This place and the surrounding area just isn't going to be the same when we get back. But I'm glad we were able to highlight some of the things we thought were beautiful about the area, and not in a grim Harry Brown, south London way. You just don't get streets like Walworth Road any more, with all those businesses that have been here for ever. And it's been a privilege to enjoy that last section of it, just the way it is."
Marks to Prove It is relased on Fiction on 31 July