"Weirder and weirder," notes one character, pointedly, in this contemporary retelling of the Alice in Wonderland story. We are in a girls' toilet in a drab secondary school. From one of the cubicles emerges the Caterpillar (Hal Fowler), a psychedelic-eyed, multiperson creature, smoking a rolled-up white umbrella. The headteacher, Ms Manxome (Anna Francolini), disappears into another. She has confiscated a phone and is chasing the rather excellent White Rabbit (Rob Compton) – a gas-masked Donnie Darko's Frank dressed in a white tutu, as though for Bestival – into her unlucky pupil's favourite online game: wonder.land.
You do have to expect considerable strangeness when dealing with any reworking of Lewis Carroll's lysergic fable of child dream states and queried selfhood, the source of the phrase "curiouser and curiouser". But there is perhaps a little more bewilderment to this occasionally dazzling, often garbled, musical production – staged by National Theatre artistic director Rufus Norris, scriptwriter Moira Buffini, with a score by Damon Albarn – than the concept warrants. A dearth of big tunes baffles, too, even though Albarn, who usually has melodies to spare, draws on knees-up Victorian music hall and nagging chiptune music alike for the score. The orchestrations tend towards the functional and austere.
Here, Wonderland is not Under Ground, as Carroll's original had it, or in the druggy counterculture, as Jefferson Airplane had it on White Rabbit, but the online world, where alternative identities are played out in games and on social media. This game-ified wonder.land (pronounced wonder-dot-land) is a visual triumph, spectacular on a giant screen at the rear of the stage, while flesh and blood characters move about in the grim foreground of meatspace, rendered in ugly monochrome. The contrast is well made, but you do end up staring at set designer Rae Smith's dark grey rectangles for two hours.
The kaleidoscopic wonder.land game is where teenage Aly (Lois Chimimba) takes refuge. Her parents have just broken up; her mother, Bianca (Golda Rosheuvel), has a new baby, Charlie, preoccupying her; Aly is in a hostile new school, where the shame of her estranged father's internet gambling addiction eventually catches up with her. There is a lot of plot to take in, even before the action really begins.
Aly's wonder.land avatar Alice is a Bo Peepy Barbie, blue-eyed, blonde-haired, contrasting with Aly's own mixed-race heritage, a detail that is handled with offhand confidence, although the mixed, but white-leaning, ensemble cast could have done with more diversity, given that the accents set the musical in London. Wonder.land's narrative only loosely overlaps with the original Carroll tale, cherry-picking characters and scenes to largely satisfying effect. In wonder.land, Aly makes friends of other misfits – the Dodo, Humpty Dumpty, the Mock Turtle et al, who unite against the game's capricious gatekeepers, Dum and Dee.
The all-digital Cheshire Cat – flowing multicoloured whiskers, terrifying fang-like teeth, representing all that is enticing and frightening about the internet – is magnificent, a waving golden Chinese good luck cat with David Bowie eyes, one green and one purple; his song, though, is a damp squib. Ms Manxome, Aly's head teacher, makes for a fabulous baddy, a power-crazed Queen of Hearts played as Cruella de Vil.
Not only does Ms Manxome confiscate Aly's phone, she takes over her precious avatar, Alice, destroying Aly's online friendships and turning Alice into a sword-wielding sociopath (cue pizzicato strings). Ms Manxome easily gets the best tunes and the most satisfying cabaret. "Oh, children," goes her husky refrain, in what must be a nod to Gimme Shelter by the Rolling Stones.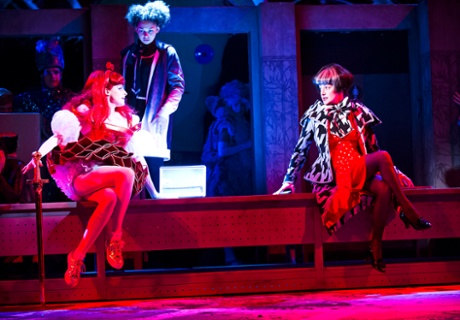 This production has a curious time-and-space relationship with Blur's current album, The Magic Whip. Before wonder.land was set online, Albarn travelled to North Korea, as cloistered, different and randomly cruel a place as any Carroll imagined; that research trip bled into The Magic Whip's east-leaning themes and songs such as Pyongyang.
You can hear Albarn balladeering most clearly in Aly's dad, Matt (Paul Hilton), a cockney-hipster geezer who is, loosely, the Mad Hatter, trying to make amends; his sung solo turn brings some much-needed directness to the production. The song everyone will walk out singing, though, is Everybody Loves Charlie, Aly's sulk about her baby brother, which labours its coke pun for perhaps a little too long.
Albarn's previous theatre productions – 2011's Dr Dee and 2007's Monkey: Journey to the West, both also premiered at MIF – were tales with wholly fantastical or historical settings. The problem here is not the virtual space, but the contemporary setting. These are fortysomething parents writing teenage characters for a middle-aged theatre audience; an opportunity has, perhaps, been missed to make this more teen-facing and a bit less toe-curling; the theme of fractured identities, and online being as real as off, is worked very hard.
Musically, Albarn's score tends towards analogue sounds, even in its bleeps and bloops; these teenagers – Aly, her friend Luke (Enyi Okoronkwo), the three female bullies – don't listen to any music at all. That solves licensing problems, but leaves a weird gap in verisimilitude.
By contrast, I left wanting to play the zombie shooting game Luke favours, which spills out of the screen into an all-dancing ensemble piece that is the best of the night. The White Rabbit's staccato gif-like movements are terrific; it's the stop-start, incohesive nature of this ambitious production that disappoints.
• wonder.land runs until 12 July.
It will be at the National Theatre, London, from 27 November-31 January 2016. Buy tickets at theguardianboxoffice.com or call 0330 333 6906