After deciding to temporarily leave Twitter in February, because "the internet is the ugliest reflection of man kind [sic] there is," Azalea returned on Sunday 30 June. She addressed a few fan questions, namely about Britney Spears collaboration Pretty Girls and its lack of commercial success. One tweet in particular was blown out of proportion by the media, and Azalea attributed the shit-stirring to sexism and double standards for women in music.
If you'd been missing the sound of Zane Lowe's international accent enthusing wildly about songs, the former BBC Radio 1 DJ was back on form in his new Beats 1 radio gig. The digital radio service launched, alongside Apple Music, on Tuesday 30 June and impressed and frustrated listeners in equal measure, judging by the tweets that streamed in during the debut show's one-hour broadcast.
The pop star, now officially the only artist with more than 100m singles sold in the US, released a bloodied and intermittently violent music video for single Bitch Better Have My Money on Thursday. Is it feminist? Is it anti-feminist? Mostly, it's silly and fun, though will no doubt inspire a flood of thinkpieces on its depictions of wealth, violence and race. Hands to the keyboard keys, everyone.
The Purple One has earned a reputation over the years for suddenly revolting against various parts of the music industry – this week, it was the streaming services. As of Thursday, Prince's catalogue is only available to stream on Tidal. Still, fans who haven't paid for a subscription can tide themselves over with song Hardrocklover, available on Soundcloud.
After years spent taking an anti-digital music stance, AC/DC relented, allowing their music to be streamed on Spotify, Rdio and Apple Music. For a band who only made their music available on iTunes three years ago, it's a pretty big step. Who knows, maybe they'll forge right ahead and start releasing album snippets as Snapchat stories or Torrent bundles, a la Thom Yorke? Anything's possible now.
Mitchell suffered an aneurysm in March but is "speaking well" and recovering, according to her friend and conservator Leslie Morris. The folk legend collapsed at her home in March, before being driven to hospital, and was placed in intensive care.
Did anyone have a better Glastonbury than his holiness, the Dalai Lama? The Tibetan spiritual leader arrived on-site on Sunday, gave a quick chat about climate change, zipped up to the Stone Circle, hopped onto the Pyramid stage with Patti Smith before being sung happy birthday by more than 100,000 people, and cut his cake on stage. Not bad for an 80th birthday celebration.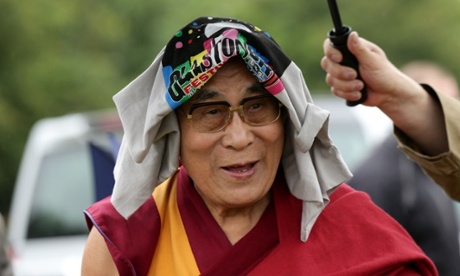 "Meat as murder" Morrissey couldn't have been too chuffed to hear about this one. Although food vendors in the public parts of the New York venue went vegan for his show, anyone enjoying the corporate suites could have happily tucked into treats like meatball sliders, chicken fingers (those doesn't even sound like things anyone should be consuming, tbh) and tuna sushi rolls. MSG are calling the trip-up "an oversight".
Note to Diddy: always double-check stage floors for any gaping holes from which other rappers have appeared. The entrepreneur and rapper slipped into the hole left gaping after Lil Kim suddenly appeared onstage during a Bad Boy records 20th anniversary set at Sunday's BET awards. No matter – he got right back up and kept the show going anyway.
Squire had been receiving treatment for a rare cancer of the bone marrow and blood. Alongside singer Jon Anderson, he founded Yes in 1968 and went on to influence countless rock bassists. After his death, the likes of Brian May, Mark Kozelek, Geezer Butler and Tom Morello shared tributes to his legacy.