Left school at 14, political activist at 15, founded theatre troupe at 16, on MI5's files at 17, godfather of British folk revival at 35 – Ewan MacColl's early CV is something extraordinary, evidence of a fearless, galvanic character whose influence is still causing ripples at his centenary (he was born exactly 100 years ago today, and died in 1989).
MacColl is best known for a couple of classic songs: the much-covered Dirty Old Town and The First Time Ever I Saw Your Face, written for his wife, Peggy, in 1957, though not widely known until soul singer Roberta Flack made it an international smash in 1972. MacColl's back story as a communist agitator and playwright (much admired by George Bernard Shaw) has faded, while his prolific songwriting and recording (around 300 songs and scores of albums) is of interest mainly to the folk faithful, among whom he remains a revered but controversial figure.
The reverence and controversy are flipsides of the same coin. MacColl's establishment of the Ballads and Blues club in Soho in 1953 gave birth to a folk revival that remains in vigorous health today, while the ancient and industrial ballads he exhumed and championed are still being explored. His governance as folk laureate and patriarch, however, came with caveats; he drew up a rulebook about what songs could be sung at his clubs and what performers should wear (makeup was a no-no). The champion of "the people's music" was invariably hostile to the music that people actually loved. He viewed pop as a capitalist plot, and even the young Bob Dylan, politicised and acoustic, was dismissed as "10th-rate drivel".
Married three times – to the theatre director Joan Littlewood (with whom he ran a radical theatre company in the 1930s and 40s), the choreographer Jean Newlove and to the American folk singer Peggy Seeger – MacColl saw three of his five children follow him into music. Kirsty MacColl (daughter of Jean), an effervescent writer and performer, was tragically killed in a swimming accident in 2000, but Neill and Callum MacColl (sons of Peggy) remain active, gifted guitarists. Both will be playing on a memorial UK tour later this year, along with other family members and folk alumni.
If the pop revolution of the 1960s left MacColl a redundant and somewhat embittered figure (he never renounced his admiration for Stalin), his best work has endured. Dirty Old Town, written as a bridge between scenes for his 1949 play, Landscape With Chimneys, has been covered by acts from the Dubliners to Rod Stewart to the Pogues. The song is about his home town of Salford, where he was born to Scottish parents, changing his name from Jimmie Miller to Ewan MacColl at 30. His early life among Salford's slums and toxic factories left an indelible imprint, though today one suspects MacColl, far from wanting to "cut down" the place, would be fighting for the preservation of its industrial heritage against austerity-era cuts.
Martin Carthy: influential British folk singer and guitarist who was a regular visitor to MacColl's Ballads and Blues club
He was an extraordinary man – a failure at school, but tremendously self-educated, and active from a young age politically – 15, 16, out propagandising. He stood up alone in folk with his attitudes, making himself a target, which was brave. Lots of people followed him but I didn't – I preferred going my own way.
He was one of the best songwriters around too. The Travelling People radio ballads I've been learning for the anniversary concert – they're all very, very good. Then there's the way Dirty Old Town has snuck into all sorts of repertoires, and The First Time Ever I Saw Your Face, an astonishing song, doing so well when Roberta Flack reinterpreted it so beautifully... I don't think Ewan quite knew what to make of that. He was probably quite startled.
He'd like a lot of folk today, I think, because he was all about strong musicianship. Things were very primitive in the 50s and 60s – if you played anything more than thrash you were considered good. "He plays with his fingers!" I think his influence is huge in that sense.
I didn't know him well personally and only talked to him the year before he died – he was hosting a benefit for the [1988] Armenian earthquake, and wanted me to play it. He talked to me like he was talking to an equal, which staggered me, as I'd had prejudices against him. But at his age then, in his 70s, he was still an explorer. That's stayed with me and I'm 73 now. He taught me that musicians don't retire. We can't! There's still too much to do.
Peggy Seeger: folk singer and activist who was married to MacColl

When I met Ewan I was only 20. Over in the corner of the room there was a strange, very black-haired man with a very red beard just staring at me. He asked me if I'd like to see a play that he was in – The Threepenny Opera. I said yes and went to see him that night and he was completely transformed, wearing overalls and playing the Street Singer – and he looked about 20 years older than he was. He was already 20 years older than me! He took me home after the show and put his arm around me and said: "I'm going to make love to you." This was exotic in my terms; he was immediately smitten and I wasn't. I thought he was a strange, nice, older man. And that's when it all started.
He was wonderful to work with. We had an equal partnership. I was musically literate and could play five instruments; he sang unaccompanied and could hardly read music at all. I had never made up any songs; he had made up plenty. I don't remember us ever arguing over work.Later on, he wrote texts and I'd write the keys for them. And he would write songs and he would know that I'd know what to do with them as far as accompaniment went. It was a very good working partnership, always.
Our relationship was very steady. But then he was 20 years older than me, and men with a partner 20 years younger have to behave nicely – they don't want to lose you, you're hanging on their arm. But he'd also had experience of two marriages, so maybe he'd learned a few lessons.
I do honestly believe that if our folk club [the Ballads and Blues Club, based in London] had not instigated what we called "the policy" – that is, when you're onstage you sing folk songs from your own culture – I think it would have taken a much longer time for its folk revival singers to stop trying to sing like Leadbelly and Woody Guthrie. We have a wonderful revival in Britain now and some absolutely superb singers and players. That would have taken a much longer time if Ewan and Bert Lloyd and myself had not taken that stance at our club.
Sometimes nowadays when people speak badly of someone they say: "He's trying to sing like Ewan MacColl" – putting his hand up to his ear. People thought it was an affectation when, actually, putting your hand up and pulling the back of your ear slightly forward, you can hear yourself sing better – it's like an echo chamber. They talk about "finger-in-your-ear singing" and they don't really understand what it is.
Jamie MacColl: Ewan MacColl's grandson and guitarist with indie rock's Bombay Bicycle Club
Sadly, Ewan died the month after my birth. Although I never had the chance to have a personal relationship with him, I increasingly found myself drawn to learn more about his life and music as the centenary of his birth approached. What has struck me most – particularly in light of the apparent political apathy in the music of my generation – is that his politics seemed to underline his artistic output; his art was a means to a political end, and I believe that is something my generation has lost.
Having said that, the song I have connected to most, The Joy of Living, is one that eschews this approach and is probably the most deeply personal song he wrote; it's both mournful and uplifting in a way that only truly great songs are. Although I can't claim that Bombay Bicycle Club have been directly inspired by the kind of music he made, I do hope that we share his obvious commitment to his art and his desire to inspire others. From what my dad has told me about Ewan's thoughts on pop, I'm fairly sure he would have hated the majority of the band's output, but hopefully he still would have been as proud of me as I am of him.
Sam Lee: folk music revivalist whose debut album, Ground of Its Own, was shortlisted for the Mercury prize in 2012
Ewan MacColl was one of the first singers I came across when discovering folk, when I was about 25. For me, he defined the sound of 50s and 60s folk. I was captivated by it and learned lots of his songs, and at the same time was working out who he was, where this voice had come from, why he sounded like he did. Then, most importantly, it was his work collecting songs from the Gypsy travelling community that was so inspiring: his book Travellers' Songs From England and Scotland, with Peggy Seeger, became a textbook for me.
There was a song called Sheep-Crook and Black Dog, learned from Queen Caroline Hughes, who is an English Romany Gypsy. When I heard that tune, and that major-minor shift, I realised there was this extraordinary song tradition that he was exploring. It was like nothing I'd ever heard – just him on his own, and I remember being captivated by the loneliness of his voice and how powerful he was as a solo singer.
Ewan had such a strong vision of the way folk music needed to be presented, the political confines in which it existed and its purpose. He was a very driven and dogmatic man who was a great facilitator.He created a world of folk music that he wanted to see acted out by his singers, his disciples.
Seeing his music through that socialist political lens, it was more than just music: it was the voice of a people, the voice of the underdog. In some ways, the socialist in me completely agrees with it, but there was so much also that I felt was a turn-off. He didn't leave much room for interpretation or exploration beyond his own views. And there was this social exclusivity to it, which for a music that is about the outsider is quite contradictory. There are aspects of his beliefs that were slightly suspicious and sometimes quite hypocritical, but he was a man of his time.
He was a divisive character. You've got to love what he did; you've also got to take a lot of it with a pinch of salt.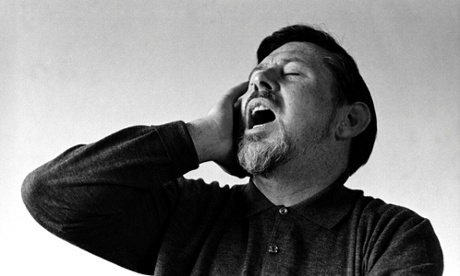 Shirley Collins: singer instrumental in the English folk revival of the 1960s and 70s
Ewan had quite a pernicious influence on folk music, I think. People who went to the Critics Group [a study group for singers held at MacColl's home] ended up being moulded by him, sounding the same. Folk music should be about reflecting music from the regions, the different voices, the roots of it. You couldn't differentiate anything with his approach.
I first met him when I was 20 and my antenna went up straightaway. I genuinely don't want to be unpleasant, but he was unpleasant to me, quite sexist, and pretentious and pompous – words that should never be applied to a folk singer. He said to me that I shouldn't wear nail varnish. What a wretched thing to say to a young woman with an interest; what a way of putting someone down.
He was self-invented; there seemed nothing truthful about him, and that's always concerned me greatly. He was an actor, really, even as a singer. The way he'd turn his chair, sit astride it, put his hand to his ear... my heart would sink. I know it's not fair as he's not here to defend himself, but I've had my opinion since I first met him, and I've not seen any reason to change it.
He was a talented man, yes – you can't get away from that – who made some fine pieces of work, but he could never reach me like a traditional singer could, someone like George Maynard or Harry Cox. His influence now? Things have opened up. Nobody has to listen to what other people are saying. People are going their own way. That's the way it should be.
Rachel Unthank: singer with folk group the Unthanks, whose new album, Mount the Air, is released next month

He matters to me because he was an exceptional songwriter. His songs have woven their way into the fabric of our family. There is not a family party that passes without one of his songs being sung. Each song is so linked to a particular family member that, in a way, I think of them as their songs. He wrote beautifully tender songs such as The First Time Ever I Saw Your Face and songs that slap you in the face with grim reality, such as My Old Man, which charts the harsh life of a working man ending up on the scrapheap at too young an age. I admire songwriting that isn't afraid. My favourite is Nobody Knew She Was There, which is so achingly sad and lonely, yet beautiful. My auntie June thought it important enough to teach my sister Becky, line by line, probably knowing it would be the last thing she taught her before she died.
We have recently been lucky enough to work with Ewan's sons Callum and Neill, who are recording an album of their father's songs, sung by lots of different singers, which is very exciting to be a part of. They were so generous and open with how to approach singing and arranging. They asked us to sing Cannily Cannily, a north-east lullaby which seemed like the perfect fit. There seems to be such a strong sense of character and place in his songs, which makes them a pleasure to sing, and makes your job as a storyteller so much easier.
Interviews by Kathryn Bromwich, Jude Rogers and Phil Mongredien
Martin Carthy plays at Blood & Roses: The Songs of Ewan MacColl at Glasgow Royal Concert Hall tonight. A box set of Ewan MacColl recordings (Topic Records), an album of covers by contemporary artists (Cooking Vinyl) and a major UK tribute tour will follow later in the year