British Sea Power have long been the most lateral thinking of bands. The Brighton group's previous audacious ventures have included scoring leftfield documentary films, playing shows on the Cutty Sark and in Cornish caves, taking to the stage surrounded by foliage and accompanied by a man in an eight-foot bear costume, and launching a new album in a country pub, after which they camped overnight in the beer garden.
For their latest experimental caper, they have recorded an imminent new album, Sea of Brass, in which they revisit highlights of their 12-year career alongside a traditional 28-piece brass band. They are touring the record alongside a variety of such ensembles, and at tonight's show are accompanied by the venerable Redbridge Brass Band.
British Sea Power deserve huge credit for thinking outside of the creative and promotional box so indefatigably, but this latest outing is not one of their more successful endeavours. Put simply, no one has ever listened to British Sea Power's sublimely visceral, existentially astute indie rock, and postulated that it would be improved by the addition of massed tubas and trombones.
Tonight's musical director and conductor, Peter Wraight, has made a laudable attempt to rearrange the group's lustrous oeuvre into avant-garde brass-friendly shapes, but his task was enormously demanding and, ultimately, misguided. Rather than opening up new vistas of possibility in the band's panoramic art-rock, the 28-piece Redbridge troupe frequently simply submerges it.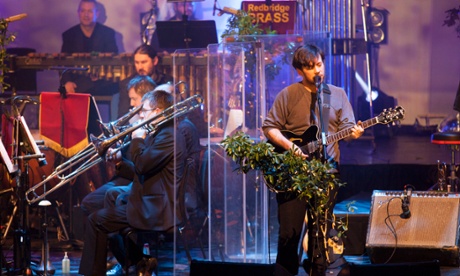 Instead of lending barely needed gravitas to British Sea Power's ambitious, luminescent music, the galumphing brass accoutrements merely weigh it down. Singer Scott "Yan" Wilkinson's voice remains a rich, passion-laden quaver, but it is impossible for him to communicate his material's intimate nuances rendered indistinct behind a volley of trumpets.
It should be a blessed union, but it feels more like a forced marriage. Atom, from the band's superlative 2008 album Do You Like Rock Music?, was a magnificently turned missive of urgent, insatiable longing, yet here its aching potency is sacrificed to shrill clatter and clutter. Guest vocalist Jock Scot's Ivor Cutler-meets-McGonagall turn on I Yearn does nothing to improve matters.
As ever, viola player Abi Fry is a star within British Sea Power, contributing both sumptuous strings and a superbly haunted vocal to No Need to Cry. The erratic coupling with the brass band also clicks into place on the sparsely pastoral The Smallest Church in Sussex, a number whose air of distracted contemplation lends itself to a melancholy trumpet reveille.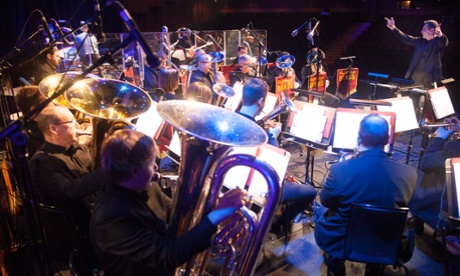 Yet this is only a temporary respite from the insuperable problem of these musical genres' essential incompatibility. The tumultuous title track from 2013 album Machineries of Joy is an exclamation of a song built on propulsive guitars and fervent abandon, but its constricted reimagining here is so claustrophobic that it squeezes the life and soul out of it.
Seemingly unsure how these cacophonous arrangements hang together, BSP are out of their comfort zone and yet noticeably playing well within themselves. It's a crime to hear the divine dynamics of Lights Out for Darker Skies so reduced and curtailed, its Arcade Fire-like shimmer and exhilarating rush lost in the ether. Normally BSP rock like demons. Tonight they can't, and they don't.
They encore with the inspired and inspirational Waving Flags, a gloriously ebullient tribute to east European immigrants to Britain that even this conceptually flawed performance cannot diminish. It has been a characteristically valiant attempt to push back musical boundaries, but you head into the night longing to see this fantastically idiosyncratic band again minus their temporary playmates.
• At ABC, Glasgow, 19 February. Tickets: 0141-332 2232. Then touring until 13 June.