It was while he was driving his rental car to LA airport after his first meeting with Mark Ronson that Michael Chabon began to worry. He had been flattered and intrigued when Ronson invited him to write lyrics for his album Uptown Special, but the scale of the challenge only struck him after a long lunch. "I started thinking, 'Oh my God, can I actually do this?'" Chabon recalls. "'What makes me think I can write lyrics?'"
It might seem strange for a writer of Chabon's pedigree to panic over a few pop songs. He has written seven novels, including the Pulitzer prize-winning The Amazing Adventures of Kavalier & Clay, as well as short stories, non-fiction and screenplays. And has a deep love of music: his 2012 novel Telegraph Avenue centred on a fictional record store in his Bay Area neighbourhood. But it's perhaps revealing that very few novelists have successfully attempted songwriting. Nick Hornby wrote lyrics for Ben Folds' 2010 album Lonely Avenue and Kazuo Ishiguro, who started out as a songwriter, has a long working relationship with jazz singer Stacey Kent. Polly Samson has written for Pink Floyd, but it's still an unusual move.
Traffic in the opposite direction is equally sparse – Leonard Cohen and Nick Cave remain the only major singers to have published well-received novels – but it's slowly getting busier. Willy Vlautin of Oregon band Richmond Fontaine and singer-songwriter Josh Ritter have both launched parallel careers in print, to considerable acclaim. Last year John Darnielle, of North Carolina's the Mountain Goats, published his debut novel, Wolf in White Van, which was longlisted for the National Book Award and hailed by the New York Times as "strange and involving". And Colin Meloy, admired for his complex narrative songs as frontman of the Decemberists, writes a bestselling series of children's fantasy novels called The Wildwood Chronicles.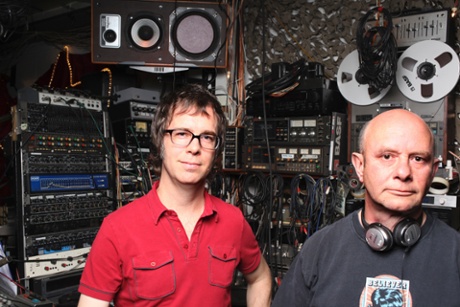 "I don't think they compare very well," Meloy says of the difference between songs and books. "They're as different as two things could be, coming from the same part of your brain. [Music] kind of adds its own narrative quality – tone, mood and meaning. With prose, you're on your own. Everything has to be clear and readable, whereas with songs there is so much room to leave meaning up to the listener."
Chabon wasn't entirely a novice lyricist. In Pittsburgh in the early 80s, he sang in a college punk band called the Bats, but his bandmates weren't fussy about his words. "There was no standard for lyrics. They didn't really care," he says. "Now I was stepping into it at the highest possible level. They [Ronson and co-producer Jeff Bhasker] have Grammys and multi-million selling records! That's when I panicked."
To assuage his nerves, he wrote a lyric as soon as he got home to Berkeley, straight on to the page, without any music to guide him, just to prove he could do it. Called Crack in the Pearl, it ended up on Uptown Special in two parts only after drastic revisions. "It had all the flaws that I now recognise were to be expected from someone who really didn't know what he was doing," he says. "I had way too many verses. The lines were much too long with far too many syllables. There was this whole issue of singability I had no experience of. Just because something looks good on the page doesn't guarantee it can be a viable lyric. Sometimes you need a line not to be brilliant or memorable or dazzling. You need it to fit. Once you know how to make a line fit, then you can start to play again."
Chabon remembers Ronson telling him over lunch that he wanted lyrics that went beyond the standard pop themes of love and dancing, citing songwriters like Chabon's personal favourite, Donald Fagen of Steely Dan, who construct narrative personae. "Songs that tell stories," says Chabon. "That's what he wanted from me and felt was missing from the pop charts in general, but more specifically from his own work."
Ronson and Bhasker would send Chabon raw tracks with nonsensical guide vocals to give him a rough framework. He wrote first drafts at home and finessed them in the studio. "There was a bit of hesitation on their part initially," he says. "Can we actually tell this guy what to do? They quickly realised I wasn't going to flip out if they told me a line was clunky. I realised that I'm actually going to learn to do something very cool here if I pay attention and let them teach me. It was so pleasurable trying to get the rhymes and the cadence and the syllables to work right. It completely engaged the puzzle-solving part of my brain. It was the most fun I've ever had while technically working."
For Chabon, the joy of lyrics as opposed to novels is their economy and their use of suggestion. Lines such as "Last flight to Juarez/ Two frozen credit cards" (In Case of Fire) and "In the backroom of the El Mago Casino/ Under a portrait of Doris Day" (Crack in the Pearl) feel like evocative shards of a much bigger fictional landscape. He mentions the Zutons hit Valerie, which Ronson covered with Amy Winehouse. "There's a story in that song. You're trying to figure out, who is Valerie? What's their relationship? Why did she have to get a lawyer? It doesn't just hint at a narrative; it hints at a whole world around the singer and Valerie."
John Darnielle says that even when songs tell stories they're not obliged to follow through. "A song is a bunch of suggestions or statements that contain a lot of spontaneity. It's a tight process. If I don't get a song quickly, I abandon it. A novel is an abiding concern. Novels have to go somewhere. The big difference is time."
Darnielle spent his early teens feverishly typing "awful" short stories and collecting rejection slips from sci-fi magazines before turning to poetry and then songwriting. His interest in prose only revived years later when he began writing music criticism and considered submitting a proposal for Continuum's 33 1/3 series about classic albums. Master of Reality, his 2008 novella named after Black Sabbath's 1971 album, takes the form of diary entries written by an institutionalised teenage heavy metal fan, who finds solace in extolling the virtues of Sabbath. The narrator could be one of the smalltown misfits on the Mountain Goats' 2002 album All Hail West Texas, but the novella form allowed Darnielle to play with timeframes and expand on what the songs only implied.
He cites Jeff and Cyrus, the two characters in the Mountain Goats song The Best Ever Death Metal Band in Denton. "Their story might look like this guy's," he says. "A song is all potential. You only have bare details and the feeling that's brought to them by melody and music and all the other variables. Novels are weirdly more naked. You have to put more stuff in there and stand by it."
When Darnielle began writing Wolf in White Van a few years ago, it had multiple narrators and plotholes he couldn't fill. It took the pressure of a book deal to force him to return to the material and hone it into the compelling tale of a maimed young man who creates a cult post-apocalyptic role-playing game called Trace Italian that leads to tragedy. "There's this terrifying sense of freedom when you're telling a story," he says. "What happens next? Literally anything! In a song you have formal obligations – like if you're writing a sonnet, no, you can't write a line as long as you like. Whereas novels are so giant and loose and their rules have been hammered so hard since Joyce that you'd be hard-pressed to make a statement about what a novel is apart from something longer than a novella." The potential for "chaos", he says, is enormous compared to a song.
Darnielle is currently working on a second novel. Chabon doesn't know if he'll write any more songs but his experience with Uptown Special was an unalloyed pleasure. For someone who sometimes finds writing fiction so agonising that he's even written a novel, Wonder Boys, about someone who finds writing fiction agonising, the relative speed and camaraderie of music-making was an exilharating relief. "Best of all," he says with audible delight, "was at the end when Mark played guitar and Jeff played keyboards and sang – and there are your words being sung with a beat behind them. It's incredibly satisfying to make something cool so quickly."
• Uptown Special is out now on Columbia. Wolf in White Van is published by Granta. The Wildwood Chronicles is published by Canongate.