Forget pop's preoccupation with reinvention. Ever since their YouTube-powered breakthrough in 2010, South African rap-rave crew Die Antwoord have stuck to a distinctive look. Wiry rapper Ninja wears boxers, tattoos and little else; ashen-faced singer Yolandi Visser rocks a Dave-Hill-from-Slade haircut in dazzling platinum. Both appear in Neill Blomkamp's new sci‑fi movie Chappie, looking exactly the way they always do, the perfect prefabricated fit for a near‑future dystopia.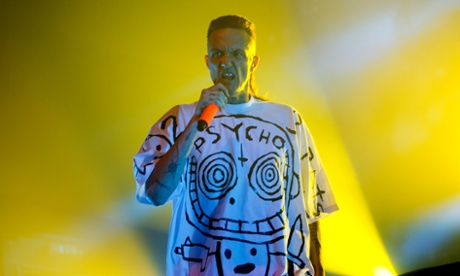 Die Anwoord's career trajectory has been as relentless as their music. The alcopop mix of Ninja's guttural Afrikaans-inflected raps and Visser's robot-babydoll singing has been confrontational from the outset, a melange of leery posturing and accusations of cultural appropriation. Their recent third album, Donker Mag, doesn't veer far from the formula, but this sold-out tour suggests they've found a receptive UK audience, or that their reputation for demented live shows precedes them.
Half an hour into their set, ballooning into life stage right, appears Casper the over-friendly ghost – a grinning white inflatable blob with a distractingly large phallus. It's a visual cue for new song Big Zef Boner, a rickety apologia for Ninja's own endowment that echoes early Eminem. The rest of Die Antwoord's staging consists of two masked backing dancers jackhammering along to waves of crashing rave, and a series of staggered costume changes, all of which involve some combination of hoodies, headgear and hotpants.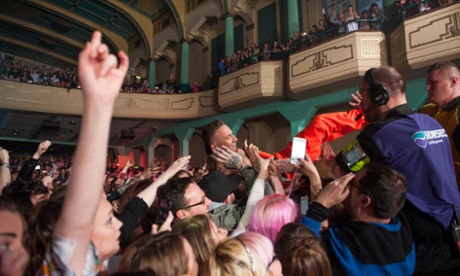 If it looks and feels like Spring Breakers: The Musical, there's also an undeniable energy that elevates material that can sound naff on record. Girl I Want 2 Eat U adds raunchy dancehall to their arsenal, but the biggest reaction is for Baby's on Fire, a track that – minus the orchestral keyboard of the chorus – has some of the slinkiness of Disclosure. The inflatable boner bobs happily along for the rest of the show. If Die Antwoord are an artpop in-joke, they're still playing it to the hilt.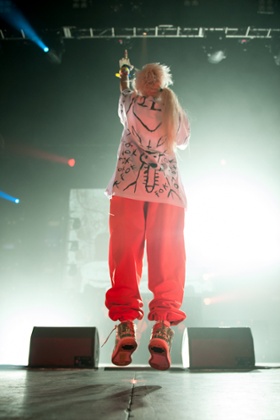 • 15 January, at the Institute, Birmingham. Box office: 0844 844 0444. Then touring until 17 January.