When they finally peel him out of bed it is almost three in the afternoon and Sam Smith, by his own reckoning, is still drunk. The pop star's hotel room is "a state" (says Andrea, his PA) and the thick Burberry jacket that has been keeping him warm on this leg of his US tour is lost somewhere out in frozen New York. "I wouldn't mind," the PA keeps saying, calling around last night's bars, "only it cost £3,000." In her handbag she has quantities of hangover pills but Smith opts for a more immediate next-day remedy and picks out chicken McNuggets from a box of 50 that his managers are sharing. When his dad stops by to deliver a mild paternal bollocking for the excesses of the night before, Smith says: "Dad! I'd just played Madison Square Garden. Did you think I was going to go to bed early?"
He is 22, unknown as recently as his 21st birthday, last night's gig at America's crown venue coming roughly three to five years ahead of even the most optimistic schedule, the cresting point of a steep, commercially atomic debut year. Awards from the off, including four Grammys. America broken (cracked over Smith's navy-trousered knee). More than 5m copies of a debut album sold, record-breaking first-week numbers clocked along the way and Smith the only musician of 2014, all told, to shift more than 1m units on both sides of the Atlantic. Pals made of Mary J Blige, Chaka Khan, Elton John – who recently invited Smith over for tea. "Like butter," Beyoncé has said of Smith's splendid tenor and Blige put it no less prettily: his voice "covers you". Meanwhile, instead of compliments, a wealthy New Yorker gave the boy from Cambridgeshire the free use of a Manhattan penthouse whenever he passed through town.
It's in the penthouse that we meet the day after Madison Square Garden, to take in the view and the spectacle of his hangover, and to talk about Smith's past 48 hours in New York, which seem to encapsulate all that is brilliant and ball-achey, all that is exciting and taxing in his sudden new life. Smith's signature quiff languishing, his eyes bloodshot, the sleeves of an anorak pulled down schoolboy-style to the knuckle, he says: "You think you're going to have loads of money. And that everything's going to be great. And that everyone's going to love you. And you're never going to be sad. And you're going to be performing all the time. And you're going to be invincible."
And parts of that, he says, prove to be true.
***
The day before the day before: Smith arrives in New York and sees, right away, a billboard that replicates his own face at something like 100:1 scale. It's an advert for a music-streaming service and beside Smith's giant head (plump limps, striking eyebrows, Buzz Lightyear chin) there's a tagline that reads: POUR YOUR HEART OUT. Already "shitting my pants" about the imminent performance, this billboard has a strange note of injunction, like an order left out for him specially.
Smith has spent more than a year pouring his heart out. First on a delicate, plaintive single from 2013, Lay Me Down, later on his breakthrough ballad, Stay With Me, which went to No 1 in the UK and No 2 in the US, helping spur the wild sales of last May's album, In the Lonely Hour. On the best tracks of that record, Smith's crazy-range vocal laid over piano and muted drum, a miserable affair was picked over. Or, rather, a miserable non-affair, based as it was on the impossible feelings that Smith, who is gay, felt for a straight friend. "Can I lay by your side?" he begged on Lay Me Down, inserting the tiniest hesitation between the third and fourth words and in doing so capturing just what is most awful about unrequited love – the self-fulfilling expectation of rejection.
Picking things over, pouring his heart out, is in Smith's nature. "When I was young, if I had an argument with my mum and dad, I couldn't go to bed and I wouldn't let them either, not until we hashed it out." It took him a while to apply this confessional instinct to his music. By the time he started working on the tracks that would make up In the Lonely Hour, collaborating with a manager called Elvin Smith and the writer-producer Jimmy Napier, Smith had already had a few gos at making it in pop. He'd recorded cheerful demos, shot a video or two… He remembers one former manager's strategy being "old people. Old people are the key to your success, Sam!" Things only clicked when he and his new team started writing tracks about feeling gutted.
The night they wrote Lay Me Down – everyone involved remembers the date, 12 April 2012 – Napier emailed the track to his own managers, who also looked after the emerging electronic duo Disclosure. Jack Street and Sam Evitt were "on an Indian" when the email came, they recall, their curry quickly abandoned once they had pressed play. They shared the song with Disclosure's Guy and Howard Lawrence; the brothers were on a Ryanair flight to Ibiza and decided there and then that they would employ Smith as a feature vocalist on their soon-to-be-a-smash track, Latch. Around this time, the boss of Capitol Records, Nick Raphael, heard Lay Me Down in a meeting and thought: "Fuck me, when can I speak to him?"
So bleeding his guts out has been important, professionally, for Smith. It got him his management team (quickly expanded to include Street and Evitt), his first hit as a vocalist, his solo deal and, eventually, his jumbo audience. For months, he's toured bigger and bigger venues on the way towards Madison Square Garden, stopping in at the studios of The Ellen DeGeneres Show and Saturday Night Live, guesting for Alan Carr and Graham Norton, appearing at awards nights, events – always to sing about his troubles. And the trouble with singing about your troubles, Smith says, is "sanity. Your sanity goes".
"It's weird. Something you want so badly all your life actually happens. And then you think, 'Oh shit.'" Smith remembers a specific moment of panic, last spring, when he was promoting In the Lonely Hour just before its release. Half-a-dozen live bookings a day, then his midweek numbers climbing – the train unstoppable, basically. "And I thought, 'Do I want this? Maybe I've misunderstood what this job entails.'" Significant legwork for the modern pop star comes in promotion, the brutal and exhausting shill. But Smith says: "I've spent as much energy this past year trying not to go mental as I have plugging my record. You have to. You have to. It's like your body's trying to float away. And you're hanging on for dear life."
***
His family are here with him in New York. Mum, dad, stepmum, stepdad, two sisters. The last time the Smiths came to town together their number was smaller. Sam was 18 and his parents were still married. They went to Madison Square Garden to watch a basketball game ("I think I was more interested in the hotdogs") and then, abruptly, on a visit to the Brooklyn bridge, their trajectory as a family changed. Smith's sister found some messages on their dad's phone that suggested he was in a relationship with another woman. And it all came out, there under the bridge, that his parents had discussed the matter and meant to separate. Their holiday still had a week to go.
"I flicked into big-brother mode," recalls Smith. "I refused to let something like that break us apart. I just made sure that if we were feeling something we said it." He recently wrote a song about the incident, one for the next album, and when he plays it to me on his mobile I notice the title: Scars. Smith catches my eye and says: "I know, right? Any normal person, after that first record, would think, 'Second album, let's bring out some happy music. Give everyone a break.'"
This second album isn't coming for a while. "If my first hadn't done very well I would have to be bringing out another towards the end of this year… My team would be panicking, getting me in sessions. But I'm in this beautiful situation. There is no schedule." He wrote Scars, really, to help resolve the subject in his head. His parents' split probably affected him more than he usually admits, Smith says, and might in part be responsible for the bleak, yearning music he's become known for. "But all that happened when I was 18. Now I'm 22, I'm in the same city with my mum and dad, they're both with their other partners, and we're happier than we've ever been. I'm as proud of that as I am of playing Madison Square Garden."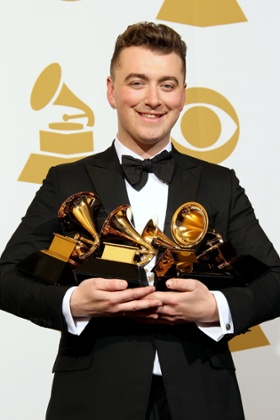 They're backstage at the venue, his new, expanded family, along with just about everyone involved in Smith's expanded career. His managers walk around the empty venue's floor, hugging their client and each other. Disclosure are here, practising for the moment when they'll be pulleyed on to stage for a surprise duet. Smith's publicist holds up a mobile phone to show the news that the Brit award nominations have been announced, and Smith has five. Capitol's Nick Raphael leans on a barrier and says: "Amy [Winehouse] and Adele were on their second album when they exploded. Amy's first album was a struggle, Adele's first album was a two-year slog. Sam having all this on his first?"
Fairly chuffed at having taken a punt that paid out so richly, Raphael can only recall his initial signing of Smith in a rush. "I sat on the sofa in tears… I told him, 'You're signed! Tell us what you want, I'm not going to negotiate.' I called the lawyers and told them to do it quickly… No one else had made an offer." Why not? "Sam was unconventional. Openly gay. Tall, big. He didn't fit the norm. But he was one of the most real and beautiful people I'd met." Raphael leans in, as if about to say something he shouldn't. "The number one rule of A&R? Likability. Number two is talent. You can be the most talented person in the world. But if you're a dickhead, no one will buy it."
Smith's favourite coffee mug has two words on the front of it: "Beyoncé's bathwater." When I ask his PA if he's the first musician she's worked with, she says: "God no. But the nicest." Ed Sheeran and George Ezra, young British balladeers with whom we journalists would have Smith engage in a vinegary rivalry, keep saying infuriatingly positive things about him. Smith charmed a potentially indifferent Glastonbury crowd by announcing, straight up, that he would not camp at the festival. "I'm not as brave or strong as you!" It's difficult to root out serious hostility towards him. Chaka Khan recently said to him: "Do you realise how lucky you are?"
I tell Smith I've condensed a bunch of rise-to-the-top-of-pop stories like his and that I agree with Khan. None is ever this smooth, quite so without blip. Oh, he says, there have been blips. "In terms of work, the music, it's gone like that." He swipes his hand – an aeroplane taking off. "But going through it, becoming famous? It isn't necessarily a nice thing."
He felt very guilty during a period last year when his mum caught some ugly press attention. A story was unearthed suggesting she'd been sacked from her job as a banker for spending too much time on her son's career. (Smith denies this is accurate.) Also painful, he finds, are problems with how he looks. As his label boss put it, Smith is "tall, big", unusually shaped for this game. "There are moments when I kick myself, looking at Justin Bieber's Calvin Klein advert in fucking Times Square, thinking I'm in the same industry as him… I'm forever going to be on a diet." He was recently on a beach holiday with his boyfriend, Jonathan Zeizel, and the paparazzi got a picture of the pair with their tops off. No biggie for Zeizel, you expect, a toned model whom Smith met on the set of a video shoot. But Smith "hated it, hated it, hated that everybody saw me like that".
In his dressing room, showtime near, Smith puts on a tight-fitting suit in front of the mirror and thinks, for a second, about crying. A feeling-ugly moment. With instinctive timing his dad sends in a present, a book of poetry with a particular poem marked out. Smith later recalls it is "everything I need to hear. About flowers and how they're told throughout their lives they should look a certain way, when really they're beautiful as they are." Smith reads the poem in the dressing room – does cry – and then walks out to the stage.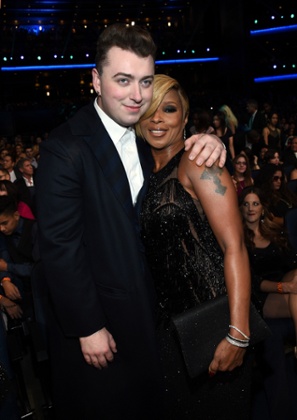 There was one chunk of negative commentary I found, outrage that swelled up last September when Smith was quoted as saying he didn't particularly want to serve as a spokesman on gay-specific issues. This was shirking, some thought, which pissed Smith off. "I may not be comfortable with my weight, or with the way I look, but I'm really comfortable with my sexuality. That's one thing I have mastered." He points out that he has a series of gigs coming in the summer to raise funds for a charity he's establishing, "involving money going to gay guys who are struggling to come out in different countries… I'm very aware that we are not where we should be, so I'm trying to play my part. But in a certain way, in my way."
He has a thing he's being doing during shows, slipping quiet references to fancying men into his stage banter. Generally, it prompts a sudden, self-aware little cheer (Good old us! Celebrating rather than persecuting a gay guy!) and this duly happens at Madison Square Garden. Smith is about two-thirds through his set, belting out Lay Me Down and the rest, when he pauses to chat about the heartbreak that inspired these songs. "It's OK," Smith tells the crowd, "I'm over him now." Woo!
Actually, this trick, and the reaction it prompts, has started to make him feel a bit queasy. "It's great… but it also makes me wonder. Because it's sad that it gets a cheer, do you know what I mean?" He thinks the most useful thing he can do from now on is try to flatten the fact of his sexuality, make it a boring point of biography. Normalise. He got some advice on the matter from DeGeneres, who came out in 1997. "She told me that just being out and in the public eye is enough. It's true. I'm a guy talking about a guy on my album. And my album's No 1."
***
When Smith comes off stage, he goes through his usual routine in the dressing room: a few moments of silence (both delicious and unnerving, coming in the aftermath of an ovation from 10,000 people); a quick post-gig analysis with his managers, what they call "thumbs up, thumbs down, gladiator stuff"; then out to a little backstage room to meet and greet the local spendthrifts who've paid extra to cuddle him. A large glass of pink wine is put into Smith's hand and there are hugs with his band, his backing singers, employees from the label. When Smith spots me he asks: "Will I get a good write up?" and indeed he will, from the New York Times among others, its critic calling the Garden show a success and Smith "a crooner who contemplates pain with fastidious control… pop's king of cling".
The party rolls on from that glass of pink. Everyone climbs inside a slow-moving freight elevator to get out of the venue and then into another lift to get up to a 30th-floor cocktail bar. At the cloakroom, Smith hands in his £3,000 Burberry jacket – the last time he'll see that – while inside his managers arrange clusters of tequila shots on the bar. Napier, the writing partner with whom Smith will win a cluster of Grammys in a couple of weeks, looks on with a beer. Everybody drinks, clinks, shouts in one another's ear: can you believe it?
The last clear look I get at Smith, he's in the middle of the crowded room, a stooping but always-conspicuous tall guy, turning his shoulders to the music, bending to kiss his boyfriend, singing lyrics. There will be blips to come. At the end of the month he'll announce that he and Zeizel have split.
There'll be an awkward little episode involving Tom Petty and the writing credits for Stay With Me, Petty insisting the melody is too close to one of his own and even securing a share in royalties, according to some reports. But for now, for tonight, Smith has one thought: to "go out and get drunk and be 22 years old". A teeming shot glass makes its way, hand to hand, towards him.
In the Lonely Hour is on Capitol Records. Smith performs at the Brit awards, Wednesday 25 February, broadcast live from London's O2 at 8pm, ITV