To locate the visiting team's locker room at Madison Square Garden, New York, you have to be escorted through a series of corridors, lifts and swinging doors. You pass numerous loading trucks outside, whose wares are being dispatched to the dizzying number of crew members and caterers inside.
The amount of work required just to put on tonight's Brit-studded show – Sam Smith is headlining, with George Ezra in support – can seem disorientating on its own. You'd therefore assume it might be at least a little nerve-racking for 21-year old Ezra, sitting in the huge room more frequently occupied by sweaty members of the Orlando Magic basketball team. This, after all, is his first gig in the US. Whereas most new artists learn the ropes at New York's Mercury Lounge or Arlene's, he'll be debuting at a venue that's currently playing host to Billy Joel, Maroon 5 and WWE Live: The Road to Wrestlemania featuring Hulk Hogan.
Ezra, however, doesn't really seem to do nerves.
"Nah," he says breezily. "Half-an-hour set goes quickly … you either gain their interest or you don't."
Is that it? What about the hall's iconic status? The 18,200 capacity? The daunting challenge of trying to break a new country?
"The fact it's so mad just makes me relax more," he says with a cheerful shrug, before explaining his approach to the craziness of life as a pop star: "If it lasts two years? Awesome. If it's 12 years? Awesome, just enjoy it; it's not the be-all and end-all."
This disarming level-headedness crops up a lot when talking to Ezra. His recent success, he says, is just a "bonus" of being able to play guitar and sing. He takes any fame with a "pinch of salt". At one point he'll say "It's just my job" and compare the fact he has to sing his hit Budapest dozens of times a week to the role of a pizza guy churning out margaritas to order.
His modesty seems genuine, but also a touch unromantic. After all, he was one of 2014's commercial success stories: only Ed Sheeran and Sam Smith sold more albums in the UK than his debut Wanted On Voyage. The anthemic, bluesy choruses of songs such as Cassy O' helped him pull huge crowds at festivals including Latitude. And at next week's Brits he's nominated for four awards: British male solo artist, British breakthrough, British single (for Budapest), and British album. That's really not like making pizzas. Can't he allow himself an ego rampage once in a while?
"Nah, I think you'd have to be wired wrong to act like that!" he laughs.
Ezra is a naturally self-assured, happy-go-lucky guy. He often thinks of the other things he might have excelled at. "Like how I've never tried skiing," he says. "If I'd done it when I was 12, I could be Britain's best skier! Whenever the Olympics is on, I'm always like: 'If only someone had put a javelin in my hand ...'"
Ezra's musical (rather than cruelly thwarted athletics) story began in his teens, when he played rhythm guitar and sang with Harlow indie band Anything In Mind ("At that age, you don't care what the audience thinks, which is the best way to develop," he says). One day, while experimenting with his singing voice, he realised he could locate a much deeper, more soulful vocal than he previously knew was in him.
"At first I kept it to myself," he says. "I was excited, but there was a part of me that was thinking: 'Is this cool? Is this a good sound or do I just think that?'"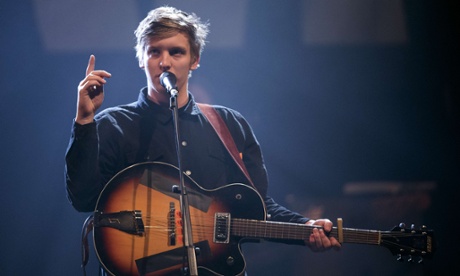 A student at Bristol's BIMM music academy at the time, he road-tested it on the city's open-mic circuit, which proved a colourful training ground: "You'd get overweight divorcees who want to tell you too much about their private life, and then sing a shit cover."
After building a fanbase, Ezra suddenly found himself being courted by all the major labels, and it's here that his grounded attitude really reaped benefits.
"Some of them used the wrong tactics around me," he says. "I could see right through them. That whole wining and dining thing …"
He didn't like it?
"I was 18! And being taken to fancy Asian restaurants where the lights aren't really on, you can't see what you're ordering, and it's £20 for a spring roll! All I wanted was to catch the last train back to Bristol and get to the pub."
Ezra chose to sign with Columbia, one of the few labels that didn't seem bothered about forcing its own ideas – remixers, collaborations – upon him. The label did, however, put him in touch with Athlete's Joel Pott, who helped shape Wanted On Voyage as part of a growing trend of older indie tunesmiths collaborating with teenage pop prospects (see also Snow Patrol's Iain Archer and Jake Bugg).
Before writing Wanted On Voyage, Ezra craved inspiration that reached beyond his hometown, and so bought a train ticket to hop around Europe for a month. So was he overcome by the romantic pull of life on the road, or did he write a debut album about InterRailing? Ezra, understandably, opts for the former: "I always try and say in interviews that I didn't go travelling. I went for just under four weeks. That's not travelling!"
However you label it, the experience reaped artistic rewards. His most famous hit, Budapest, was inspired by his travels, although he never actually visited the city; he got drunk in Malmo with a trio of Swedish girls and ended up too hungover to make his train there. What's most striking about Ezra's youthful pursuits is how they contrast with his influences: Bob Dylan, Lead Belly and Woody Guthrie being the central three. Like Bugg, the music he most identifies with is from a bygone era, although Ezra says what he loves most about those records is how young and free they sound. He talks enthusiastically about one of the original songs on Dylan's debut album called Talkin' New York, which documents the singer's early experiences on the Greenwich Village folk scene.
"He was 19 or 20 when he wrote that. He's just moved there and it's his adolescent view on the big city. It's just the wide-eyed thing, and I see that in myself, even though I've had to grow up in the last two years because I'm busy and need to be on top form."
Ezra's growing-up involves no longer drinking or smoking on show days. He admits to having enjoyed the "perks" of booze and groupies, but accepts it can clash with the reality of having to knuckle down. He's even invited his sister Jess on tour, so that she can keep him on the rails. "She lets me do whatever I need to until it's like: 'Don't be a dick.' She'll point out what I have to do in the morning, and I'm like: 'Oh yeah, thanks.'"
In a rare forlorn moment, he points out that the guys in his band can go out boozing most nights while the pressure remains on his shoulders: "If I don't perform, then the first thing will be: 'George fucked up', you know?" His schedule can be "a bit fucked-up ... if they could have six of me working across the world, they would."
It sounds like he is being turned into a music-industry battery hen. "Nah," he says, his sunny demeanour taking over. "I don't get overwhelmed or fussed by it." Besides, he says, there are worse things than radio sessions.
Ezra's personality might lack the narcissistic instability we often crave in our pop stars, but at least he has the honesty to be himself, and admit there's no darkness lurking within. Sure, he might mention Lou Reed as a lyrical influence, but you can't imagine Reed claiming, as Erza does, that there's nothing he likes more than chilling out with a movie and a bathbomb from Lush. He might have a song – Drawing Board – that involves the vengeful murder of an ex-girlfriend, but it's so cartoonish you can only really take it as a joke. This, after all, is a guy who used his air miles to fly his mum out to New York to see him play. He's not really about to stuff his former paramour's pillowcase with snakes.
Ezra ends our interview by talking about his plans: he'd like to release an album of children's songs, as Woody Guthrie once did ("Songs are good for kids, they kickstart their brains into remembering something they might not have otherwise remembered"); for his next album, he wants to decamp to Barcelona and write there. The details are fuzzy, as befits a man taking each day as it comes. You get the feeling, though, that, however it pans out, Ezra will be pretty happy with his lot.