Andre Young's entry in the history of rap will be substantial. He has been a pivot and driving force behind gangsta rap and G-funk; the mentor and producer (which, in hip-hop, means "writes the music," not just "makes it sound good") to three of the biggest stars the genre has ever seen (50 Cent, Snoop and Eminem); and while he has made records less frequently in the digital age, his creation and recent sale of the Beats by Dr Dre headphone range has put him at the cutting edge of technology and fashion, two industries that crave hip-hop's cool and which still, unlike recorded music, remain immensely profitable.

He is not the first rapper to turn 50, a milestone he reaches next Wednesday, but Dre has shown that there can be a second act in a hip-hop life. Not every record he has made has been good, some of the innovations he has ushered in have clearly been bad, and some of what he has done has been undeniably ugly. But he remains arguably hip-hop's premiere creative force: and even in his sixth decade, the rap world still watches keenly to find out what he's going to do next.
1 Dre's first production

Wreckin' Cru's Slice was an inauspicious beginning, but Andre "Dr Dre" Young's first production – a shameless "Sucker MCs" knock-off – became a local hit in south Los Angeles in 1984.
2 and 3 Dre meets Cube
Yella, Dre, Lonzo and Cli-N-Tel recruited friends Cru' in Action (including Ice Cube) to add backing vocals to the dance-craze anthem Cabbage Patch by World Class Wreckin' Cru in 1986, but the first true collaboration between Dre and Cube came a year later, with My Posse by CIA, which showed an unabashed affinity for the Beastie Boys.
4 NWA begins to come together
Tiring of electro and wearing sequins, Dre and Yella met a drug dealer named Eric Wright. With Ice Cube roped in to write lyrics, the newly minted Eazy-E debuted in 1987 with a Dre production called The Boyz-N-the-Hood.
5 NWA become the biggest sensation in hip-hop …
The team behind Eazy's single decided to form a band. Without any airplay or advertising their debut album, Straight Outta Compton, sold 500,000 copies in six weeks after its release in August 1988.
6 … and then "the world's most dangerous group"
Fuck tha Police was so incendiary that a censored version of the album was created, without the track. But what makes the song fascinating is its careful structure, with verses delivered as evidence in court. The concept and execution were Dre's.
7 Dre lays down the law on weed
For the airplay-ready single Express Yourself, the Doctor rapped about how he wouldn't dream of touching marijuana, because "it's known to give a brother brain damage". Incidentally, Charles Wright – around whose 1971 hit Express Yourself was built – was Eazy-E's uncle.
8 Dre develops street soul
Michel'le was Dre's girlfriend, and the mother of his third child. Her debut album, which he produced in 1989, minted the street-soul sound three years before Puffy and Mary J Blige.
9 The superstar who never was
The D.O.C. had contributed to Straight Outta Compton, and his 1989 solo debut No One Can Do It Better suggested his partnership with Dre would be a match made in reality-rap heaven – but a car crash and a crushed larynx silenced him for the rest of the century.
10 The first stirrings of g-funk
Above the Law's leader, Cold 187um (Gregory Hutchinson), did most of the funk-sample-heavy production on their album Livin' Like Hustlers, which Dre then came in to polish.Hutchinson, though, claims credit for the g-funk style Dre went on to popularise.
11 NWA drop Ice Cube
100 Miles and Runnin' – a 70s cop show theme looking for a series – found NWA attacking recently departed founder member Ice Cube. Dre's production made NWA sound great even when they were marking time.
12 Dre assaults Dee Barnes
Unhappy with a recent interview, Dre saw MTV presenter Dee Barnes at a party in December 1990 and, while his armed bodyguard kept other people away, he grabbed her by the hair and repeatedly slammed her head into a wall, then followed her into the ladies' bathroom and beat her while she was on the floor. Barnes sued for $22.75m; Dre pleaded no contest, was fined $4,500 and sentenced to 240 hours' community service. Barnes's lawsuit was settled out of court. She said of Dre and the NWA members who said she had deserved to be assaulted: "They've grown up with the mentality that it's OK to hit women, especially black women. Now there's a lot of kids listening and thinking it's OK to hit women who 'get out of line'."
13 The start of the east coast/west coast rap beef
It's a footnote in rap history, but Ultramagnetic MCs member Tim Dog's debut solo single Fuck Compton invented the east coast/west coast beef in 1991. "Dre beating on Dee from Pump it Up/ Step to the Dog and get fucked up," he warned, without necessarily appreciating the irony.
14 Dre comes into his own as a producer
Alwayz Into Somethin' was a highlight from NWA's second album in 1991 and the first flowering of Dre's mature production style. Every sonic element is in its distinct and precise place, all tied together with an analogue synth line as piercing as the LA sunshine.
15 Introducing … Snoop
While Dre was trying to leave NWA in 1992, he made his first solo single, Deep Cover, a steely, paranoid beat that gave newcomer Snoop Doggy Dogg's spine-chilling blend of sing-song melody and lyrical malevolence its first airing.
16 From producer to pop star
Developing his template into something that both hardcore rap fans and pop audiences could grasp, Dre hit the motherlode in 1992 with Nuthin' But a 'G' Thang. It made him a pop star, reaching No 2 in the US.
17 A hip-hop landmark
In December 1992, The Chronic set a new benchmark for hip-hop. Rumours suggest Dre would spend days just getting a single cymbal sound right. His solo album featured Snoop heavily amid a host of new artists; it was sonic perfection, but often laced with lyrics of persistent and sustained hatefulness.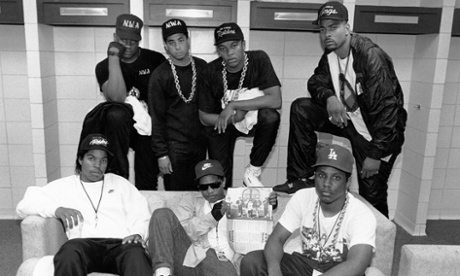 18 Snoop gets steered to stardom
Snoop's debut album, 1993's Doggystyle, turned the former Long Beach Crip gang member into a superstar.Dre's perfectionist production ensured that mellifluous flow rode a custom-tooled sonic vehicle.
19 Dre wins his first Grammy
On The Chronic's best single, Let Me Ride, Dre is cruising the southland in his 64 Chevy, swinging down in George Clinton's chariot to give his folks a ride. He directed the (sexist) video, too. It didn't become a big hit, though, until after Dre won the Grammy for best solo performance in 1994.
20 Dre and Cube make up
Rapprochement with Ice Cube coincided in 1994 with Death Row's most megalomaniac moment – a soundtrack album to a short film based on Snoop's song Murder Was The Case. Natural Born Killaz is one of Dre's greatest productions, and helped bring the best out of Cube, too.
21 Death Row releases a woman!
The Lady of Rage had appeared on The Chronic and Doggystyle but she made her solo debut with the highlight – and sole Dre-produced track – on the Above the Rim soundtrack in 1994. Rage lived up to her name, even when she was talking (as on Afro Puffs) about her hairdo.
22 The collaboration that never was
Dre and Ice Cube's Helter Skelter was trailed as the next Death Row album on the sleeve of Doggystyle, but it never materialised. According to Cube, not a single song was recorded.
23 2Pac make Death Row debut
California Love was a single where the video budget could keep a small country in schoolteachers for a year. 2Pac's Death Row debut featured an opening verse from Dre, who was showing no signs of losing his knack for picking winners. It was a US No 1.
24 Dre looks for a new direction
With Death Row imploding, Dre was looking for a way out. 1995's Keep Their Heads Ringin', from the soundtrack of Ice Cube's comedy movie, Friday, was cut from Natural Born Killaz/Afro Puffs future-funk cloth.
25 From hip-hop to swingbeat
He's only on it for eight lines, but Dre was the perfect addition to the daring single No Diggity by labelmate Teddy Riley's swingbeat supergroup, Blackstreet.
26 Dre builds bridges to the east coast …
Striking out as Death Row crumbled, Dre teamed up with Nas for Nas is Coming, on his 1996 follow-up to Illmatic. "It's strange, his music is strange, and it was kinda hard for me to write to it," Nas said at the time. "We had to finish it in one day, because both of us were real busy. If I had the time I would have changed all the rhymes, the whole format of the way I came on the music, everything."
27 … And tries to end the feud
East Coast/West Coast Killas, from the compilation album Dr Dre Presents the Aftermath, saw Dre collaborating with KRS-ONE, Nas, Cypress Hill's B-Real and Houston rapper Scarface. It was supposed to put an end to the east/west feuding. It didn't.
28 Dre launches his own label
After Death Row's implosion, Dre cut a new deal for his own Aftermath label with the parent imprint Interscope. Been There, Done That, the single released in March 1997, promised a decisive break with gangsta rap.
29 The best cameo of his career
One of the least-known highlights of Dre's career is Puppet Master, his contribution to the solo album by Cypress Hill's DJ Muggs.He has fine verse, and a star turn as a voodoo pope opposite B-Real's gold-painted Beelzebub in the startling, Hieronymous Bosch meets Hammer Horror video.
30 Dre hits a slump
"The most anticipated since Tyson's return," was Dre's verdict on Zoom, his 1998 collaboration with New York rap icon LL Cool J. The boasts were sounding tired, and though Zoom reached No 15 in the UK, it didn't register on the Billboard Hot 100.
31 and 32 The triumphant return to end triumphant returns
Dre's slump ended in 1999 when Interscope head Jimmy Iovine suggested he sign a white rapper by the name of Marshall Mathers. The first song they worked on together, My Name Is, changed rap and pop history. On Guilty Conscience, the third single from The Slim Shady LP, you can hear just by the beat that Dre was enjoying himself again; the vocal reinforces that, while – handily – reminding pop fans that he's not just a producer.
33 Going back to his roots
With the Still D.R.E. single, featuring Snoop, Dre launched the new phase of his career with a single and video reassuring everyone that he had gone back to doing what he was doing in 1992.
34 The real second album arrives
Everyone had forgotten the Dr Dre Presents the Aftermath misstep, so 2001 – released in 1999, obviously – is widely considered Dre's second LP. It's actually his third. We're still waiting for the fourth.
35 Dre v George Lucas
According to Lucasfilm, Dre's opening sound effect on 2001, copied its trademarked Deep Note "audible logo" for THX cinema sound systems. It was reported that Lucasfilm was suing Dre: he said he had recreated it himself in the studio.
36 Dre and Eminem phone it in
It's around 2000's The Real Slim Shady that style bleeds into formula to the point where one can't be discerned from the other. The telling moment is Eminem leaving a gap for Dre's ad lib, and he's not there.
37 Educating the internet
The Doctor settled his case with the online file-sharing service Napster on the same day as Metallica in July 2001, with Napster's CEO telling press that the company "now understand[s] how important it is to Dr Dre to … be paid for the effort and talent that go into crafting his records".
38 Two singles pioneer the hip-hop/R&B fusion
Listen to Eve's Let Me Blow Ya Mind and Mary J Blige's Family Affair – released just weeks apart in 2001 – and it's clear how little Dre had to adapt to succeed in the pop-soul mainstream.
39 Old guard honours the new
With The Dr & the Diamond, one LA-based musical perfectionist doffed his cap to another. David Axelrod was also repaying a compliment (Dre sampled an Axelrod production on the 2001 album) by writing a song in honour of Dre.
40 Another album goes MIA
Promised, at various times, to be a hip-hop musical, "the most advanced rap album of all time", and his final album, Detox remains as distant a dream as ever. Having invented reality rap, Dre has managed to create hip-hop's most enduring myth.
41 Back to the top
Next off the production line, in 2002, was New Yorker Curtis Jackson, AKA 50 Cent. His first album after signing to Eminem's Shady label broke sales records and its Dre-produced lead single, In Da Club, represented a new peak for the Doctor.
42 Superstar bloat
The Watcher 2, from Jay-Z's The Blueprint 2 featured Dre, Rakim and Truth Hurts, a line-up that still sets the rap fiend's pulse racing, yet doesn't quite add up to the sum of its considerable parts.
43 Aftermath rolls out the formula
By the time The Game debuted with Westside Story in 2004, the set-up for Dre's Aftermath label was standard – a Dre production for his first single, with the label's most recent heavy hitter – 50 Cent, in this case – guesting.
44 Dre proves he can still cut the mustard
On Legend of the Fall Offs, the final track of Busta Rhymes' first album for Aftermath – which entered the US charts at No 1 – Dre made a beat out of the sound of soil being shoveled on to a coffin lid. When the mood took him, he was still a peerless sonic innovator.
45 Beatmaker to Beats tycoon
It was an odd combination – a producer and a company that made audio cables – but the Beats headphone range, launched in 2008, has proved Dre's commercial clout extends beyond making music. Audiophiles have sneered, but the Beats range has become a bestseller and, in combination with his Interscope boss Jimmy Iovine, Dre has expanded the Beats brand into streaming.
46 Back to the underground
A mogul he may have become, but the Caribbean-flavoured single Catalina by Raekwon showed that elements of Dre's signature style were still a snug fit within rap's underground.
47 Yet another album goes MIA
In 2010, Dre announced The Planets, an instrumental album with each piece named after one of the planets in the solar system. Add this to the list of Dre projects we're not really expecting to ever hear.
48 Dre gets back in the charts in his own right
I Need a Doctor, featuring Eminem and Skylar Grey, was reputed to be from the still-unheard Detox album. Released as a single in 2011, it gave Dre his first US top 10 hit as an artist since 1995.
49 Dre becomes the richest man in rap
Apple's purchase last year of Beats by Dr Dre, valued at $3bn, saw Dre leapfrog Sean "Puffy" Combs to become rap's richest mogul. He doesn't even need to make music anymore.
50 Dre at the movies
We thought we'd already seen an NWA film – the 1993 Chris Rock mockumentary CB4 was clearly "inspired" by Dre's group. But F Gary Gray, director of Death Row's Murder Was The Case short, has made Straight Outta Compton, a real biopic that is out this August. Corey Hawkins, a Juilliard graduate, will play Dre. Naturally, the film has had its troubles, with former Death Row founder Suge Knight charged with murder following an attempt to visit the set.