Robin Ticciati and the Scottish Chamber Orchestra have been on a Haydn binge – maybe not the sexiest box-office fodder (turnouts in recent months have been notably low), but grounds for some of the most spontaneous, subtle, daring playing we've heard yet from this extraordinary partnership. Last week, they recorded a clutch of the late symphonies, and evidence of fastidious work done under the microphone was everywhere in the ultra-attuned, exhilaratingly free performance of No 101 (The Clock) that ended this concert. Inner lines were alert. The tick-tock Andante had a fragile grandeur that was disarming and poignant. In the brilliantly rustic Minuet you could really feel the ground beneath the orchestra's feet. Look forward to that recording.
The rest of the concert comprised 20th-century French music, slightly off-piste repertoire for the SCO. Boulez's Mémorial sounded cautious for a hotly restive piece intended to conjure "erotic-veiled convulsive beauty", but Ticciati's meticulous colour calibration sounded totally relaxed in Fauré's Pelléas et Mélisande Suite. The opening phrase was a single, tender breath. La Fileuse had an edge of menace, nothing overdone, and Alison Mitchell's gorgeously understated flute lines were supported by sultry flux from the strings in the Sicilienne.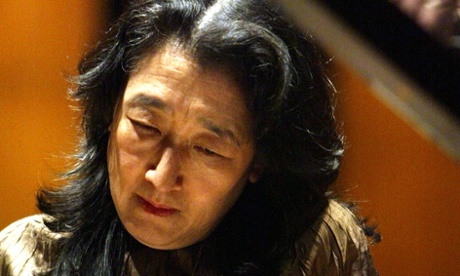 Judging by the hoots, the highlight for much of the audience was Mitsuko Uchida in Ravel's G Major Piano Concerto. Even the way she adjusted her piano stool was full of fizzy charisma – yet her rendition of this most exuberant score was more measured than many interpretations. Her Presto was muscular and deliberate, her Adagio remained tethered. The first movement, though, was stunning. While Ticciati and the orchestra had fun with Ravel's Americana tropes – a bassoon slide here, chunky hoedown rhythms there – Uchida lingered over her lines, searching and insistent, and spun her trills with an otherworldly shimmer. Breathtaking.