Menace Beach have stumbled into an indie timewarp. The scuzzy guitar-pop band are standing at a bar and, with a mixture of bafflement and fascination, watching teens dance earnestly to early Bloc Party single Banquet.
"It feels like it's still 2005 in here," drummer Nestor Matthews shouts over the music, smiling as the jostling crowd fist-pumps along. We're in Bassano del Grappa, an Italian town about 80km northwest of Venice, at a rock club where Matthews and his bandmates have just headlined. Above our heads, there's a sushi restaurant while the rest of the road is dotted with car dealerships and furniture shops. None of the area makes much sense. Frankly, it looks less like a guitar music hotbed and more "like somewhere you'd go to buy a sofa" as singer-guitarist Ryan Needham jokes. But the five-piece are here anyway, having come variously from Leeds, Derby and Sheffield to play a one-off show.
It may be their first time in Veneto together, but it's nowhere near their first time around the block. Practitioners of 90s-style alt-rock with a touch of noise-pop, every member of Menace Beach has paid their dues in credible, not entirely commercial, bands. Founding members Liza Violet, formerly of synthpop group Department M, and ex-Komakino frontman Needham cobbled the group together in 2012 from a loose, rotating pool of musician friends. It all felt so casual that ex-You Animals bassist Matt Spalding remembers pitching Menace Beach to Sky Larkin's Matthews as a "recording project" rather than a fully fledged group. An album and three EPs later, they've only just cemented their lineup. If most groups are strictly monogamous, Menace Beach feels like open, long-distance polygamy.
"Everyone in the band has other things going on," says Violet, lugging her electronic sampler through Venice's meandering streets the day after the gig. "I don't want anyone to feel under pressure to do this. Being in a band takes loads of time, and sometimes you go: 'Shit, am I still enjoying this?'"
Three years in, they apparently are, and seem as tightknit as any other group. The band's amicability becomes almost comical as they dodge tourists and drag cases of self-made merch over yet another footbridge. The band insist that Menace Beach works well thanks to a combination of unusual factors.
"Because so many people have been associated with it, the band can't just be about one person all the time," Matthews says, of their previously ever-changing lineup. They all hold down day jobs in various cities: Violet as a seamstress, Matthews as a primary school teacher, Spalding as a band manager, guitarist Nick Chantler as a tour manager and Needham in a restaurant ("Which is embarrassing because I have a teenager's job … and hair"). But they work around each other's schedules because, says Matthews: "You need this many people to make the noise we make."
Onstage, that noise blasts out in Britpoppy bursts led by a three-guitar assault. Often compared to Sonic Youth or Galaxie 500, their joyous fuzzy noise isn't reinventing the alt-rock wheel, but judging by the gaggle of Italian teens thrashing about during the gig and begging for CDs at the merch table afterwards, that doesn't matter all too much. Unsurprisingly, Menace Beach have attracted comparisons to other bands on the DIY music scene in Leeds: Eagulls, That Fucking Tank, Traams and Hookworms. Briefly, Hookworms frontman MJ played in Menace Beach, though he now sticks to recording their music at his Suburban Home studio.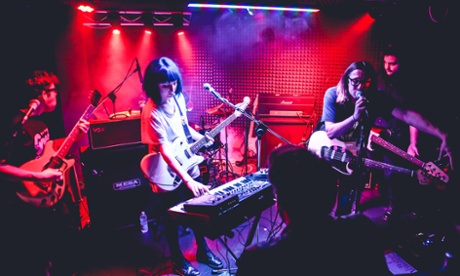 "I've known him since he was a teenager, playing in pop-punk bands," says Spalding of MJ. "You just get in the studio and have a laugh." A city that nurtures collaboration and creativity doesn't hurt, either. Core songwriters Violet and Needham make the most of Leeds, where they live together, and its collaborative, rich music scene. "It's constantly generating creativity," Matthews says. "It never gets tired."
Chantler mentions worrying about past projects having a sell-by date, and the Guide asks how the band would cope if Menace Beach were to become a full-time commitment. Would it be too pressured? "It wouldn't make a difference," Violet says. "This band's formed out of doing something to entertain ourselves, so it's always going to feel entertaining."
"But we wouldn't all suddenly move in together," adds Spalding.
"I feel like I did that before, when I was about 19," Needham begins, "and it's … not real."
Instead, the band would rather write loud, crashing pop and keep Menace Beach fun and not perfunctory. If the music turned full-time, "would you find something else to do?" Matthews asks the others.
"Drinking!" offers Needham.
Finally: some rock'n'roll.
Menace Beach play Oslo, E8, 15 December and The Hairy Dog, Derby, 18 December