Four years ago John Grant flew into Reykjavik for the Iceland Airwaves festival, walked into a shop and was recognised by a local: "His name was Denni. He said: 'Hey, man, I love your stuff – if you want to go out to the country and see some things…' and he took me on a three-hour drive."
Grant had been drifting following two decades of bingeing on sex, drugs and alcohol. Viewing Iceland up close, he "saw this lunar and otherworldly landscape. A cold and treeless Hawaii. The light, the air, the language…" Language is important to Grant; he speaks German, Russian and Spanish, and has "a smattering of French, enough for them to understand, and I made really great progress in Swedish, but then I had a dark winter there – that's where I found out I had HIV."
Now Grant speaks Icelandic, too, because he fell for these islanders who let others live their lives as they choose. "Denni wasn't coming on to me – he is a straight dude – that's just how people are here." It turns out that John Grant's story, for so long so troubled, may finally be one of redemption.
In the run-up to meeting the songwriter, I took to describing him to the uninitiated as an angry, bearded HIV-positive American who writes witty electronic pop music about his disastrous past relationships. That wasn't really fair, then – he also writes beautifully arranged love songs with memory-worm lyrics such as "Baby, you're where dreams go to die" – and it doesn't even scratch the surface now I've spent a day with him.
We meet in Mokka, a coffee shop in the heart of Reykjavik, in whose wood-panelled and cosy interior he seems instantly comfortable (he was photographed here for the cover of his album Pale Green Ghosts). Wandering out of Iceland's chill August air, he looms over me, handsome and heavily bearded.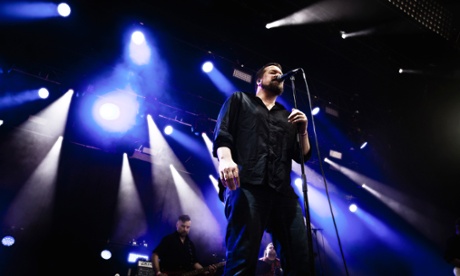 Forty-seven years old now, he came to worldwide success late. A sense of alienation mixed with a romantic naivety put him into a spiral that involved cocaine and alcohol addictions, dangerous sex and a self-destructiveness that, had he been more commercially successful at the time, or had it been the 1970s, would almost certainly have killed him. This is a theme he sings about on his new album, Grey Tickles, Black Pressure, due out in October.
He traces his difficulties back to the homophobia of his youth in Michigan and then Colorado. "Being in school, whenever I laughed or smiled I would turn to find someone staring at me with this terrible hatred and disgust," he says with a thick residue of feeling. "I had to control everything – control my voice, control my facial expressions, control my hair and my clothes, and where I walked and where I sat – at every moment. I think that drove me to terrible anxiety."
New Wave was washing over Denver at the time and should have offered an escape. Grant was listening to the Cure, Siouxsie and the Banshees, the Cocteau Twins, Dead Can Dance, Alien Sex Fiend, Bauhaus and New Order. "I had friends who came to school the way they wanted to, with all the make-up and hairspray, but they weren't struggling with their sexuality." He watched as his friend Greg's parents embraced their son's New Romantic fad – "They just thought he was cool and amazing" – while his own mother and father took the opposite view, and so did their church. "If you are not getting support at home or outside, there is nowhere to go. I couldn't be myself anywhere," he says.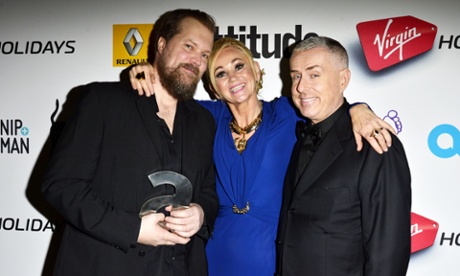 Grant escaped in 1988 and moved to Germany to study. "That's when my anxiety disorder went into full-on 'couldn't leave the house'." On his return to Colorado, he started a band, the Czars, admired by the critics, but mostly ignored by the public. His behaviour became intolerable to his bandmates and the Czars split up.
The jobs weren't great. "I was fired from a record store for calling a female co-worker a cunt," he says sadly. He tried to use his language skills in other ways: "The most horrifying thing I ever did was work as a steward on an airplane. I wanted to get hired by United. I thought: 'With my languages, this will be amazing; I will work in first class.' But I could only get a job with an airline going from Newark, New Jersey to Fort Lauderdale, Florida." He became a waiter in New York's Gramercy Tavern and then a professional translator.
Signing up to AA to get over the drink in 2004, he turned wholeheartedly to sex. The cocaine-fuelled parties he hosted – "some of it was a lot of fun" – saw him contract syphilis (and, unknown to him, HIV – before his diagnosis he told this newspaper: "I dodged a bullet there"). Grant is a man who knows what it's like to hit rock bottom: "There's the phase you go into when you are just causing wreckage, the phase when your sister goes from your closest friend to someone you just call when you want money."
By this stage, we're both looking into our empty cups, so I ask if he really peed in someone's coffee, as he sings on "Queen of Denmark". "Noooo…" he replies slowly. "But that's not to say I haven't wanted to. I did, during my drinking days, once empty a beer bottle by drinking it then filling it up again with my piss before putting it back again with all the other bottles." He prefers not to say where that was.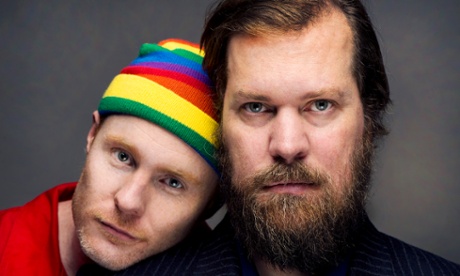 We walk across the street to a restaurant in the basement of a cheese shop, crossing tarmac that has been painted in the colours of the rainbow to celebrate Pride. Grant says he had been amazed to see how Icelanders embrace the celebration, how families have painted the colours on to the ground. In the restaurant, the waitress kisses his big bearded face and tells him in Icelandic about her holidays. He grins at the welcome, clearly delighted.
Grant was dragged back into music in 2010 by the Texan band Midlake, who he'd worked with when he was with the Czars, and who continued to believe in him. They produced his first solo album, Queen of Denmark, which became a word-of-mouth sensation and won Mojo's album of the year. Friends continuing to believe in him is a recurring fact of Grant's life.
Still he had trouble settling. "In the States people are constantly at you: 'Why did you do that?' 'What's up with you?'" The UK offered no relief. "You're not going to find a bigger Britain fan than me, but it is an absurd society as well. Even if I was as rich as Elton John, I would never get into that society. You're not going to be accepted by the upper class or the lower class. When I go through the city centres in Manchester and Liverpool and London, the fucking pit bulls, the class, the rage – it's like a hair-trigger bomb."
Stockholm could have been a possibility, but there came the worst news. "I had a great friend, who came to the hospital with me, who cried for me when I couldn't." With his characteristic candour, he decided to reveal the HIV diagnosis onstage in London at the 2012 Meltdown festival.
Across the table, Grant is struggling to remember whether he's taken the requisite dose from the pile of drugs he carries with him, so I am looking around and notice the waitress is hugging some new arrivals. I point this out and he starts in mock fright and cries: "Those hugs weren't real. My hug, I could feel that was real."
He wants to show me some of his favourite stairwells, so we walk across central Reykjavik looking at several crumbly old paths that descend among corrugated iron buildings. He explains the difficult pronunciations of the street names, how the Icelanders pronounce "th" and compares it to the glottal nature of Danish. Then he tells a joke about the accents of Stockholm before talking about the singsong nature of Russian.
Having his wordplays explained quickly undermines my shaky impression that his new album is optimistic. "'Grey tickles' is a direct translation in Icelandic for midlife crisis," he says. "And 'black pressure' is Turkish for nightmare." The title song comes with a video teaser in which he's covered in blood.
The album is a superb piece of work, experimental in places, soaring in others. At the end of that first trip in 2010, after he had been befriended by Denni, he had returned to work with producer Birgir Þórarinsson, known as Biggi Veira. That turned into Pale Green Ghosts, which earned a Brits nomination for the Best International Male Act.
This time, however, while the songs were written in Iceland, the actual work was done in Texas with producer John Congleton. As admirers will expect, the lyrics are wonderful. "Grey Tickles, Black Pressure" deals with Grant feeling sorry for himself for feeling sorry for himself about the HIV: "There are children who have cancer / and so all bets are off / 'cause I can't compete with that." The song "No More Tangles" is about codependency: "Stockholm is a city that I adore / but the syndrome of that name is one that I abhor".
Increasingly during our conversation he has been referring to his Icelandic boyfriend, who he'd prefer wasn't publicly named, so we'll just call him "X". Solid relationships have come hard to the singer. Any show of affection during his early years provoked a cold, brutal and guilty response in Grant. Then when he began his recovery, he fell in love with a man called TC, who was lauded in Queen of Denmark as his "one and only", only to be compared on Pale Green Ghosts to the defoliant Agent Orange. That relationship lasted only six months; his new love, an Icelandic graphic designer, has been on the scene for two years.
Grant has told me he doesn't like his own face, which has led to several acerbic lines on Grey Tickle, Black Pressure, so I ask if X is beautiful. The response is very considered: "He's physically beautiful, but that beauty is outdone by how he is as a human. Which is saying something, because he's very beautiful. But I am more in love with how he is as a human."
So my assessment of optimism isn't as shaky as I'd thought. Grant is struggling to find his fury. This man who has taken himself to the brink of death time and again is having something as prosaic as a midlife crisis. He finally admits: "It feels like a very positive record to me, too. Sure, there is darkness there, but it's the brightest record I've made."
We stop to look at his favourite bench (it's beside a statue of a bear that gazes deathlessly at the British embassy) and then arrive at a block of flats and climb the stairs to his apartment. He began renting it recently, now that he and X are living together, and it still feels an unfinished project. The second bedroom is given over to a studio but is mainly used by X, who also has a band. The living room is set around an L-shaped sofa, which is where Grant catches up on the DVD collection he is putting together. There are boxes and boxes of films: Virus, The Omen, The Purple Rose of Cairo, Withnail & I, Manhattan Murder Mystery, Life of Brian…
"DVDs. Quite old fashioned," I say. He replies: "They're Blu-rays. Does that help?"
There is a similar frenzy attached to his book buying. At one end of the shelves is an impressive collection dedicated to translation and language, which he has spent years lugging around the world, and then at the other fresh-spined novels punctuated by some repeatedly read tomes, such as The Tin Drum. On the wall is a stunning photograph of a fisherman, in full sou'wester and slick with cold, but this was taken by one of X's relatives. Grant's addition to the decor of the family home is a large lamp in the shape of a hedgehog. We turn it on despite the near-24-hour daylight.
Grant is cramming all the life that the rest of us build up over years into his present. "When you get sober, the wheels start turning again," he says. "During the time when you avoid dealing with stuff, you just stay at the age you were when you stopped dealing with stuff. I actually had wanted to do a song on this album about Oskar Matzerath, the boy in The Tin Drum, the child who decides to stop growing."
Iceland is saving Grant. Earlier in the day he had said: "I was in fight-or-flight response my whole life, with adrenaline fatigue, PTSD – there was no safety ever." Now he says: "I feel safe here. It's a cautious optimism connected to that feeling of security."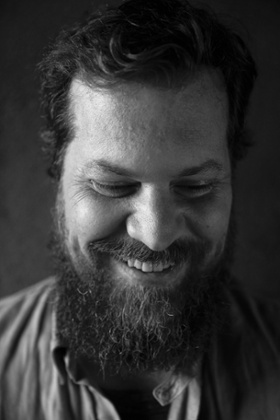 The evening takes us to Húrra, a hip Reykjavik music club, to see X perform. X's brothers, all highly respectable, are ranged along the wall, listening and supportive. Grant has joined them, and they clearly like him, as he likes them. He has told me they all took a family trip together to Benidorm, and that he did the whole lying on the beach thing, which is quite funny.
This is reflected by Grant's renewed relations with his own three siblings, which saw him take "my guy over last Christmas" to visit. As to his father (his mother died in 1995): "We haven't talked in a long time. I think he's changed a little, that he's not sure what to think of homosexuality any more – and that's progress. He definitely loves me and is proud of me, but we don't talk because we don't have much in common. The acceptance thing goes both ways. Your parents are just people and, of course, they have to love you, but they are just people."
The next big step is getting off the prescription medicine. The antiretrovirals are not going anywhere, but he is wondering about the anxiety drugs. "When I left Germany I got on the drug Paroxetine. I've been taking that for 20 years now, and I don't want it. But the side effects of coming off it are too terrible. They have a thing called the zaps. It feels like someone is throwing lightning bolts at your head. It's horrible."
The crowd is packing in for X's performance, Grant is clearly delighted by their enthusiasm. At the end he introduces us and we all chat for a while. Then they say goodbye and Grant pulls on a pair of mitts, hugs various people including me and a man in a cowboy hat, and cycles off home.
Watching him go, I hear his deep voice from earlier, saying: "I do feel I have a hard time dealing with things being OK."
Grey Tickles, Black Pressure is out in October