Over cocktails and cigarettes in the Sir John Betjeman Suite at the St Pancras Renaissance Hotel in London, Pete Doherty and Carl Barât of the Libertines are talking about when they were happiest. On this point, at least, they agree.
"The dream was working when we climbed up to the top of this old hospital building and the sun rose over Whitechapel, and we talked about what we'd one day achieve," Barât remembers. "That's when things were as good as they'll ever be."
This was in the late 1990s, before they had a record deal or were even a real band. "We'd get up on empty buildings and play to imaginary crowds, and then we'd go out and demand that people listen," Doherty says wistfully. "The things we'd plot and sing about, they weren't real. But if you write about them enough, they eventually become true. By the time you're living what you wrote about, the kid who wrote it, he's long gone." He catches himself. "That's a bit negative, isn't it?"
The Libertines' first album in 11 years has the unimprovably apt title Anthems for Doomed Youth. The two frontmen always felt as though they were in decline – even when they seemed to be thriving – so when they disintegrated in a mess of hard drugs and acrimony in December 2004, after just two-and-half years in the public eye, it felt like a prophecy fulfilled.
It was still sad, though. Unlike most of their contemporaries, the Libertines offered not just music, but a worldview: one that was strange, funny, exhilarating and sad. They seemed to inhabit a fantastical private realm ("the good ship Albion" or "the Arcadian dream") and converse in the style of a flatshare sitcom written by Galton and Simpson, with help from Pinter. Barât thinks they gave fans "some kind of ideology, some sense of belonging". When the band went down, so did a remarkable friendship and a shared ideal. They've since made eight albums as solo artists or frontmen (Doherty by himself and with Babyshambles, Barât with Dirty Pretty Things and the Jackals) but none have the wayward magic of the first two Libertines albums – or indeed the new one.
Barât, 37, compares their return to when "they find an old flat in Paris that nobody's been in since 1910 and it's all still there". Doherty, 36, is more dramatic. "It's like we've died and been buried and come back."
It's cheering to see how much of their chemistry has survived. Within minutes of Doherty's belated arrival, they are sipping Brit Spritz cocktails with arms entwined like bride and groom, and disagreeing over whether the view from the hotel reminds them of Brief Encounter or The End of the Affair. Still, time has magnified their differences. Despite having the air of a dissolute thespian, Barât is a settled father-of-two who lives in north London. Doherty, who lives with his girlfriend in Paris, keeps reality on a longer leash. Drug-free since January, he has a startled aspect, like a creature that's been underground too long and is struggling to adjust to the light. He calls to mind a lyric from Can't Stand Me Now: "Cornered, the boy kicked out at the world / The world kicked back a lot fucking harder." Whereas Barât favours evocative one-liners (an online comment section is "an asylum for the sanctimonious"), Doherty is a catastrophiser who swings between whimsical digressions and wrenching, wide-eyed soliloquies.
I tell them I think the new album's great, and they look surprised.
"That's reassuring," Barât says. He worries that people see them as "this fucking Carry On couple, boring us again".
"We've won people over once before, in a different world, and they've come back to that place now – but what about people who have never been there?" frets Doherty. "Is it going to spark them off? Can you start from zero in 2015?"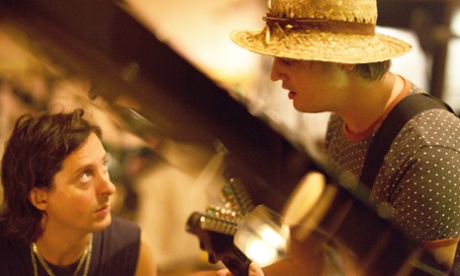 Later, in the hotel lobby, I talk to bassist John Hassall, a wry Buddhist who lives in Denmark, and drummer Gary Powell, the band's garrulous cheerleader. "I'm a lot more positive now than I was before," Powell says. "Everybody truly understands the position we're in and the friendships we've cultivated over the years. There's less chance of us throwing it away." Neither of them expected a reunion until it happened. "I wasn't waiting for it because that would have been quite a stupid thing to do," says Hassall. "To have a new album and be touring festivals seemed like an impossible dream."
The frontmen weren't banking on it either. "I did my best to demonise the Libertines and the world of Peter just so as I could protect myself and move on," Barât says. "And then, of course, I have to unravel all the barbed wire from the beaches and blow up all the mines and trust myself to do it without defences, and it's all right."
"Mmm," Doherty purrs approvingly. "Beautiful metaphor."
The Libertines did come together in 2010 to headline Reading and Leeds, but it was short-lived. "We looked at each other, freaked out and then ran away again," Doherty says. He says that rebuilding their friendship was "a long slog" which didn't really click until the whole band shared a house in Hamburg last summer, while rehearsing to headline at Hyde Park in London in front of 60,000 people.
After Hyde Park went well – the crowd was 12 times larger than any they had experienced first time around – the Libertines thought about making an album. They recorded Anthems for Doomed Youth a few months ago in Thailand, where Doherty had recently attended rehab. "I had a plan B," Barât says, "if it was just white noise and people tearing their hair out. There were a lot of old songs we could have gone back to. But we didn't need to."
Eyebrows were raised when it was announced that they were working with Jake Gosling, producer of One Direction, Ed Sheeran and Paloma Faith, but the songs have a refreshing new power and clarity, and they don't waste a word. "I always used to presume people knew exactly what it was we were saying with every note, every inflection, every lyric," Doherty says. "I only realised years later that nobody had a clue what we were saying, really. This time, we've been a bit more centred."
The phone rings and Doherty answers. "Hello. Albion Solutions, St Pancras branch." It's room service, with a burger for Barât and soup of the day for Doherty. Befuddled by the concept of adding a tip to the receipt, he lunges for Barât's wallet ("You're so tight! Just give him 20 quid!") before giving up and sending the waiter away empty-handed. When he removes the cloche from his soup, he's horrified to discover that it's chilled beetroot. "Oh gawd," he says, dabbing bread into it suspiciously. "Good job I didn't give him a tip."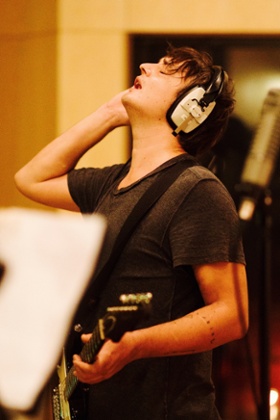 Anthems for Doomed Youth presents the Libertines as a band with only one foot in the 21st century. The title paraphrases a Wilfred Owen poem. Other songs allude to Graham Greene, Rudyard Kipling, George Orwell and Oliver Cromwell. At Hyde Park, Doherty recited Siegfried Sassoon's Suicide in the Trenches. Doherty, the son of an army major, thinks his anachronistic obsessions stem from growing up in barracks in Germany and Cyprus.
"I never went to school in England until I was 12," he says. "It was this mythical place, but when we moved there, the England that I thought existed – this England of Hancock, Porridge and Kipling – was nowhere to be fucking seen." He raises an eyebrow. "Imagine my surprise."
"Well hang on, Johnny foreigner," Barât tuts. "I was here and I still felt that." But Doherty's not listening. He's off on a long monologue involving his grandma, evacuees, music hall and London zoo. The point, he says eventually, is this: "The world's always been a disturbing, terrifying, corrupt, murderous place. But there was a period when culture and music had that playfulness. London was like a stage! It was like a parade."
But isn't that misplaced nostalgia? Was it ever really true?
"It was!" he insists. "When you see a photograph of a football crowd, at a Saturday afternoon game in August 1963, you've got 40,000 men in trilbies." He looks transported. "That's paradise, man."
It's this kind of thing that explains why the Libertines cast a spell that other British rock bands of their generation don't. They dreamed up a version of England and built a band in its image. "You force yourself into a corner in which you create your own world," Barât says. "That's what I wanted as a kid, feeling trapped and betrayed by the world, and you meet someone else who sees it, too."
"I just wanted to be free in my own land and in my own time," Doherty says, leaping up and running his hands through his hair. "Music and fashion and art; they were the things we were willing to die for. 'Is my hair all right? Have you heard this tune?' They're the things that saved us. They're the things that are saving kids on Nuneaton council estates. There's no other way out. So we had our little uniforms and we stepped in time, and then we just fell out of time with each other."
So what went wrong? "The moments of joy and achievement were completely overshadowed by the need to have a punchline or a riot," he says heavily. "We had something pure and true at the core of it, but a lot that was around it was ugly to me. It was horrible. Going on stage by the end became like a war."
I still don't quite understand why he was finally able to rejoin the Libertines when it had seemed impossible for so many years. Why now? Doherty drops his head, closes his eyes and breathes deeply, excavating the words with great effort. When he finally speaks, after 40 seconds of silence, he sounds utterly drained. "I don't know. I was just shattered. I couldn't go on anymore." He drifts off. "It doesn't matter why, does it?"
It does to me, I say. I wanted this to happen years ago.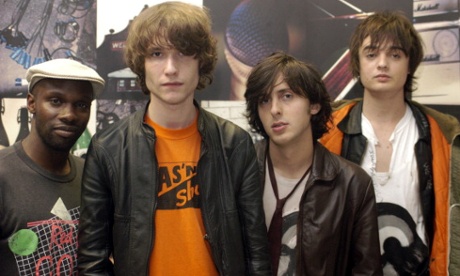 "I know, but I would have resented that," he says, his voice rising. "I'd have thought it was unfair. I thought I was staying true to the Arcadian dream, and I thought maybe Carl was being a little bit misguided. He was on this death mission. Everyone thought it was me that was this anarchic figure. It was actually the other way around. I used to play up and say stupid things in interviews, whereas Carl would keep it to himself and you wouldn't see the real him."
I'm not sure about this, so I turn to Barât for a response but he just sits and listens, smoking inscrutably. "It was this colossal fucking row that took 10 years to get over, basically," Doherty says. He pauses and sighs. "And, also, I stopped taking heroin, all day, every day, intravenously. That helped, too."
He stands up again and paces the room, clutching his head. He looks as though he's been painted by Edvard Munch. "Whatever happened with the heroin and the situations I was in that I knew Carl despised, I always carried on pushing myself, in terms of the music or travelling or different affairs and adventures. I just love life and I enjoyed it all, but there came a point where I had no option but to stop. Your body won't have it. Alas. And when Carl looked me in the eye and actually believed me when I said I was going to give it a fucking go, it was like a miracle. Everything else was forgotten. This self-absorbed vision, this decadent artistic life, it didn't mean anything when you're squatting in that dank, decaying place. And Carl said, 'Look, I know somewhere you're still in there, the person I used to know. Come out to play.'" He sits down, exhausted.
So now the Libertines have rekindled their friendships, played big stages and made a new album. Have they done enough to purge their regrets and restore their legacy?
"No," Doherty says. "We've started, but I think something has to happen. I don't know what it is. Something cataclysmic." His eyes widen. "Some extraordinary twist!"
Barât looks at me and rolls his eyes, amusement intermingled with exasperation. "How about not?," he tells his friend gently. "Let's put the cataclysmic things on stand-by for now. You and me, we're just going to stay on the tracks."
The Libertines headline Reading and Leeds festivals this weekend. Anthems for Doomed Youth is released on Virgin EMI on 11 September.