Tame Impala's Kevin Parker has been having a pretty good time of late. The band released a critically lauded album in July, and one track was covered by eternally trendy sibling trio Haim not long after. But Samm Culley of 70s funk band Skull Snaps isn't impressed: he is considering taking legal action against Parker over a drum sound on the Tame Impala song Eventually, which he claims is an unlicensed sample of a Skull Snaps song. Perhaps the most shocking thing about this accusation is Culley's terrible lack of punctuation, captured in what looks like an email screengrab, below:
The former Interpol bassist, renowned for his lacquer-slick coif and moody stare, just couldn't do it any more. One look at Chris Martin fronting Coldplay and Carlos Dengler realised that he couldn't stay in the music game, he said in an interview. In fairness to the Coldplay lads, Dengler's interests had already started to shift towards acting – and he found himself more taken by Saturday Night Live host Jon Hamm's skills than Chris Martin's crew. In January 2010, Dengler left Interpol for good.
Tipper Gore would enjoy this, wouldn't she? If you wanted to shield your children's eyes from Rihanna's BBHMM video, you'll be pleased to hear that age ratings on videos produced in the UK have arrived. All videos uploaded to YouTube and Vevo made in Britain will have to display a clear age rating – and so far, of the 132 videos submitted, only Dizzee Rascal's Couple of Tracks has earned an 18.
Surely someone at Madame Tussauds Las Vegas could have seen this coming. Two weeks after the tourist trap attraction unveiled a wax model of Nicki Minaj on all fours, visitors starting to upload pictures of their poses – some more risque than others. One in particular, in which a man simulated doggy-style sex with Minaj's wax figure, prompted Madame Tussauds to release an official statement and rethink the display. I'm amazed it took this long.
"We will not be silenced," Monáe said, before she was silenced on live television last weekend. Her Today show performance of three songs had run long, according to a statement given by NBC to the Guardian US, so Monáe's closing words on race relations in America were interrupted in order to keep the programme running as scheduled. The irony was not lost on several viewers, who later expressed their disdain online.
The song Big Pimpin', as well as being disrespectful to women and so lyrically void that Jay Z himself "can't believe he said that", is heading to court. The 1999 hit samples an Egyptian song, Khosara Khosara by late singer Baligh Hamdi. But apparently Hova and producer Timbaland didn't clear that recognisable sample before use, despite handing over $100,000 (£63,700) to EMI Music Arabia. Their 13 October court date looms.
A university professor in London has set himself the somewhat daunting task of living like Bowie for a year, to gain an understanding of how the avant garde pop star's mind works. "The idea is to inhabit Bowie's headspace at points in his life and career to understand his work from an original angle, while retaining a critical and objective perspective at the same time – a kind of split persona, perhaps," he said, like a true academic. Good luck with the cocaine years, mate.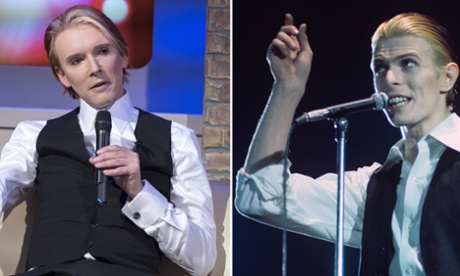 Former Black Flag and Misfits band member Dez Cadena is harnessing the power of the internet. The punk legend is looking to raise $35,000 (£22,311) to help pay for the treatment of his recent battle with throat cancer. As broken as the US's health insurance system may be, the generosity of the online community has pulled in about one-third of his donation goal at the time of writing.
Morrissey doesn't often give interviews any more, but he really opened up on a recent Larry King Now show appearance. He spoke candidly about his recent cancer diagnosis, mental health battles and a confrontation with airport security during which he alleged he was wrongfully groped. I also wasn't expecting to hear him say the words "bum cleavage" this week, but there you have it.
The legendary producer, behind albums including Johnny Cash's At Folsom Prison and Songs From a Room by Leonard Cohen, died at a Nashville hospice on Friday 14 August. Ever modest about his work, Johnston had also produced Simon and Garfunkel's Sounds of Silence and six Dylan records, including Blonde on Blonde.